HDFC-HDFC Bank Merger
What's in it for Shareholders
1. Shareholding pan out for the merged entity:
Shareholders of HDFC Ltd will own the 41% of the HDFC Bank. Shareholders of HDFC Ltd will receive 42 shares of HDFC Bank (Face Value of Rs. 1 each) for every 25 shares of HDFC Ltd of Rs. 2 each- a ratio of 1:1.68.
2. Structure of the Transaction:
The transaction involves the amalgamation of HDFC and its two wholly owned subsidiaries- HDFC Holdings and HDFC Investments with HDFC Bank. And together its 2 subsidiaries holds 21% share capital of the bank.
3. What does the merger means for shareholder:
The merger will benefit the shareholders of both HDFC Ltd and HDFC Bank are as follows:
Lower cost of funds will be made available for the

mortgage business

The bank will have access to time tested mortgage origination and loan servicing process of HDFC
List of Subsidiaries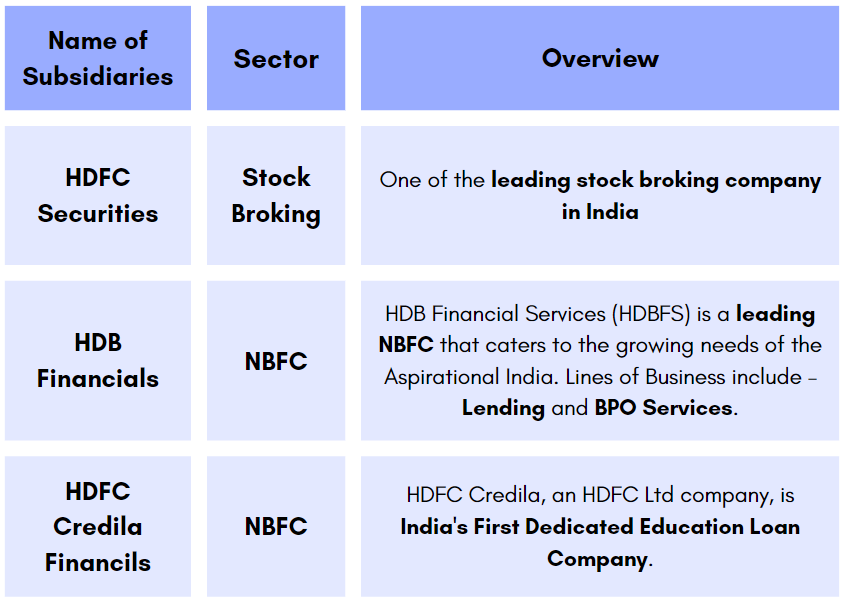 Conclusion
After the merger, HDFC Ltd will be subsumed by HDFC Bank Limited.
The merger shall make HDFC Bank the sixth-biggest globally in terms of m-cap at $185 billion, ahead of global banking giants, such as Wells Fargo, Agricultural Bank of China.
The three companies (HDFC Securities, HDB Financials & HDFC Credila financials) will not have any impact of the merger, as they will continue to run as separate legal entities and they are all solving different problems in their respective sectors.