OYO Rooms (Oravel Stays Ltd) IPO Analysis
The Data you need to know before you invest in OYO IPO.
OYO rooms or On Your own rooms, has started just 8 years back by Ritesh Agarwal. Today OYO is one of the largest rooms or hotels service businesses in Aisa and he is the 2nd richest billionaire in India.
And recently we all heard the news OYO is going to list in the Indian Stock Market. OYO plans to raise more than 8000 crores through an initial public offering.
Business Model
The company started its international operations starting with Malaysia in 2018, later it has entered into the markets of the UK, UAE, Dubai, China, Singapore, Indonesia, and others.
In 2018 the company became a 100 percent hotel leasing and franchise chain. It recorded 75 million rooms worldwide in 2018, which was more than six times in 2017.
OYO generated $211 million in revenue. In 2015, 2016, and 2017, recorded room nights of 4 million, 6 million, and 13 million respectively worldwide compared to 2018.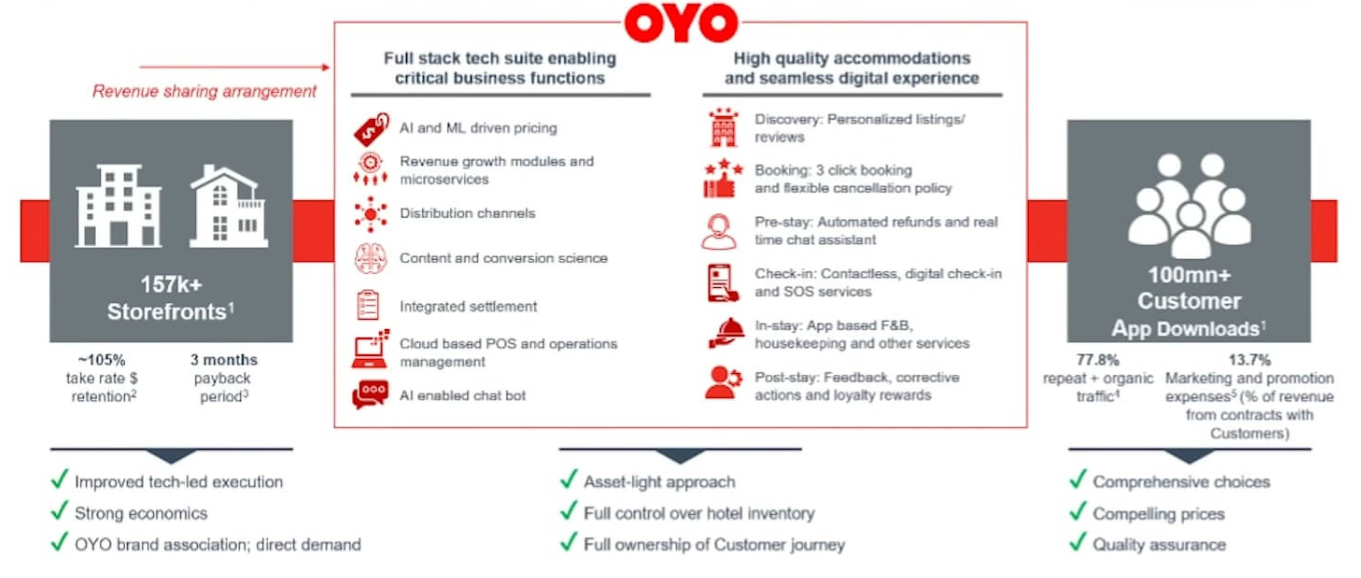 OYO is a platform where property owners meet customers. Customers get a platform where we can see all the details of different hotels, their price, the service. And Properties gets the visibility.
OYO holds more than 1,57,000 storefronts worldwide. Now you need to understand one thing OYO doesn't build these OYO rooms or hotels, so they never had to pay for the cost of the construction.
How do they make money?
OYO not only lists properties, but they also manage them, like how much the price should be, They help these properties to increase their revenues.
The company also helps the owner in payments, photographed of building, then listing, etc. For all these, they charge from the property owners 20 to 30 percent of the gross booking value.
Suppose an owner or a company doesn't want all these services, they just want their properties to list in OYO, for this OYO charge a fixed amount.
How do they attract customers?
OYO always keeps its focus very high when it comes to branding and marketing.
Oyo's affordability and availability increase the same-day demand for customers. OYO also provides the "OYO Wizard" program where you can get discounts and extra offers. These "OYO Wizard" programs are 3 types– Blue, Silver, Gold.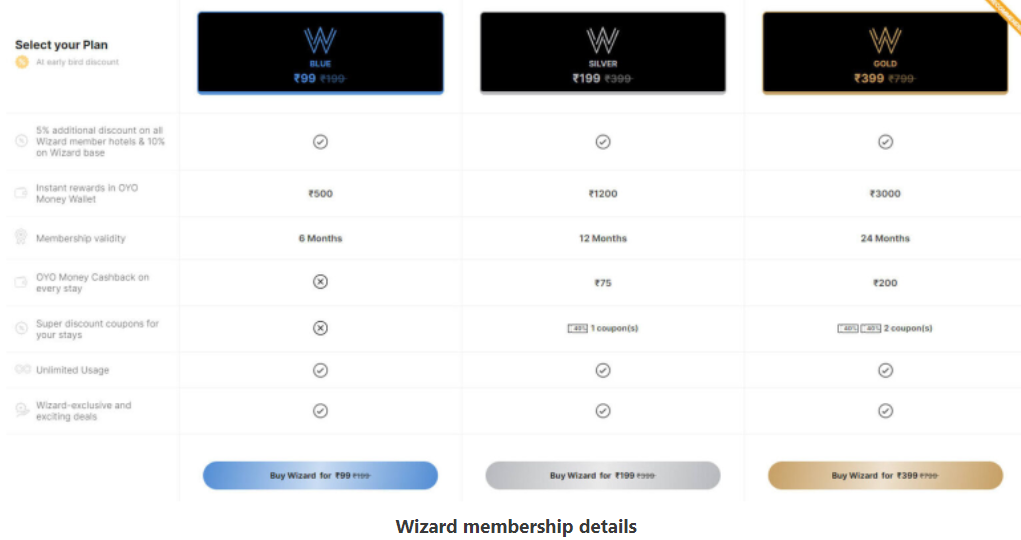 OYO also provides you with a good experience in low budgets, which was rare before OYO. And the number of wizard members is increasing rapidly.
Today a total of 9.2M people are using this Wizard program. And more than 70% of total customers are members of the wizard program.

Understanding the overall Industry
Oyo mainly earns its maximum revenue from short-term stays. Though recently the company introduced monthly rent staying, still it needs time to take the market from competitors..
short-term staying market may increase up to $1.9 trillion by 2030. With an expected CAGR rate of 6-7%.
Many factors drive customers to use this service and still those going to help the industry in the future. Let's look into some of the factors,

Consumers are having more disposable income than before.
Social Media, we often see our friends, colleagues, relatives share their photos of traveling. We also end up going somewhere and using these services.
flights are becoming more accessible, Govt is pushing the tourism industry around the Globe.
How OYO became so big only in 7-8 years?
OYO understood a good opportunity. If you see the data, Globally 88% of homes are unorganized.
There is a good scope in this industry, they just need to add those homes to their website quickly. Nonetheless, you need to provide good quality services which OYO never fails to do that.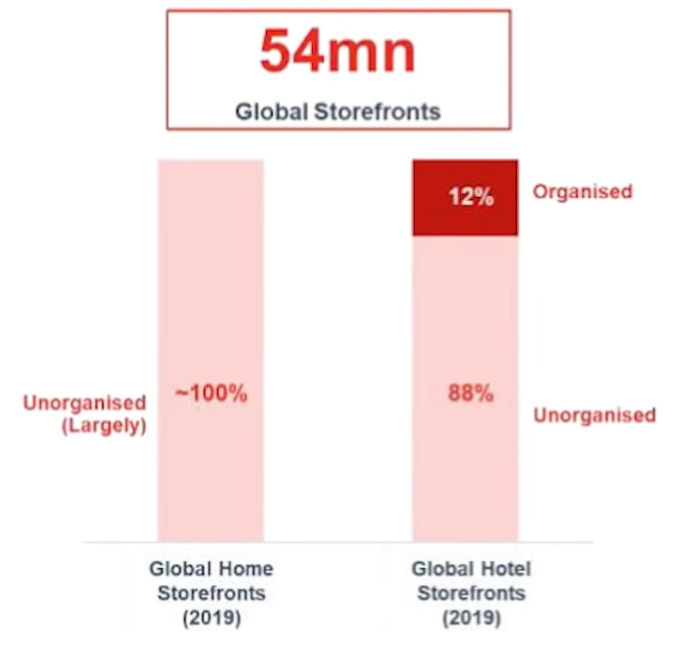 Competitors
Not only does OYO see the opportunities, but there are also similar companies that are trying to capture the market. MakeMyTrip, Trivago, and even IRCTC are looking to capture the market.
Financials
Impact of covid– pandemic has hit every industry, but mostly travel tourism and restaurant industries. OYO had a loss of 70%, revenue was down from 13,122 crores in FY20 to 3,943 crores in FY21.

If we see the data, the company is still up 3% for gross profit. This is because OYO focused on cost rationalization (reducing spending on the activities) more. The company had a policy of minimum guarantee payout, where the company paid over 14% in FY20, in FY20 they just paid 0.1%.
Similarly, they reduced spending for marketing, general, and admin expenses in the pandemic, which had saved a lot for the brand.

OYO raised a total of $807 million from Softbank in series F funding in 2019.
Strengths
For OYO IPO analysis we need to understand the strength of the company. As I mentioned before, OYO currently has more than 150k properties listed. This is the major strength of the company. How much large the network will be, that many customers will come, and that led to the exponential growth.
OYO didn't stop within these services only, additionally, OYO has,-
Weddingz.in– offers customers a fully managed, one-stop platform for all their needs to organize a superlative wedding experience including providing beautiful and spacious venues.
OYO LIFE– A solution for long-term rented accommodation furnished with amenities at affordable prices.
OYO Workspaces– Starting in July 2019, OYO Workspaces debuted its multi-brand approach to the managed workspaces opportunity in India (a first for the market) with two organic co-working brands- Powerstation and Workflow, alongside acquiring Innov8 and providing ergonomically designed workspaces befitting for every pocket.
weakness
Yet the company is still far from the profitability path, as its main focus is to grow more. The industry is so competitive.
The Company was also surrounded by a few crises and controversies that made headlines. A hotelier in Bengaluru filed a cheating case against Ritesh Agarwal and six others claiming that they had not paid him his dues in 2019.
There is another article from The Tribune: Oyo founder Ritesh Aggarwal booked for fraud.
As I said before SoftBank has invested in OYO, which to it has a stake of over 40%, OYO has to look for foreign regulations always. In this business customer satisfaction is very much important, it's their key priority. And this is one of the toughest parts of the business.
Conclusion
OYO is planning to raise over 8000 crores with an initial public offering for various reasons like repayments of borrowing some subsidiaries, investments for growth, general corporate purposes, etc. Though the company didn't announce the lot size, price bands, and the date of opening. We need to wait for further updates!