We had first invested in HDFC Securities Ltd in October 2017 at around Rs 6000/sh, since then this is how the price graph has moved:
December 2017 – Rs 6500/sh
February 2019 – Rs 8600/sh
January 2022 – Rs. 16500/sh
January 2023 – Rs. 12000/sh
About The Company
HDFC Securities Limited is a financial services intermediary and a subsidiary of HDFC Bank, a private sector bank in India.
The company was founded in the year 2000 and is headquartered in Mumbai with branches across major cities and towns in India.
It offers an exhaustive product suite to help its customers invest in Equities, IPO/OFS, Buybacks, Mutual Funds, ETFs, Etc.
Since its inception, the company has established itself as a preferred trading platform (for NSE & BSE), with its integrated 3-in-1 account (Trading + Demat + Savings) backed by state-of-the-art technology.
Currently, HDFC Securities has 250+ branches across 190 cities, serving over 2.1 million customers.
HDFC Securities has released its results for the quarter ended December 31, 2022, on 12th Jan
Financial Performance (Period ended on 31st December, 2022)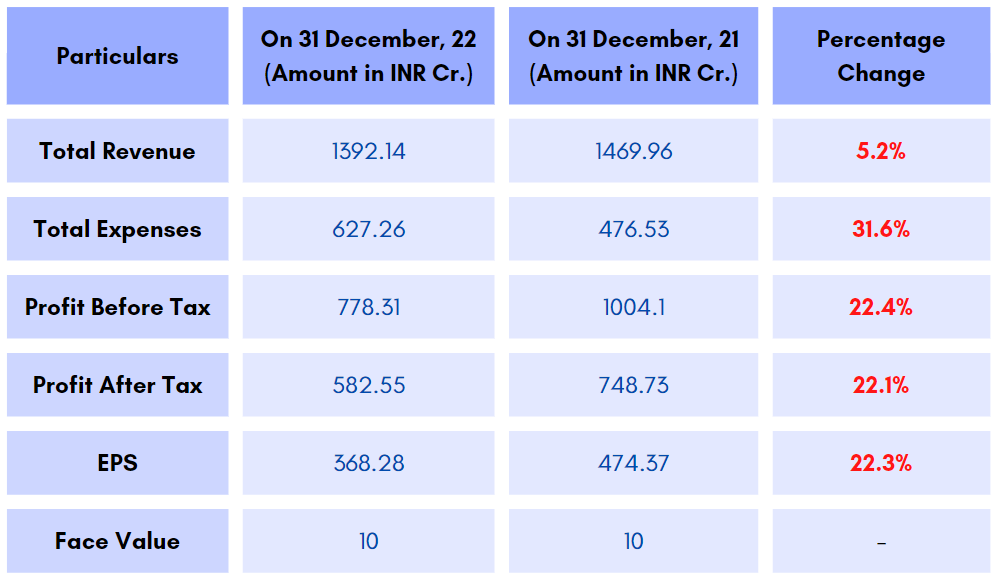 Analysis of Results of HDFC Securities
According to results, the revenue was reduced by just 5.2% to Rs.1,392.14 Cr. and this is because, now the company has entered into the discount broking market and that has effected the broking fees to decreased by around 10% which has impacted the revenue.
For 9 months ended December 31, 2022, The company's expenses increased by 32% as compared to same period previous financial year due to 95%(approx.) increase in finance cost from INR 105.35 Cr. to INR 199.08 Cr.
---
Also Read: Will there be any impact of the merger of HDFC Ltd. & HDFC Bank Ltd. on HDB Financials and HDFC securities?