When Reliance Retail bought Campa Cola in August, one of the country's first aerated drinks, it made headlines once more. The brand, dripping with nostalgia, was reintroduced around Diwali. Although there was a lot of anticipation for its comeback, will this vintage cola beverage be able to live up to expectations?
It was the year 1977.
After 21 months, the emergency situation has just ended in India. Soon after, the nation chose Morarji Desai as its first non-Congress Prime Minister. Amar Akbar Anthony was the year's biggest hit. Parda hai parda, the iconic Laxmikant Pyarelal's song from the same movie was playing on every radio and TV station, and two new cool aerated beverages were available in the market for its teenagers to sip on
The first one was launched by the Chauhan brothers of Parle Bisleri, which was the biggest homegrown cola carbonate brand of the country. Considered the ultimate symbol of machismo, it is still a market leader in its segment – Thums Up.
The first one was launched by the Chauhan brothers of Parle Bisleri, which was the biggest homegrown cola carbonate brand of the country. Considered the ultimate symbol of machismo, it is still a market leader in its segment – Thums Up.
The second was Campa Cola, which Charanjit Singh of the Pure Drinks Group in Delhi introduced.
However, the introduction of cola carbonates to Indians wasn't new.
Since 1949, Pure Drinks Group has been India's sole manufacturer and distributor of Coca-Cola. And since Thums Up and Campa Cola weren't yet on the market, Coca-Cola had nearly 27 years of uncontested market dominance.
Under the Foreign Exchange Regulation Act (FERA), which she implemented in 1974 while she was still in office, new rules were put into place. To lower their shareholding to 40%, this includes all MNCs doing business in India that fall under the consumer goods category. Additionally, it implied that Coca-Cola would have to disclose its recipe to its key shareholders, something the corporation was not eager to do. The result was simple, the global giant left India.
And with Coca-Cola gone, the demand for cola carbonates was up for grabs.
A timely opportunity
Both Campa Cola and Thums Up latched onto the opportunity. There was a third brand too, 77, which was launched in the same year but failed to make a mark. Limca and Gold Spot (also part of Parle Bisleri) were the non-cola carbonates hit amongst Indians.
Campa Cola was a homegrown brand launched to fill the void left behind by Coca- Cola. The packaging and branding were also similar to Coca-Cola, Soon celebrities like Ayesha Shroff and a teenage Salman Khan in 1983 were seen endorsing the brand on a yacht, promising the 70s youth of its refreshing taste and cool quotient
It was one of those brands that held massive promise in India which was quietly changing its tastes and food habits, with the introduction of new products like Maggi noodles. It was a brand that could have continued on a trajectory upwards in the 90s, once the country opened up post liberalisation. Alas.
However, the initial success was not enough to ensure its continuation.
Due to family disputes, the brand disappeared from the market in the 90s. This also coincided with the return and rise of Coca-Cola and Pepsi in India. The international brands with their deep pockets and the rise of television as an advertising medium soon became household names.
After nearly 30 odd years, Campa Cola is making a comeback.
Campa Cola's acquisition by Mukesh Ambani-led Reliance Retail was announced on August 31, 2022. Amongst many consumer brands that Reliance acquired this year, Campa Cola stood out amongst its peers like a sore thumb. Reliance Retail
bought the brand for INR22 crore and relaunched it on JioMart's website. Priced competitively against its peers, Campa Cola has entered the Indian markets again.
But the acquisition raises questions What is Ambani betting on beyond nostalgia, and can that nostalgia be enough for the brand to rediscover its fizz?
Also Read: Soft Drinks to Soap – Reliance Unveils Big Price War plan
Finding fizz
The FMCG market in India in the 1970s was, consequently, a very different playground. Indians were jamming to artists like Laxmikant Pyarelal, Pancham Da (RD Burman), and Kishore Da (Kishore Kumar), to mention a few, while the rest of the world was bopping to the sounds of the Eagles, Elvis Presley, ABBA, and Stevie Wonder. The concept of what was seen as western at the time was still fairly clearly defined thirty years after independence.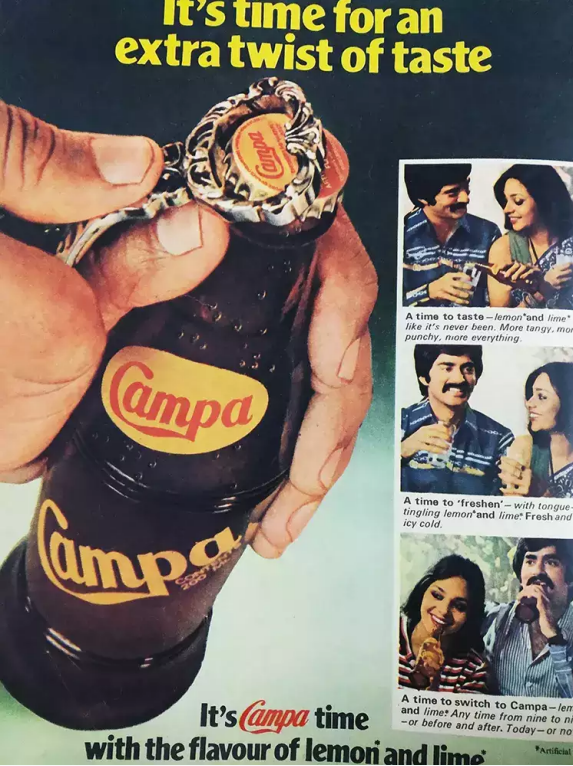 This included the way the nation handled its alcoholic beverages. In addition to the typical tea and coffee, Indian households frequently served some variety of sharbat, which is essentially a concentrate blended with water and sugar.
Brands such as Rasna, Rooh Afza, Khus Sharbat, and Kissan Squash were and continue to be part of a lot of Indian households till date as popular welcome drinks for guests.
India is a tropical country, yet it still isn't as usual in India as it is in industrialised economies to drink something with every meal. In India, especially in the 1970s, drinks were provided as a welcome beverage to guests.
Back in the 1970s, India had a significant market for concentrates. Soft drinks and carbonates now make up a higher portion of non-alcoholic beverages than they did in the 1970s, when they were primarily thought of as being Western and rarely kept at home. Instead of concentrates
Soft drinks were not as widely consumed as they are now, according to Madhukar Sabnavis, a former vice-chairman and director of client relations at Ogilvy & Mather. You needed crates to keep it at home. The bottles have to be delivered back. Each bottle in the crate had a serving size of 250–300 ml. You would go to the grocery shop, make a deposit, and place an order for 24 bottles.
Campa Cola was introduced to that society. Although it practically became associated with cola in the nation after its 1977 premiere, the consumption trends were still at odds with those of other well-known drinks.
"Campa Cola was an urban dweller, young person product. It wasn't a premium product, but it wasn't also priced in a way that you could keep it at home. Campa Cola was mostly consumed outside of homes, at-home consumption was virtually non- existent," recalls Santosh Desai, managing director and CEO of Future Brands, and formerly of McCann Erickson India.
It was a somewhat lavish drink, Sabnavis continues. Additionally, it was accessible at all colleges. Anything more than a good cup of tea costing 25 pence back then felt luxurious and pricey.
Desai adds and concurs. Except for a few wealthy individuals, nobody really kept sodas or other soft drinks on hand at home. Rasna and other squashes were still common.
It was a preferred beverage at the time, especially among young people in north Indian markets like Delhi because of its out-of-home college market.
Nostalgia Versus Age
The youngsters of the 1970s have grown up. Those who consumed Campa Cola back then are now in their mid-40s to late 50s. While they may have loved it at that time because it was an out-of-home brand it wasn't something they encountered every day
In conclusion, the idea of nostalgia might not be sufficient to resurrect the brand. despite Reliance pushing it despite its strength.
This is true even though there is a strong category link with cola, the generation who would have nostalgia for the brand no longer consumes cola. The strength of the brand might not be as clear-cut as that of rivals like Liril.
Advertising for any impulsive purchase always depends on keeping consumers aware of the brand, says Desai. According to that perspective, firms like Thums Up and Campa Cola used a lot of outdoor promotion rather than TV. In the 1970s and 1980s, FMCG products like Surf dominated most television ads.
"It wasn't till Pepsi and Coca-Cola, which substantially pushed the advertising campaigns of carbonates on TV when they relaunched their products in the Indian markets, that carbonates had that kind of brand recall," Desai reckons
The uncool cola conundrum
Varun Beverages is the primary distributor of PepsiCo India. The company takes care of nearly 85% of the international brand's India distribution.
According to its FY21 annual report, the contribution of carbonated soft drinks declined from 81% in 2016 to 70% in 2021 Non-carbonated drinks, which include juices, continued to contribute the same, which is 6% towards the total revenue of the company during 2016, and 2021. Packaged drinking water grew from 13% to 23% during the same time
Reliance has acquired the brand at a time when consumers are deliberately moving away from sugary drinks and the market is flooded with New Age digital brands that offer low sugar options. This underlines one of the biggest challenges in front of Campa Cola-making cola cool again.
Reliance Retail will first have to convince its consumers to drink carbonated beverages and then choose Campa Cola amongst the options available.
"It (Campa Cola) was a somewhat indulgent drink. It was available across colleges as well. Back then you could get a good cup of tea for 25 paise, so anything more than that felt indulgent, and expensive."

Madhukar Sabnavis, former vice-chairman and director-client relations, Ogilvy & Mather.
Desai says, "Nostalgia by itself is not enough to revive a brand, especially for a product such as this. It wasn't like an important part of a generation's upbringing. You may have some of the older generations try the relaunched product, since the brand rings a bell, and some of the younger generation crowd try it out since they may have heard about the brand. But I don't think anyone will be very excited."
"When Campa Cola first came out, I was a student. And no, I don't have a lot of nostalgia for the brand because it wasn't a very popular product back then. Lata Mangeshkar, Mohammad Rafi, or Kishore Kumar will bring back memories for me because it is the music I listened to growing up. Will a company like Campa Cola be able to evoke such sentiment? Not in my opinion, says Sabnavis.
Others have tried to follow the same route but have failed.
Rooh Afza launched Rooh Afza Fusion in 2017 as part of an ongoing effort to appeal to a younger audience. As a ready-to-drink beverage made with actual fruit juice, the product was introduced. Again in 2020, it came out with new products where it had fruit juices, and also a variant of milkshakes in the brand portfolio But it didn't take off either of the times.
Key learning – the issue with reviving an old brand is connecting with the new consumer base, rather than reviving the old brand based on nostalgia alone
Cola is no longer as fascinating a category as it once was, and two of the greatest international behemoths are already well-established in the nation.
In the 1970s, consumption of carbonates was primarily concentrated outside of homes. This still holds true. With the exception of pandemic years, there is a high rate of outside-the-home consumption of these beverages in workplaces, educational institutions, theatres, dining establishments, and bars. There is a distinction in consumption frequency, though.
It has become commonplace to eat out or order pizza and a soda. However, neither was typical in the 1970s. Even going out to eat was infrequent.
While the brand is obviously available in pet bottles in various SKUs now, chances of someone choosing Coca-Cola Pepsi or Thums Up continue to be much higher due to their higher brand recall.
A Problem in Marketing
In India, brand revival has been attempted a few times, possibly with success. Think of Old Spice, which was introduced in the 1930s and was largely popular among men of that age. It peaked globally in the 1960s and 1970s, after which it was actually regarded as an old man's fragrance. The brand was successfully revived by Procter & Gamble through new category expansion, including deodorants, and witty television advertisements with Milind Soman referring to it as "Mantastic" in 2013. Procter & Gamble purchased the brand from Shulton Company in 1990.
However, in other instances, even well-known athletes have had difficulty reviving dated brands. For instance, Coca-Cola purchased RimZim from Parle Bisleri in 1994. The bubbly, carbonated beverage with a flavour of jeera was first introduced in the 1980s and had a specialised market. After years of waiting, Coca-Cola relaunched the brand in 2018, but it didn't take off. For Campa Cola, there needs to be some element in the new marketing plans that are not solely driven by nostalgia.
Few things have a comeback tale as compelling as music. Consider the 1985 song "Running up the hill" by Kate Bush, which was reissued as a crucial plot device in the fourth season of the hit Netflix series "Stranger Things." After 37 years, the song reached No. 1 on iTunes, saw a spike in Spotify streaming of 8,700%, and in 2022, it received the most Shazams of the entire year. But that's part of music's appeal.
Click Here – to invest in Reliance Retail
In case you need any assistance, you can reach out to us at +91 8240614850
---
Also Read: Reliance Retail readies to disrupt the FMCG space