In India's FMCG sector, an all-out war has begun. On one end, there are the behemoths – HUL, P&G, Dabur, Marico, Tata Consumer, ITC, and others – and on the other, there is Reliance Retail, the master disruptor.
Mukesh Ambani-owned Reliance Retail Ventures, a subsidiary of Reliance Retail, has set its sights on India's over USD500 billion grocery retail market, according to Euromonitor International. And the company is counting on its distribution channel and kirana partners to help it achieve this goal.
The Approach
Reliance Retail has been slowly and steadily developing a distributor ecosystem to compete with FMCG behemoths over the last few years. However, its strategy differs from that of the incumbents.
Helmed by Isha Ambani, Reliance Retail has announced its plans to go big on FMCG with the help of local brands and manufacturers. During its AGM last year, the company mentioned that it intends on launching affordable products.
To carve a niche in the sector, it is using four primary moves:
Getting deeper into distribution

: Becoming distributors and selling both Reliance Retail and national brands such as products by HUL, Marico and the likes, thereby establishing the FMCG presence not just from the brand side.

Working with kiranas

: The company is using its kirana stores partners as its JioMart delivery centres and encouraging them to become sellers on the JioMart platform as well.

Developing private labels

: The JioMart website currently has nearly 70 brands, listed under private label across 10 categories, including groceries, fashion, and beauty amongst others. Most of these brands and products are priced affordably, thereby giving a stiff competition to existing ones. The website allows B2C transactions as well – where the order is fulfilled by Reliance Retail.

Acquiring national and regional brands

: This will allow the company to tap into the consumer base that already knows the brand, instead of starting from scratch. Over the last three years, Reliance Retail has acquired brands across categories such as beverages, and packaged foods such as Campa Cola, Sosyo Beverages, Lahori Zeera and the most recent being Sri Lankan biscuit leader Maliban biscuits.
What can we expect from each of these moves taken by Reliance to take over the FMCG market?
Reliance Retail has been a few years behind in entering the retail space. It entered the e-commerce market as well in 2016. But the delayed entry did not stop it from giving a tough competition to its competitors. Reliance is perhaps planning to repeat the success with its delayed foray into FMCG business as well.
Out of the INR50,000 crore grocery retail market of India, more than 75% is still dominated by kirana stores. And Reliance is not just eyeing the 25%, it is working with kiranas, and hence, targeting the whole market and not just the organised sector.
Let's deep dive. Reliance's 'selling ecosystem'
According to Euromonitor International, India's grocery retail market accounts for nearly 67% of the country's total retail market. The channels of grocery retail are further divided into modern and traditional retailers. The former category includes hypermarkets, supermarkets, and convenience stores, while the latter category includes kirana stores.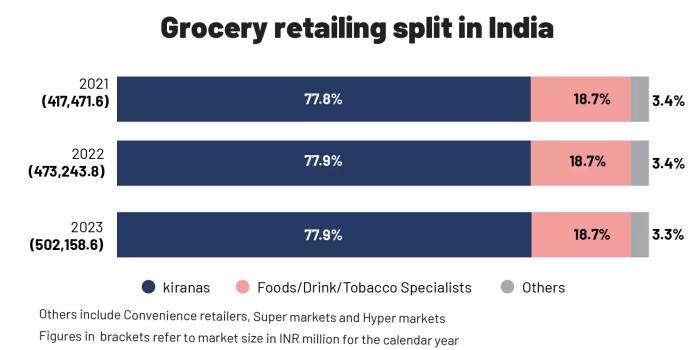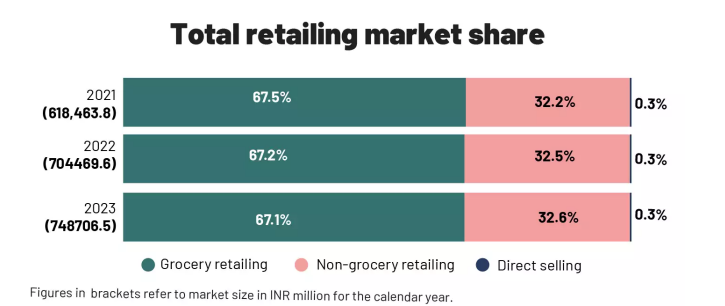 Kirana stores are the lifeblood of grocery retail in India, accounting for 75% of total grocery sales. Any FMCG brand must have a presence on this channel.
The largest FMCG conglomerates are available pan-India across the majority of kirana stores with their cheapest SKUs as well – this could be the smallest SKU, for example, sachets for shampoos, or the largest to make it cost efficient and allow consumers to buy in bulk; read products like detergents.
In India, grocery retailing is always driven by value and availability, not just cost.
During the pandemic, Reliance Retail Ventures began interacting with kiranas in ways that no one had done before. The company decided to become distributors. It sold both its own and third-party products.

Also Read: RS Sodhi roped in by Reliance Retail to spearhead grocery business
Taking control of distribution
In India, distributors are the backbone of FMCG sales. While manufacturers sell to distributors with no credit timeline, the latter allows discounts to wholesalers, who then extend a 30-day credit line to retailers. The product is then sold to consumers by retailers.
Reliance is quickly becoming one of the country's most aggressive distributors.
"Reliance's focus on the FMCG industry began with the distribution business," says Abhijit Kundu, senior vice-president-research at Antique Stock Broking Ltd. They are essentially constructing their own ecosystem. They now distribute their own brands, acquired brands, and competitor brands all at the same time. And here's the best part: they're also offering one of the deepest discounts to wholesalers."
Almost three years ago Reliance started its distribution business. The company is now developing that and calls it the "selling ecosystem" in its annual report.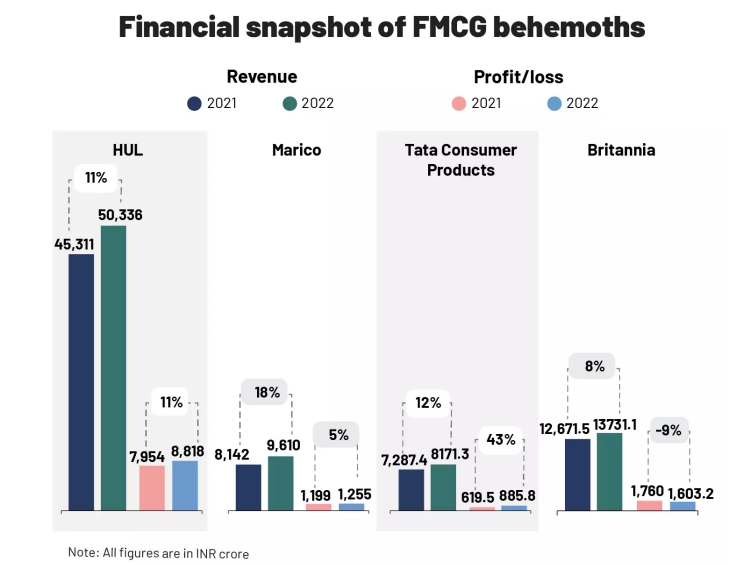 According to the FY22 annual report from Reliance Retail, "the company has expanded its physical footprint into tier-II and tier-III markets, bringing the benefits of modern trade to consumers in smaller towns."
"Expanding its reach even further to reach India's 200 million households, the company is building one of the world's largest distribution platforms under its 'new commerce' initiative, leveraging its extensive supply chain and sourcing capabilities, as well as New Age technologies, to support and enable millions of kirana and merchant partners across the country, assisting them to modernise, provide easy access to a diverse product portfolio, become more efficient, and become more profitable."
According to the FY22 annual report from Reliance Retail, "the company has expanded its physical footprint into tier-II and tier-III markets, bringing the benefits of modern trade to consumers in smaller towns."
"Expanding its reach even further to reach India's 200 million households, the company is building one of the world's largest distribution platforms under its 'new commerce' initiative, leveraging its extensive supply chain and sourcing capabilities, as well as New Age technologies, to support and enable millions of kirana and merchant partners across the country, assisting them to modernise, provide easy access to a diverse product portfolio, become more efficient, and become more profitable." 
"During the lockdown period, Reliance Retail established itself as the 'preferred' partner to kiranas by ensuring uninterrupted supply of essential items," according to the MCA filing of Reliance Retail Venture's FY21 report. JioMart kirana, which is now available in 33 cities, has launched a self-onboarding application to facilitate rapid merchant additions."
Devangshu Dutta, founder of Third Eyesight Consulting, says of Reliance's developing distribution network, "Disintermediation, or the removal of middlemen, is a natural outcome of market consolidation." However, even in the most developed and consolidated consumer markets, intermediaries continue to exist because they add value by aggregating demand from smaller markets or segments, as well as providing some financial buffer for both buyers and sellers."
collaborating with kiranas
What's interesting is how Reliance Retail is interacting with kirana stores and capitalising on their strengths. JioMart was gradually launched by the company in December 2019.
"As a distributor, Reliance works very well. Instead of offering deep discounts across all brands and SKUs, the company is offering deep discounts on the most popular SKUs. Assume you own a kirana shop; technically, no one has allegiance to a single distributor or wholesaler. Now, if you know as a kirana store owner that you need 10 packets of, say, Surf Excel, 1 Kg SKU, chances are that kirana will order the same from Reliance, because RRL knows that is the fastest-moving SKU, and thus will give the deepest discount on that. The discounts offered by RRL are almost 15%-20% higher than what any other distributor is providing right now," says Kundu. 
"The same kirana store owner will probably order other things from other distributors, depending on discounts again. What Reliance is doing is focusing on the volume game, and on the fastest-moving SKUs and brands, cause as a distributor they know these will move, no matter what," he adds. 
According to a Kotak Securities report in March 2021, the average number of distributors that a retailer works with is 10-15. And foods, which include staples, dairy, packaged foods, beverages and such contribute 75% of average daily sales. 
The same report surveyed at the time of freshly launched JioMart selling ecosystem kirana partners in Mumbai, the count of which was 60, and majority of these kirana store retailers surveyed mentioned that JioMart has lower pricing than other distributors and offers better profit margins. Around 37% respondents also mentioned that Reliance pushed its own private labels while having all brands in stock.
Isha Ambani during the 45 th Annual General Meeting of Reliance Industries Ltd mentioned that the company now has a merchant partner base of 20 lakh partners and is adding 150,000 partners every month. The company has five-year plans to cover 7,500 towns and 3 lakh villages.
"JioMart, delivering in over 260 towns, was rated India's No. 1 trusted brand for online grocery. JioMart works on a hyperlocal delivery model and is India's largest deployment of omni-channel capabilities," she said.
"The FMCG and grocery business of Reliance, back in 2021-2022, was nearly INR55,000 crore – INR60,000 crore already. And this was even before the company was involved in brand sales of its own. This was primarily driven by its distributor business," says Kundu of Antique Stock Broking.
Also Read: Reliance Retail enters general trade with own FMCG brands
Acquisitions and private labels
Dutta of Third Eye says, "Regarding the FMCG and food/beverage brand acquisitions by Reliance Retail, while they are relatively small, they feed into a strategy that side-steps the need to create brands from scratch – both, as private labels for its retail formats and other acquisitions for its broader expansion into other retail channels."
"Creating new brands takes time and success is not guaranteed, no matter who is behind the brand. Riding on the goodwill and awareness of existing brands provides a shortcut, and further growth can be fuelled by additional resources," adds Dutta.
Clearly, something Reliance Retail seems to believe as well. Or maybe it just wants to shorten the process of establishing its retail brands' presence amongst consumers.
One of the biggest acquisitions of the company was Metro Cash & Carry, the German B2B wholesale company. Reliance acquired the latter in a 100% stake sale for INR2,850 crore. This would give a huge leg-up to Reliance's already burgeoning "selling ecosystem" business.
Speaking about this acquisition Isha Ambani said in the press release, "We believe that Metro India's healthy assets combined with our deep understanding of Indian merchant / kirana ecosystem will help offer a differentiated value proposition to small businesses in India."
Metro India, which entered in 2003, was operating 31 stores across 21 cities. The company was servicing nearly 3 million customers via its B2B channel, of whom 1 million (customers) were frequent buyers. As of FY22, Metro Cash & Carry generated revenues worth INR7,000 crore and losses of INR49.7 crore, as reported by Tofler.
In 2021, Reliance Retail also acquired online milk and dairy products delivery platform, Milkbasket. As per its FY22 annual report, the company integrated Milkbasket with JioMart, and there were double the number of subscriptions on the Milkbasket platform. The company seems to have dairy leadership plans as well. Reliance Retail has recently got RS Sodhi, ex-managing director of Gujarat Cooperative Milk Marketing Federation (GCMMF), the parent company of Amul, onboard. Sodhi was associated with GCMMF for 40 years, out of which 12 years he held the position of managing director.
Additionally, the company is aiming for the FMCG market with the aid of private labels and brand acquisition. Reliance Retail has invested almost USD 1.1 billion in brand acquisitions over the past few years, which includes both grocery and nongrocery divisions.
Campa Cola was purchased by Reliance Retail from the Chaudhary brothers for INR 22 crore, and the brand was relaunched in March 2023. Additionally, the business has disclosed its intention to buy 50% of Sosyo Hajoori Beverages, a 100-year-old
Gujarati beverage company.
Prior to that, it paid INR 74 crore for a 51% share in Lotus Chocolate Company with the intention of eventually acquiring an additional 26% of the latter.
In the non-grocery FMCG category, the company has acquired lingerie brand Zivame for INR1,200 crore in 2020, 89% stake in Clovia — another more affordable brand compared to Zivame — for INR950 crore, offline lingerie brand Amante (owned by MAS Holdings) for an undisclosed amount, British toy retailer Hamleys for INR620 crore in an all-cash deal, majority stake in online furniture company Urban Ladder for INR182 crore, majority stake in online pharmacy retailer Nedmed for INR620 crore, and 26% stake of task-runner and quick-commerce app Dunzo for INR1,488 crore.
While not fast moving, but consumer goods nonetheless, Reliance Retail acquired couture fashion brands namely, 52% of Ritu Kumar for an undisclosed amount, 51% of Abu Jani and Sandeep Khosla, 40% of Manish Malhotra's couture brand, and the company has joint ventures with Anamika Khanna and Rahul Mishra.
In terms of private label, the business just introduced Independence, which would include a variety of essentials under its tent, such as edible oil, packaged atta, packaged pulses, and biscuits. Private label brands from Reliance Retail include Good Life, Snac Tac, Pure It, and Enzo. These brands span practically all supermarket FMCG sectors, including packaged foods like noodles, house cleaning, beauty, and personal care products including dishwashing, floor cleansers, and hand wash.
When it comes to its purchase strategy, the corporation is not restricting itself to just Indian brands, either national or regional. Reliance Retail in February 2023 acquired Sri Lanka-based Maliban biscuits, and plans to bring the brand to India, and clearly will now be targeting the biscuits category as well. Biscuits in India is nearly INR38,000 crore market, with leaders such as Parle Products, Britannia, and ITC.
Also Read: Reliance Retail Share Price has gone 4X; Synergies in Acquisitions may help future growth
The conclusion
The Indian FMCG market is being targeted by Reliance Retail from all sides, including retail locations, national and local brands, private labels, and distribution.
But things don't stop there. With the use of Jio PoS terminals, which kiranas employ for both transactions and supply chain management, the company is also offering financial services. It's anticipated that Jio Financial Services would quickly rise to the fifth-largest fintech company in the nation.
The corporation is not merely entering the FMCG sector; rather, it is working to build a whole ecosystem there. While acquiring a customer is undoubtedly the end goal, the kiranas, the backbone of the nation's FMCG retail, are being targeted first.
The company has added 2,500 stores in FY22, taking the total count of retail stores to 15,000, covering 42 million square feet. It has also doubled its warehousing fulfilment area to 670 million cubic feet. Warehousing and distribution are at the core of its retail plans, clearly.
"The majority of retailers in India are tiny, family-run businesses that function at a subsistence level and rely on distributors and wholesalers for financial and operational support. So, unless wealthy players like Reliance decide to explicitly price them out of the market while also giving credit to retailers, getting rid of intermediaries from the distribution chain in India will take time, says Dutta.
Click Here – to invest in Reliance Retail
In case you need any personal assistance, you can reach out to us at +91 8240614850
---
Also Read: Reliance Retail Valuation update