About the Company
The Company is largely an investment company, and its business revenue is the money generated by the Company's investments. The corporation operates in a single segment of investing operations. The developing trend in India's economy is a motivating element for the company to strive for increased profitability. The most significant risk is associated with investments, which include fluctuating capital market hazards. The corporation selects and seeks advice from reputable portfolio managers on a regular basis in order to limit risks and carry out its investments within the risk management framework. The internal control system is adequate for the size of the company. The company has key investments in Asian Paints, One97 Communications Ltd., Resins and Plastics Ltd and Brainbees Solutions Pvt Ltd.
Financial takeaways:
The company offers impressive EPS of about INR 4,052 per share with a return on net worth multiple of 31.61. The total net profit before tax of the Company is Rs. 7,201.93 lakhs in current year compared to Rs. 5,383.23 lakhs in 2020. The Net profit after tax stood at Rs. 5,488.66 lakhs as compared to Rs. 5,459.12 lakhs in 2020. The company declares a dividend of INR 15 per share each year.
Asian Paints Investment Post-Mortem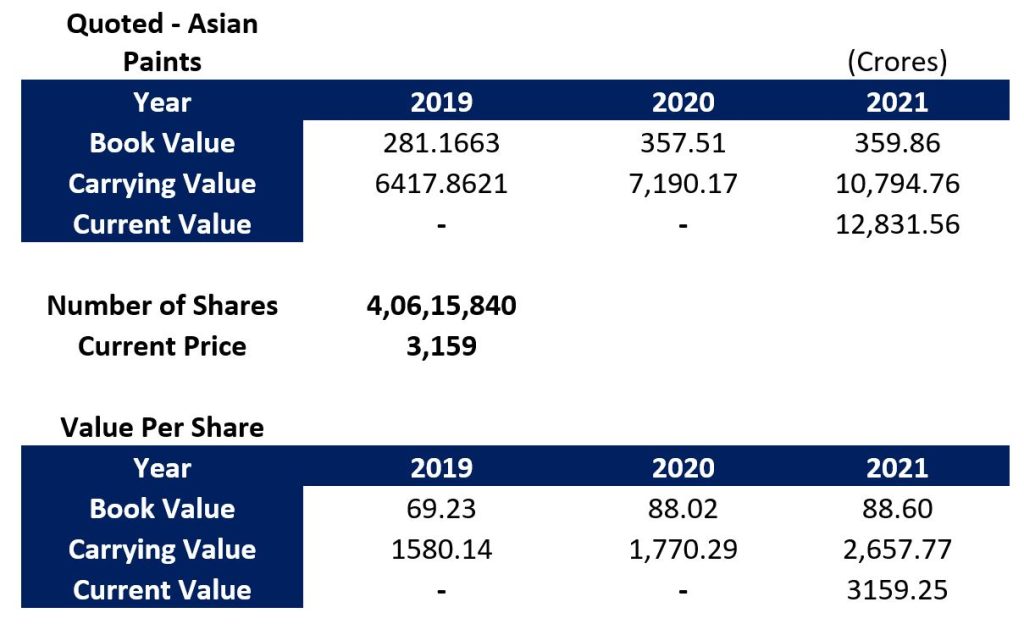 The company has a book value of investments in Asian Paints of approximately 360 crores as of 2021, with the investment's current value close to 12,850 crores. Using Asian Paints as a benchmark, the share price of Elcid  Investment is calculated which is about INR 6,40,880 per share (Share price as on 27th November, 2021). Number of Asian Paints shares – 4,06,15,840.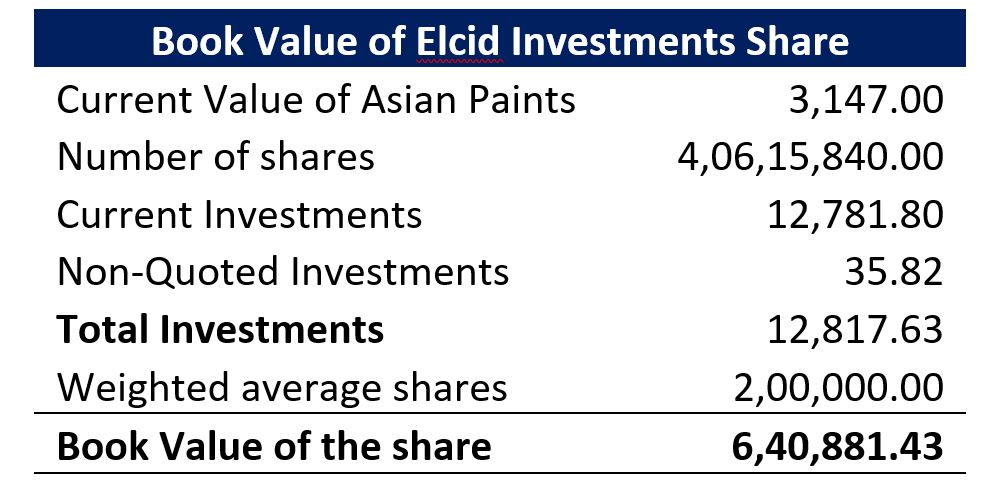 Current Value as on (29th November, 2021)
Illiquid Stock

The Company has a market capitalization of Rs. 20 Lakhs and the intrinsic value of the share is roughly Rs. 6.4L per share.
The company has 229 retail shareholders who own 40,200 shares (20.1%) In 2011, the company came up with a delisting offer at 11,455 per share. Delisting was in vain. Then in 2013, SEBI came up with new rules that the promoters of listed companies cannot hold more than 75% stake in their business, and apparently, promoters of Elcid had to dilute their shares, as their holding was more than 75%. For this, they came up with an OFS option and sold 4.75% of their stake at Rs 5000 per share.
These trapped retailers then tried to approach SEBI to enable a stock price discovery through a one-time call option mechanism. However, this, too, was a failed attempt. Then to sort out this rare and extraordinary case, investors also reached out to the high court but got no solution.
In addition, here we are in 2021 when the stock trades at just Rs 16.2. Apparently, it is highly unlikely that the stock would be available for sale in decades going ahead!
Find out more about the company: https://altiusinvestech.com/company/Elcid-Investment-%7C-Unlisted-Share-%7C-Buy-Sell-Elcid-Investment-Share