About the Company
The Chennai Super Kings, abbreviated CSK, is an Indian franchise cricket team based in Chennai, Tamil Nadu, that competes in the Indian Premier League (IPL).
The team was founded in 2008 and plays its home games at Chennai's M. A. Chidambaram Stadium.
After serving a two-year ban from the IPL that began in July 2015 for their owners' suspected involvement in the 2013 IPL betting scandal (alongside Rajasthan Royals). The Super Kings returned to the tournament in 2018, winning the championship in their first season back. This was its third overall victory. Following victories in 2010 and 2011, tying it with the Mumbai Indians for the most IPL title wins.
Mahendra Singh Dhoni, the squad's captain, has led the team to three triumphs since 2008 and is coached by Stephen Fleming.
Website: www.chennaisuperkings.com
Key Highlights for the FY2022 – Chennai Super Kings
➡️Chennai Super Kings 's Total Revenue increased on account of Grant of Central Rights given by BCCI and Sponsorship Income.
➡️The expenses for the year under review have been higher consequent to the tournament being held in 2 stages and with the second stage being held overseas. The revenue was also higher due to the team winning the title.
➡️Team Players and Staff Remunerations increased by 54% from ₹96.34 crore in FY21 to ₹148.22 crore in FY22.
➡️Tournament Expenditure increased from ₹12.40 crore in FY21 to ₹43.71 crore in FY22.
➡️The company is planning to create a high-performance centre on its land at Navallur for providing state of art training facilities. The training facility will include a sports complex and cricket ground for CSK to have pre-match practice sessions.
➡️The Company submitted a bid on 13th July 2022 to acquire a franchisee in the T20 domestic league conducted by Cricket SouthAfrica. Pursuant to which, a license was granted for participating in the league in the city of Johannesburg. The 1st edition of the tournament is likely to take place in January and February 2023.
➡️The Annual General Meeting will be held on 21st September, 2022 at 9 30 am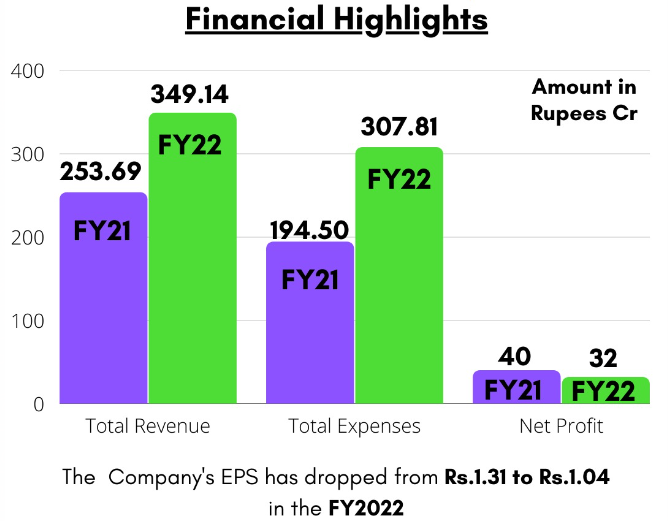 To invest in Chennai Super Kings, Click Here
---
Also read: All you need to know about CSK Pre-IPO share price.