India Cements, the owner of the Chennai Super Kings, has seen CSK share price more than double in the last three months and double in the last two years. CSK is the country's only sports team with shares in the grey market.
Let's explore, how IPL favorited Chennai Super Kings became a prize catch for its investor.
About the company
The Chennai Super Kings, abbreviated CSK, is an Indian franchise cricket team based in Chennai, Tamil Nadu, that competes in the Indian Premier League (IPL).
The team was founded in 2008 and plays its home games at Chennai's M. A. Chidambaram Stadium.
After serving a two-year ban from the IPL that began in July 2015 for their owners' suspected involvement in the 2013 IPL betting scandal (alongside Rajasthan Royals), the Super Kings returned to the tournament in 2018, winning the championship in their first season back. This was its third overall victory, following victories in 2010 and 2011, tying it with the Mumbai Indians for the most IPL title wins.
Mahendra Singh Dhoni, the squad's captain, has led the team to three triumphs since 2008 and is coached by Stephen Fleming.
The Chennai Super Kings have the highest win rate of any IPL team (61.28). They have the most appearances in the IPL playoffs (ten) and have played in the playoffs in every season they have participated in the league, making them the only team to accomplish so. They also advanced to the finals of eight of the ten tournaments in which they competed, making them one of the most successful franchises in the IPL.
In addition, they won the Champions League Twenty20 in 2010 and 2014. The Chennai Super Kings' title value in 2019 was assessed to be 732 crores, making them one of the most valuable franchises in the IPL.
Website: www.chennaisuperkings.com
Demerger from India Cement:
On September 26, 2014, the India Cement approved the demerger of the Chennai Super Kings, a BCCI-IPL Franchise 20/20 Cricket Tournament Team, into a fully owned subsidiary by transferring its net assets at cost. As a result, a new wholly-owned subsidiary was formed on January 1, 2015. CSK stockholders then received one share of CSK for each share of India Cement.
How Chennai Super Kings became an investor's delight
According to Duff & Phelps, worldwide valuation and corporate finance advisers, the IPL's brand value was $6.8 billion (Rs 47,500 crore) at the end of its 12th season last September. This is more than double what it was valued at the end of its seventh season in 2014.

Sponsorship Revenue of CSK:
Ravindra Jadeja led team has scored a century on the commercial pitch. CSK is now only a 2nd team to score 100 Crore plus in Sponsorships Revenues for a single season (season 12).
In FY2020, CSK earned Rs.59.62 Cr. from sponsorship revenue, which translates to a growth of approximately 70%
CSK has already signed 11 Sponsors on board & more than 12 other partnerships.
90% of the CSK Sponsors are extension of previous deals which clearly shows the kind of value Dhoni led unit brings to the table for the brands.
In 2017, Star India had won the broadcasting rights for IPL for Rs 16,348 crore for 5 years. This time the final bids of IPL Media Rights for 2023- 27 cycle, reaches Rs 44075 crore in which Disney (Star Sports) bought TV Rights for Rs. 23575 Cr. Viacom bought Digital Rights for Rs. 20500 Cr.
Total matches in IPL: 410.
Cost per match: Rs. 107.4 cr
Total balls bowled in a match: 240
Cost per over: Rs. 2.68 cr approx
Cost per ball bowled : Rs. 44.79 lacs.
After the media rights sold for Rs.44075 Cr, then the top-line revenue can reach to Rs.500-600 Cr. (approx. 2X) and bottom-line revenue can go from an average Rs.80 Cr. to Rs.300 Cr in the next one year.
We have written on IPL media rights earlier here and here
CSK is 2nd Most Valuable team in IPL
According to Forbes, the Mumbai-based franchise has a value of $1.3 billion closely followed by CSK, which are valued at $1.15 billion.
CSK share price will be approximately Rs.279.89/share at a valuation of $1.15 billion, but at the moment CSK share price is being trading at around Rs.165/share (as of Aug'2022) at a valuation of $800 million.
According to the valuation done by Forbes in 2011, the average worth of each franchise was $67 million, but with the league having recently(in 2022) expanded to ten clubs, that average is now up to $1.04 billion, an annualized growth rate of 24 per cent.
Valuation Compared to Other Franchisees:
Recently Lucknow Super Giants was acquired by Kolkata's business tycoon at a whopping Rs.7090 Cr. and on the other hand CSK's Market Capital is only around Rs. 6000 Cr. This shows that how much CSK is undervalued because:
CSK has a higher brand value than Lucknow Super Giants as they are the 2nd most successful team in the IPL and Lucknow Super Giants is a new franchisee.
CSK has won the greatest number of matches than any team in the IPL history, this shows that how consistent they are.
List of CSK sponsors in season 12 (2022)
TVS Eurogrip – 3 Years 100 Cr+ Deal for Front Jersey Partnership

India Cements – Back Jersey Partner

Gulf Oil – Associate Partner

British Empire – Associate Partner

SNJ 10000 – Associate Partner

Reliance Jio – Associate Partner

Astral Pipers – Associate Partner

Amul – Pouring Partner

Amazon Pay – Digital Partner

Aqilliz – Official Partner

Dream11 – Official Partners
CSK IPL Standings
Year

League standing

Final standing

2008

3rd out of 8

Runners-up

2009

2nd out of 8

Semifinalists

2010

3rd out of 8

Champions

2011

2nd out of 10

Champions

2012

4th out of 9

Runners-up

2013

1st out of 9

Runners-up

2014

3rd out of 8

Playoffs

2015

1st out of 8

Runners-up

2018

2nd out of 8

Champions

2019

2nd out of 8

Runners-up

2020
7th out of 8
Not qualified
2021

2022

1st out of 10

9th out of 10

Champions

Not Qualified
Financial Performance of CSK
| | | |
| --- | --- | --- |
| Particulars | FY2021 | FY2020 |
| Revenue | 247.83 Cr. | 350.27 Cr |
| Reserves | 213.03 Cr. | 172.77 Cr. |
| Face Value | 0.1/sh | 0.1/sh |
| Earnings/Share | 1.16/sh | 1.43/sh |
| Profit After Tax | 40.26 Cr. | 50.34 Cr. |
| Profit Before Tax | 59.20 Cr. | 67.25 Cr. |
Chennai Super Kings Ltd. (CSK) has reported a lower profit of Rs 40.26 crore for the year ended March 31, 2021, down from Rs 50.33 crore in 2019-20.
It reported revenue of Rs 253.69 crore for the year under review, down from Rs 356.53 crore in the preceding year.
Profit before interest, depreciation, and exceptional items stood at Rs 67.79 crore (Rs 74.26 crore). The finance cost was Rs. 5.26 crore (Rs.5.337 crore).
Depreciation/amortisation claimed Rs 3.33 crore (Rs.1.63 crore). Profit before tax stood at Rs 59.19 crore (Rs 67.25 crore). It provided for a current tax of Rs 17.63 crore (Rs 16.97 crore). Deferred tax stood at Rs1.29 crore (Rs 6.41 lakhs).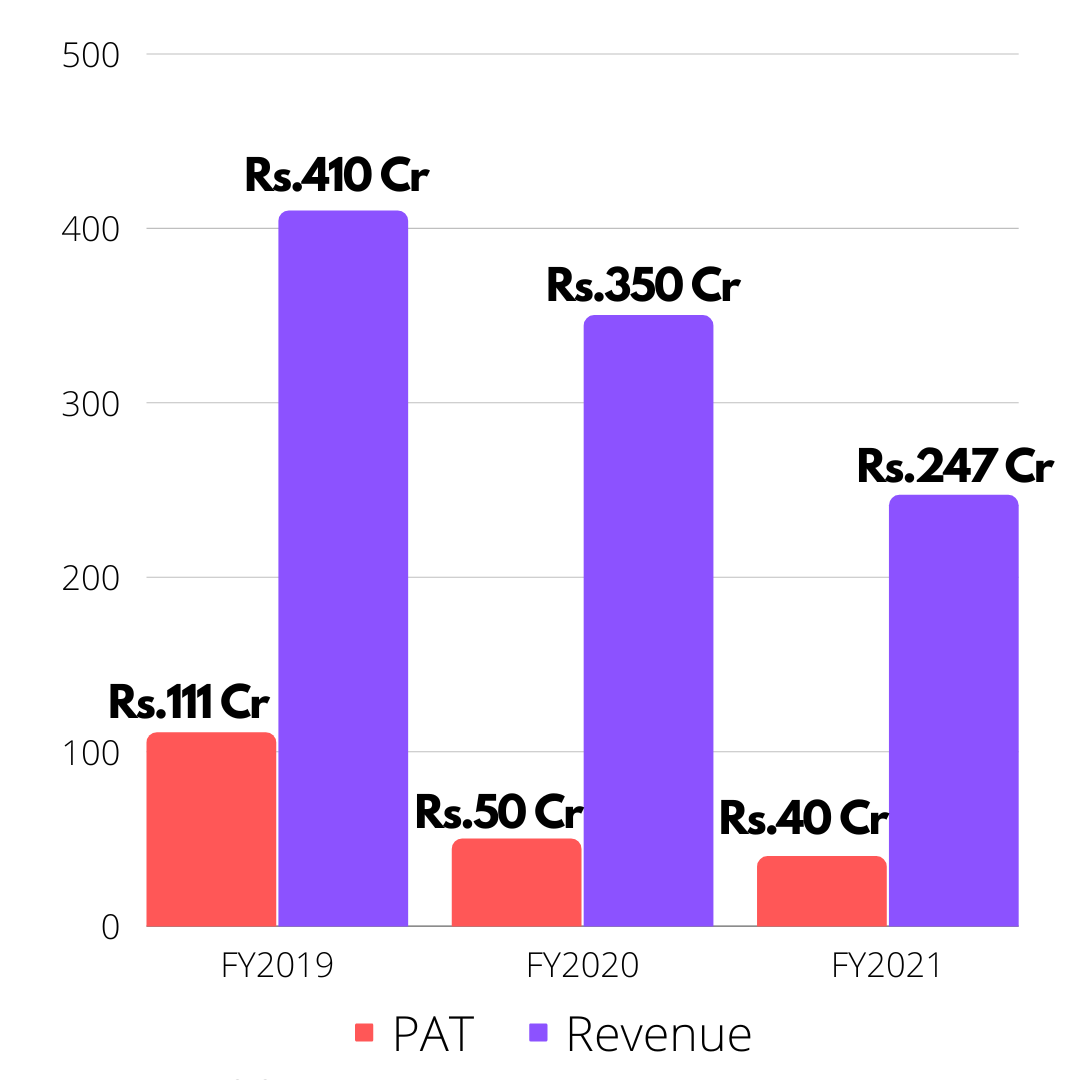 The MSD Factor
The IPL teams receive little support from the away crowd when they play away games. However, this is not the case with the Chennai Super Kings. Half of the away fans will be cheering for Chennai Super Kings because of one person: Mahendra Singh Dhoni. That is the level of influence and power that he wields.
Sponsors prefer teams who are more likely to advance to the IPL season's play-offs, as stated earlier in the article. Chennai Super Kings have made the IPL playoffs in each of the last four seasons. The man responsible for CSK's success is none other than MS Dhoni. For the past 12 years, he has led the squad from the front. He played for Rising Pune Supergiants in 2016 and 2017. In 2017, they finished as the league's runners-up.
MS Dhoni is a brand in and of himself. Because of MSD's brand recognition, CSK has an easier time attracting sponsors. Every team he has led has proven to be successful not only on the ground but also off the ground. Because of his popularity among Indians, the sponsors desire to link themselves with him. As a result, the related brands benefit from increased sales.
Conclusion
As we have mentioned earlier that CSK is the 2nd most valuable team of the league at a whopping valuation of $1.15 billion (according to forbes). and after the media rights sold for $6.2 billion, it is expected that the topline revenue will increase by 2 to 3 times from Rs. 250 Cr. to Rs. 500-600 Cr. by looking at these stats we think that there is a lot of room for progress in the coming financial year.
FAQs
How to buy CSK shares?
To invest in CSK shares – Click Here
What is CSK share price?
CSK share price is being trading at around Rs.165/share (as of Aug'2022) at a valuation of $800 million.