The pharmaceutical sector has always been as chaotic as we can imagine. Though we were all pleased with the wholesale and retail market structures provided by the pharmaceutical sector, the digitalization of the same was the need of the hour.
With the digitalization of the medical business, we can now purchase medicines online from a variety of eCommerce medical stores and have them delivered without any problems. PharmEasy is one of the primary players that facilitates online medication ordering.
PharmEasy has created a healthcare delivery platform in order to simplify and modernise the Indian healthcare system. The portal keeps patients in touch with a variety of local pharmacy businesses and outlets. Today, data and technology are the driving forces behind a vibrant health and well-being ecosystem, and PharmEasy is harnessing both to improve healthcare in India.
PharmEasy – About the Company
API Holdings is India's leading digital healthcare platform, operating an integrated, end-to-end business that not only provides solutions for consumers' healthcare needs across critical stages, but also its unified data platforms and supply chain capabilities, allowing it to service each stakeholder in the healthcare value-chain. The founders' aims shifted from aggregating and fixing only demand issues in the segment to aggregating and solving both demand and supply concerns. The company operates the PharmEasy consumer healthcare app, which enables on-demand, home delivery of pharmaceutical products to consumers.
Website: pharmeasy.in
Dealing with Customers/Patients
Offering digital tools and health-related information,
Teleconsultation is available.
Diagnostic and radiological testing are available.
Treatment protocols, including products and technologies, are provided.
Managing stakeholders in the healthcare value chain
A Distribution Channel (wholesalers, retailers, and pharmacies/institutions),
Consultants (as well as hospitals), diagnostic and radiological laboratories,
Consumers,
Companies (pharmaceutical, nutraceutical, medical devices)
Group Information – API Holdings
The PharmEasy group's controlling company is API Holdings. API Holding was established on March 31, 2019. As a result, there is a limited operating history, and the prospectus includes Consolidated Financials for only the two most recent fiscal years, FY20 and FY21. Since its inception,
the company has developed significantly, owing mostly to recent acquisitions. Many of which are important, there are 26 subsidiaries in total, including Aknamed, Docon, Retailio, and Thyrocare.
The founders of Pharmeasy began with a company named dialhealth.com as a digital and phone order platform (2012-13), which failed, followed by the Dial Health chain of retail locations, which also failed. The difficulties stemmed from inefficient sourcing due to a fragmented pharmaceutical supply chain, low prescription fill rates, patients' proclivity to self-medicate without a prescription and poor adherence to delivery timelines, and a limited ability to store the required number of SKUs in these pharmacies to meet demand. After two failed endeavours, they transitioned to a successful distribution (& B2B) business (2015).
PharmEasy, which was founded in 2015 by Dharmil Sheth and Dr Dhaval Shah, merged with its investor firm, Ascent Health, to become API Holdings in 2019-2020. Following the merger, Ascent Health founders Siddharth Shah, Hardik Dedhia, and Harsh Parekh became cofounders of PharmEasy. Since 2012, some of the Founders have worked in the healthcare field.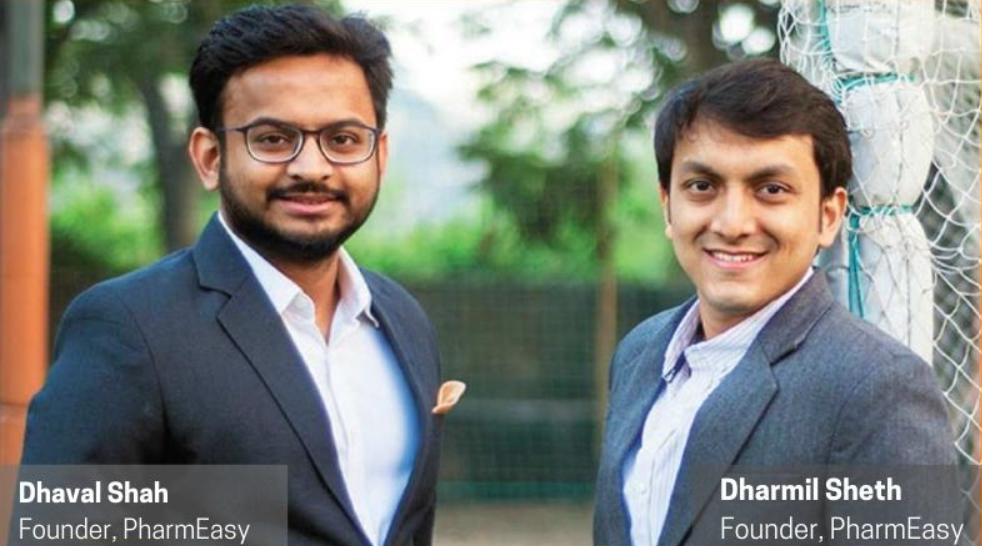 Dharmil Sheth
Dharmil is a co-founder of PharmEasy as well as API Holdings. He is also the President and Founder of Ekagrata. Prior to creating PharmEasy, Sheth developed 91streets. Dharmil is a Btech Electronics Engineer who later earned an MBA in Marketing from IIM Ghaziabad. Dharmil Sheth's initial jobs in business development and as a summer intern were at Techno Gravity Solutions and MakeMyTrip.com, respectively.
Dr. Dhaval Shah
Dr. Dhaval Shah earned his MBBS from Rajiv Gandhi Government Medical College and his MBA from XLRI Jamshedpur. Shah has held the position of General Secretary at both of his colleges. He later worked as a consultant for McKinsey & Company before launching PharmEasy and API Holdings.
The team behind PharmEasy has set its sight on becoming India's best healthcare delivery venture. The focus at the moment is digitization to the maximum possible extent. PharmEasy is a private company that is adding new employees to its task force every other day.
PharmEasy ships drugs and other medical supplies to Indian towns and cities. It's similar to Grofers in medicine. PharmEasy's pin codes are utilised to locate pharmacies closest to the clients. Customers can order things through PharmEasy's website or via its mobile app. They are eligible for savings of up to 20% if they order through the mobile app, which promotes brand recognition and brings new clients to PharmEasy.
PharmEasy is an e-pharmacy with primarily online processes that acts as a three-way link between buyers, suppliers, and the distribution network:
1.
Buyers :
PharmEasy is a ready-to-use website where buyers can easily search for and purchase pharmaceuticals and healthcare equipment online.
2.
Suppliers :
PharmEasy works with a wide selection of local suppliers and medical businesses, all of which assist the company in organising their goods and keeping them online. Furthermore, the company gets revenue from numerous pharmaceutical companies that want to market their products as featured brands online and on the PharmEasy app.
3.
Distribution channel :
PharmEasy has a large distribution network that spans the entire country. This enables the corporation to supply its items to a diverse range of pin codes across India.
PharmEasy – Challenges Faced
The company began operations in 2014 and has since grown to become a prominent participant in the online pharmacy market. PharmEasy, on the other hand, did not achieve overnight success. Challenges are unavoidable, and the aforementioned e-pharmacy was not immune. PharmEasy found it difficult to provide products without a prescription.
Knowing the names of the medications was insufficient. The products could only be supplied with a valid prescription. Many people were hesitant to upload their prescriptions for fear of repercussions. Furthermore, tracking location was challenging for PharmEasy's delivery agents when the company first started. But that is no longer the case.
The company eventually surmounted the obstacles and has developed considerably since its inception in 2014.
PharmEasy – Financials
The company's income has nearly doubled from Rs 340 crore in the previous fiscal year to roughly Rs 737 crore in FY20. Impressive! Dhaval Shah and Dharmil Sheth are instrumental in this growth due to their strong leadership and decision-making abilities. According to the fiscal year 2021 financial reports, PharmEasy has achieved another record of growth with a 220 percent increase in revenues to Rs 2,360 cr in FY21 from Rs 737.4 cr in FY20.
PharmEasy pre-IPO shares are available at Rs. 38/sh (on 4th Aug'2022).
The company's expenses grew in tandem with its income, reaching Rs 2,980.9 cr in FY21 from Rs 1,084.4 cr in FY20, a 147.8 percent increase. In terms of profit and loss, PharmEasy's losses have increased by almost 91 percent to Rs 641.3 Cr in FY21, up from Rs 335.2 Cr in FY20.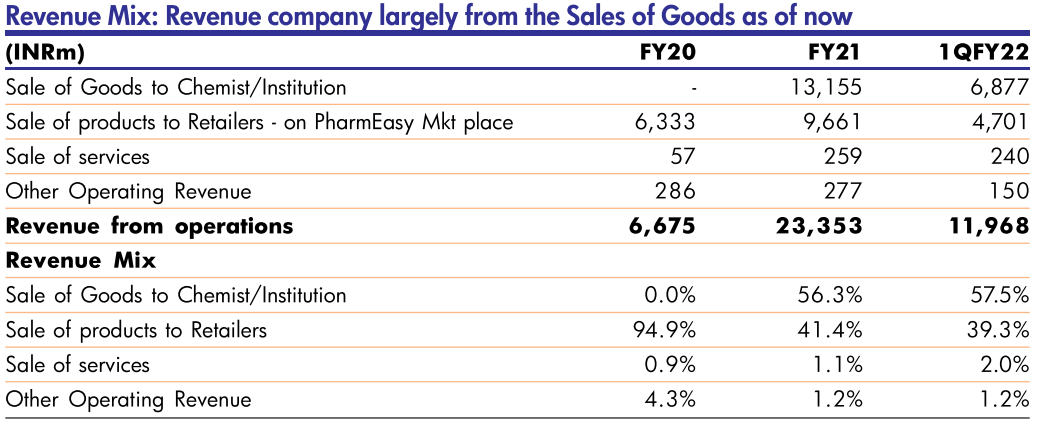 Revenue Split: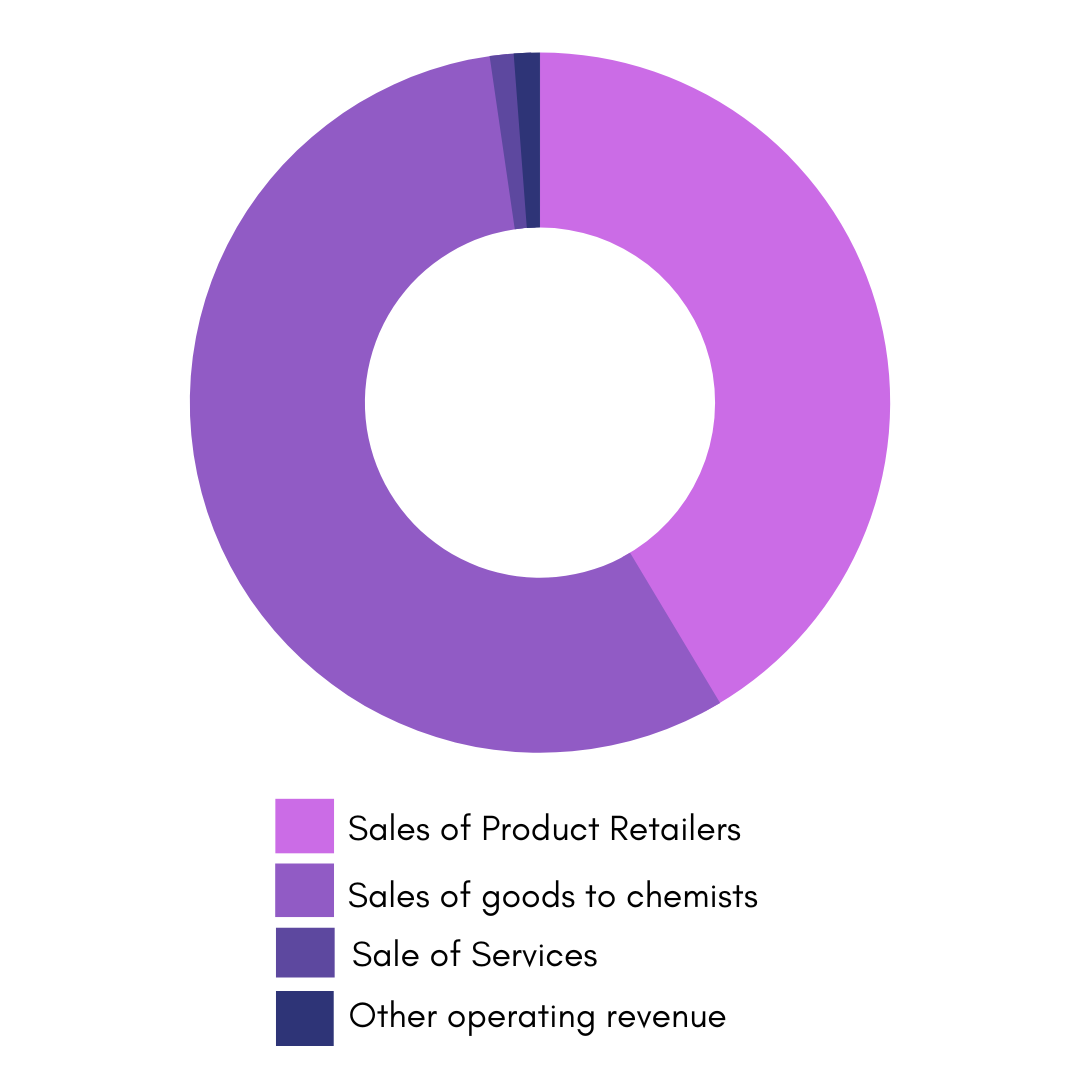 Revenue Contribution based on product and services are as follows:
Sales of Product Retailers – 41.4%
Sales of goods to chemists – 56.3%
Sale of Services – 1.1%
Other operating revenue – 1.2%
PharmEasy has filed its DRHP with the market regulator SEBI and is planning to raise up to Rs 6,250 crores through a fresh issue of shares, on November 10, 2021. The existing investors of the company will not be selling any shares in the upcoming IPO, as per the DRHP. Furthermore, PharmEasy has also announced that it would be looking for a pre-IPO fundraise of upto INR 1,250 Cr via private placement after consulting with the BRLMs (Book running lead manager). However, according to the latest news, PharmEasy is looking to slash its IPO valuation considering the volatility of the current market, as of February 19, 2022.
PharmEasy currently partners with over 60K brick and mortar pharmacies from across the country and has served 20 mn+ patients since it was formed.
PharmEasy – Previous Fund Raised
| Date | Series | Amount | Investors |
| --- | --- | --- | --- |
| November 1, 2021 | Private Equity Fund | – | VestinWolf Capital Management |
| October 18, 2021 | Pre-IPO Round | $354 million | Amansa Capital, Fundamentum, Steadview Capital, Abu Dhabi's sovereign wealth fund ADQ and more |
| July 7, 2021 | Series F | $500 million | Arokiaswamy Velumani |
| June 17, 2021 | Secondary Market | $20 million | B Capital |
| April 7, 2021 | Series E | $390 million | Prosus Ventures, TPG Growth and others |
| November 27, 2019 | Series D | $220 million | Temasek Holdings and others |
| September 26, 2018 | Series C | $50 million | Eight Roads Ventures India and others |
| September 11, 2018 | Debt Financing | $5.44 million | InnoVen Capital and more |
| February 28, 2018 | Series C | $27.23 million | Eight Roads Ventures India, F-Prime Capital, and others |
| April 25, 2017 | Series B | $2 Million | Bessemer Venture Partners |
| March 30, 2017 | Series B | $16 Million | Bessemer Venture Partners |
| March 1, 2016 | Series A | $5 Million | Bessemer Venture Partners |
PharmEasy has 12 lead investors among 43 total investors that it has. VestinWolf Capital, Trifecta Capital, Steadview Capital, Amansa Capital, IIFL Finance and more are among the lead investors of PharmEasy.
PharmEasy – Share Holding Pattern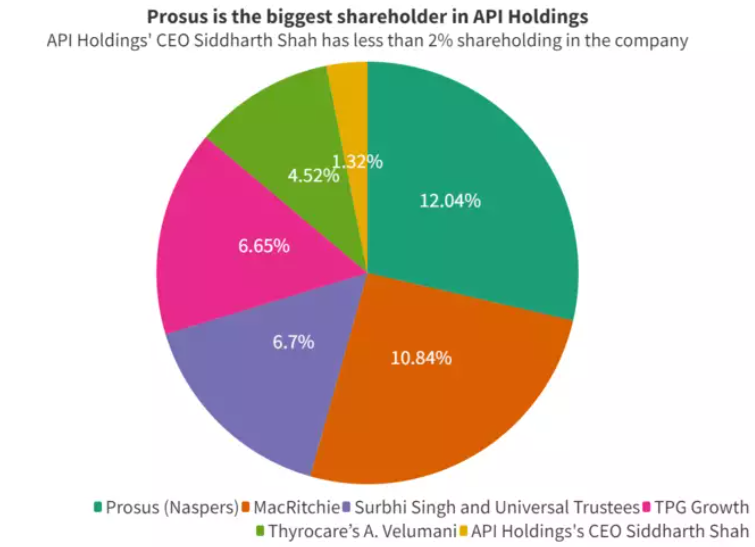 PharmEasy – Competitors
The company's top competitors are –
Tata 1Mg
Ranger Health
Medibuddy
Myra Medicines
Hello Heart
BrownPacket and more.
In addition, some hospitals and chains, such as Apollo Pharmacy, are attempting to increase overall sales through their online platform as well as their brick-and-mortar locations. The majority of the organisations featured here are attempting to strengthen their online medication delivery system. The majority of them, however, are lagging PharmEasy.
PharmEasy
Pre-IPO shares

– Future Plans

PharmEasy had originally planned to raise approximately Rs 6,250 crore through a new share issuance near the end of 2021. As of February 2022, the pharmacy unicorn is considering an IPO round. The healthcare unicorn is currently evaluating the timing of its IPO, owing to market volatility.
FAQs
What is PharmEasy pre-IPO shares Price?
PharmEasy pre-IPO shares price is Rs. 38/sh (on 4th Aug'2022).
Where can i buy Pharmeasy pre-IPO shares?
To invest in PharmEasy pre-IPO shares – Click Here