Pharma Industry Overview
Indian pharma is a ~INR 2.1 trillion (~US$28 billion) opportunity and is projected to become ~INR 3.2 trillion (~US$43 billion) by 2025 (growing at ~9% CAGR), led by growth in the chronic segment, non-metro markets and organized channel.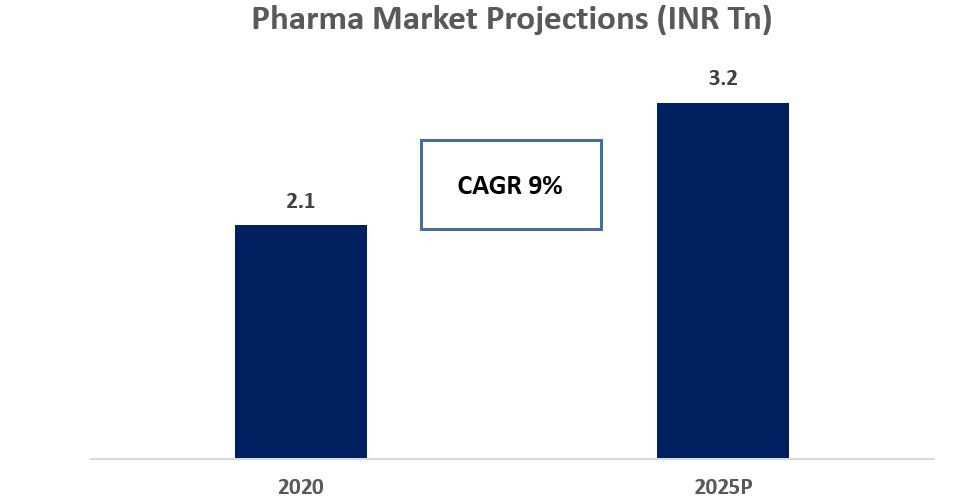 Healthcare spend in India grew at a healthy ~13% CAGR from 2015 to 2019, to reach ~INR 9.6 trillion (~US$128 billion) in 2019. This growth was largely driven by the increasing prevalence of lifestyle diseases, rise in government spending on healthcare, surge in income levels in the economy boosting affordability and new-age trends in the sector such as medical tourism.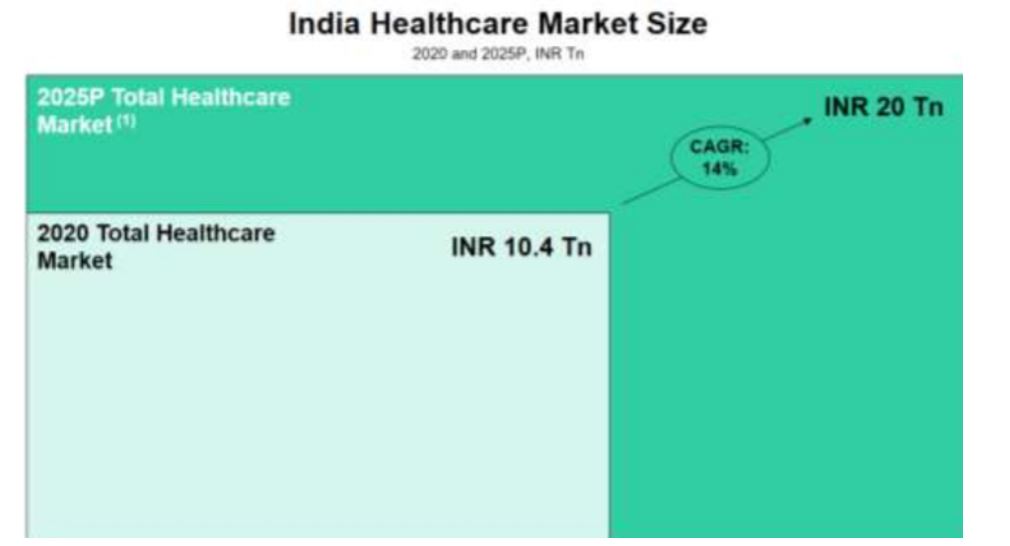 The typical patient flow and the healthcare value chain starts from basic information and ends at treatment.

The Manufacturers have a significant % in MRP buildup of about 60-70% while the organized and unorganized retailers have a share of 25%-27% and 20% respectively.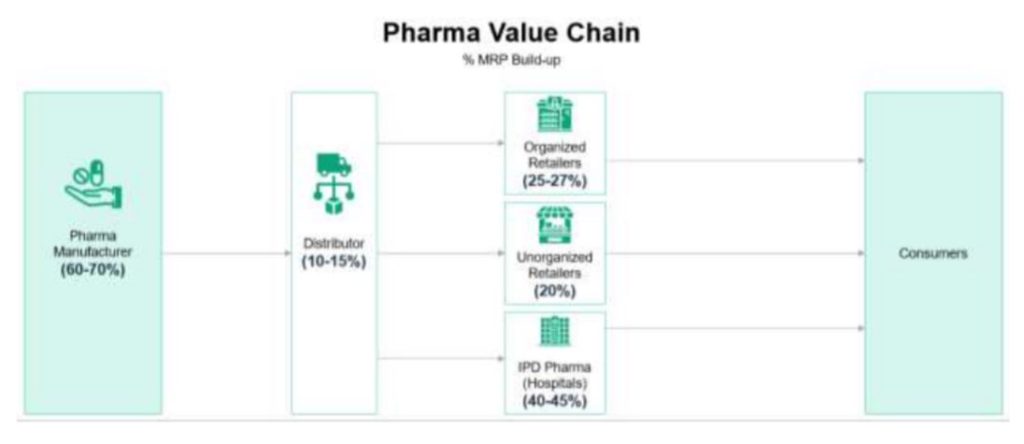 API Holdings Operations and Presence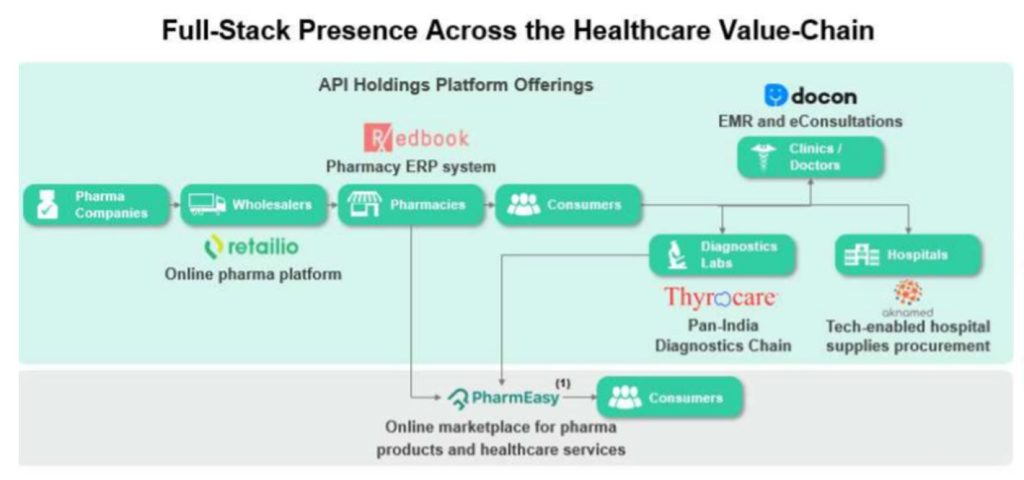 According to RedSeer, API Holdings has a Target Addressable Market of ~INR 10.4 trillion (~$139 billion) as of 2020, corresponding to the size of the entire Indian Healthcare market in 2020. The Target Addressable Market is expected to grow at 14% CAGR to reach ~INR 20 trillion (~$266 billion) by 2025. Based on API Holdings' current suite of product and service offerings, the Serviceable Addressable portion of the Target Addressable Market is expected to be ~INR 7.5 trillion (~US$100 billion) in 2025, which includes the Pharma, Diagnostics, OTC, Consultation and Hospital Supplies segments of the Indian Healthcare market.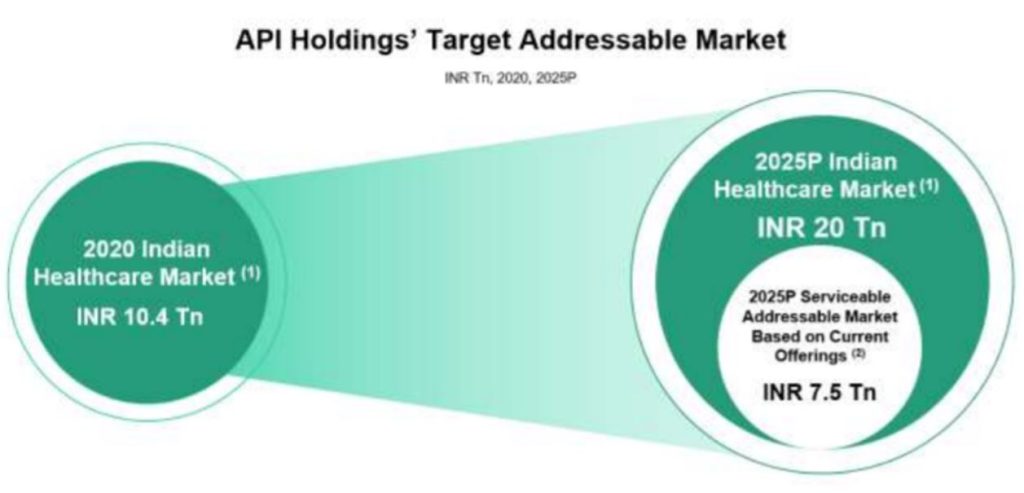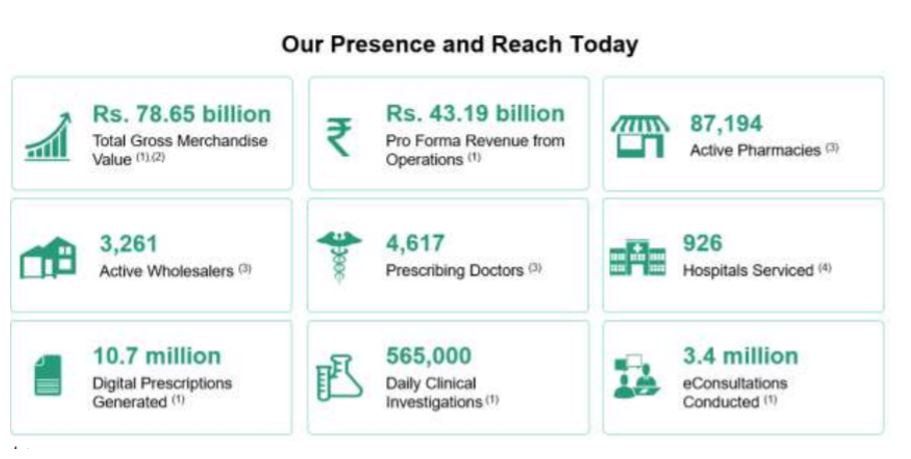 Business Model
Revenue from Sale of Products
We sell pharma, OTC, our private label medical products, surgical products and consumables which we source from pharmaceutical companies or from wholesalers to retailers, chemists and institutions. We segregate revenue from sale of these products into two categories: (i) Distribution to chemists and institutions, which typically include pharmacies and hospitals to whom we sell products, both directly as well as using technology provided by Retailio , and (ii) Distribution to retailers, which are typically registered sellers on the PharmEasy marketplace. In September 2021, we acquired Aknamed, which strengthened our technology-enabled supplier business of supplying pharmaceutical products, medical consumables, and other surgical products to hospitals, clinics and medical centers. We expect this acquisition to have a significant impact on our revenue from sale of products going forward.
Revenue from Sale of Services
We derive revenue from sale of services from the following: Diagnostics: We provide diagnostic services to hospitals, diagnostic companies, independent phlebotomists and consumers including on PharmEasy marketplace. Thyrocare offers a comprehensive portfolio of 283 diagnostics tests through 17 owned diagnostics labs and approximately 4,500 diagnostics collection centers as of March 31, 2021. Our rate card for tests varies based on the sourcing channel, the test type and the volume. Retailio: We derive revenues through advertisements and lead generation. We currently do not charge any take-rate on the third-party GMV generated using technology provided by Retailio. Services for doctors: We provide teleconsultation tools to doctors. We currently do not charge any take-rate on the online consultation charges earned by doctors through our platform. Others: We earn revenue from sale of RedBook software to pharmacies and license and platform fees (from Axelia for the use of the PharmEasy brand and technology that we license to them). Pursuant to the licensing agreement between our Company and Axelia for use of the technology platform underlying the PharmEasy marketplace and related brand, we receive a percentage of the GMV transacted on the PharmEasy marketplace on a monthly basis.
Other Operating Revenue
Logistics: We provide last mile delivery services, including to Axelia for fulfilling the orders on the PharmEasy marketplace and earn delivery income for this service. Lease of software and hardware: We earn revenues from the lease of EMR and practice management software and hardware to doctors (on Docon).

PharmEasy
PharmEasy is a consumer healthcare "super app" that provides consumers with on-demand, home delivered access to a wide range of prescription, OTC pharmaceutical, other consumer healthcare products, comprehensive diagnostic test services, and teleconsultations thereby serving their healthcare needs. API Holdings owns the "PharmEasy" brand, and our proprietary technology powers the PharmEasy marketplace. API Holdings licensed the brand and the technology to Axelia.

Customer targeting and retention are key competitive strengths for PharmEasy marketplace. 64% of PharmEasy marketplace's GMV for Fiscal 2021 came from repeat users and this increased to 79% for the quarter ending June 30, 2021. technology to Axelia.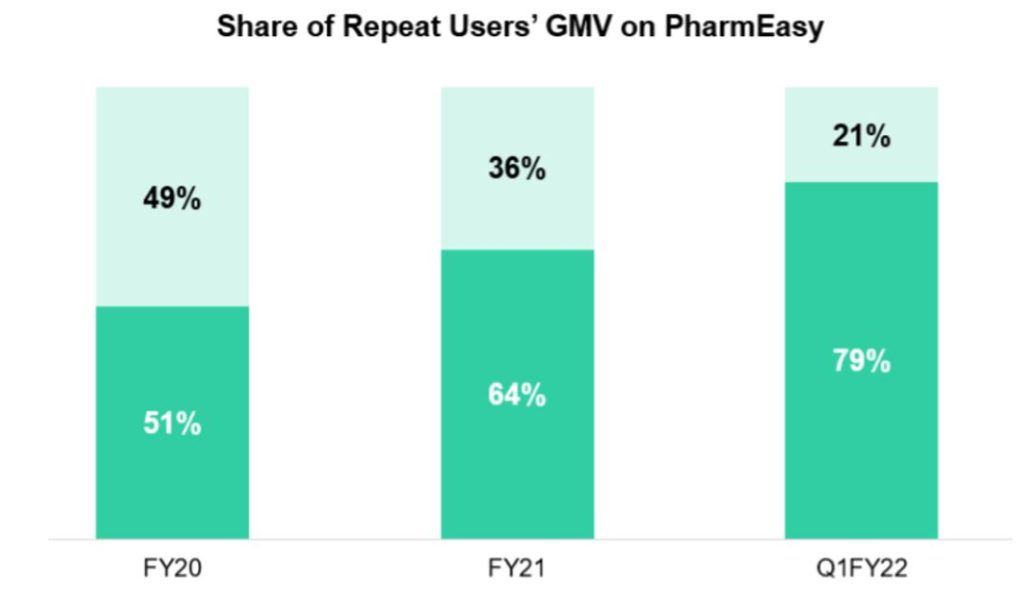 The share of Repeat users' GMV depicted by dark green increased from 51% in 2020 to 64% in 2021, while in the first quarter of 2022, the share was a massive 79%.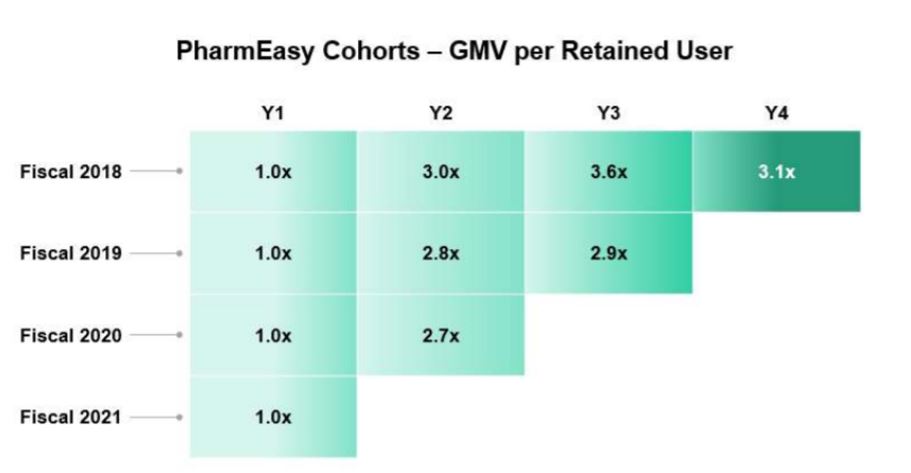 Acquisition of Thyrocare
In September 2021, API Holdings acquired Thyrocare, India's largest diagnostic player by test volumes, as per RedSeer Report. Thyrocare's addition to API Holdings has enabled a pan-India diagnostics presence spanning more than 550 districts (as of June 30, 2021) and an ability to serve a large portion of India's population with a diagnostic test. Thyrocare provided API Holdings the ability to offer diagnostics services to customers across the country, thereby adding complimentary services to our portfolio of offerings. Our technology and digital products will also bring necessary digital capabilities to Thyrocare's business.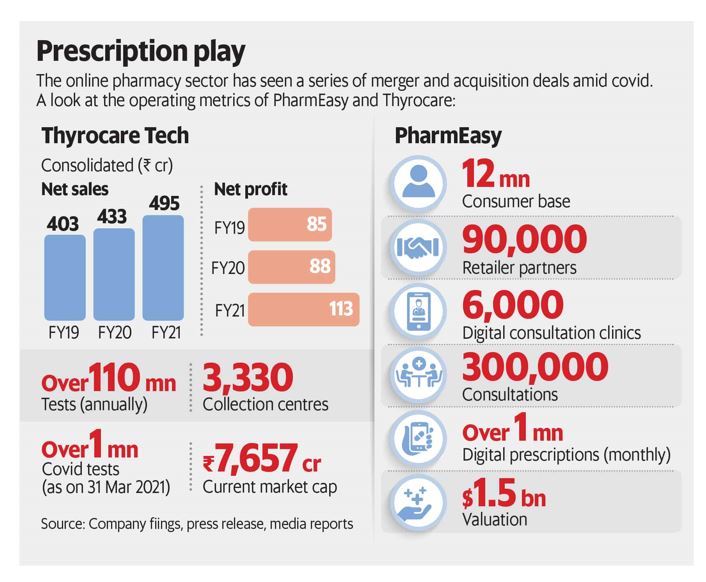 API Holdings, which operates the giant healthcare startup PharmEasy, reached an agreement to acquire a 66.1% stake in Thyrocare, which runs a diagnostic lab chain, for about $613 million in what is the first-ever acquisition of a publicly listed firm by a unicorn startup in the world's second most populated nation.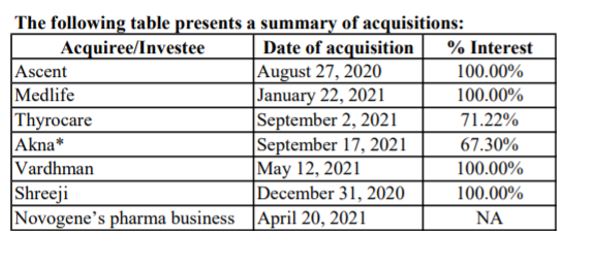 The company hold 100% stakes in Ascent, MedLife, Vardhaman and Shreeji and majority stakes in Thyrocare and Akna.
IPO Details
Pre-IPO
The epharmacy startup has raised around $204 Mn in primary funding from Amansa Capital, Blackstone-backed hedge fund ApaH Capital, US hedge fund Janus Henderson, OrbiMed, Steadview Capital, Abu Dhabi's sovereign wealth fund ADQ, hedge fund Neuberger Berman and London's Sanne Group.
Further, it has closed a secondary round of approx. $150 Mn where existing angel and early investors such as Fundamentum, Eight Road Ventures and Bessemer Venture Partners have made partial exits. PharmEasy has scooped up $350 Mn in a primary as well as secondary round at a $3.6Bn Valuation.
Post-IPO
API Holdings, which runs the healthtech unicorn PharmEasy has filed its draft red herring prospectus (DRHP) for raising  INR 6250 Cr through IPO.
The company intends to utilize around INR 1,929 Cr of the IPO net proceedings for prepayment or repayment of all or portion of certain outstanding borrowings availed by the company and its subsidiaries.
Around INR 1,259 Cr will be utilized by the firm for organic growth initiatives, whereas, INR 1,500 Cr of the net proceeds will be utilized for inorganic growth through acquisitions and other strategic initiatives.
Shareholders
On the date of filing the prospectus:
Naspers Ventures held the largest stake at 12.04% in the company
Followed by Macritchie Investments Pte at 10.84%
Surbhi Singh jointly with Universal Trustees Private Limited hold 6.70% stake
And TPG  Growth holds 6.65% stake
Cofounder, managing director and CEO Siddharth Shah holds 1.32% stake in the company.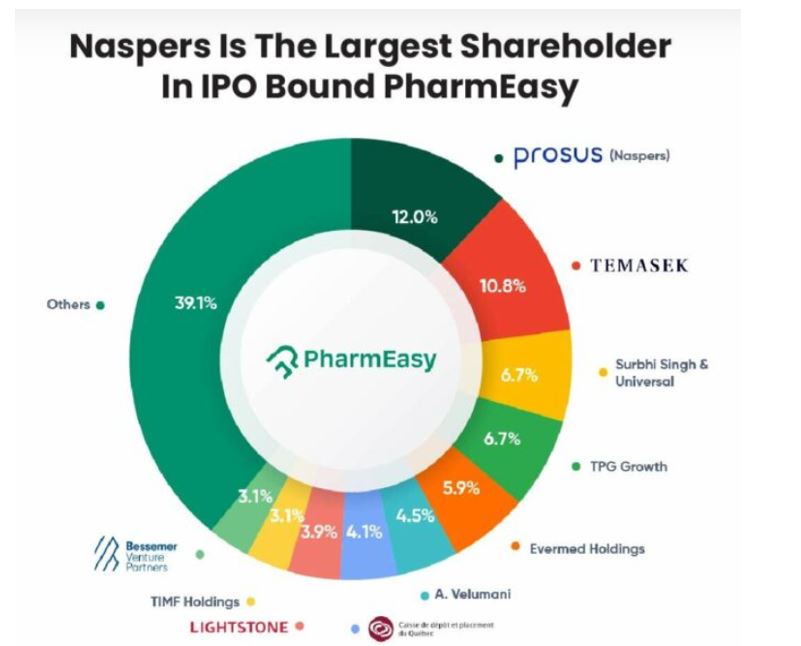 Competitors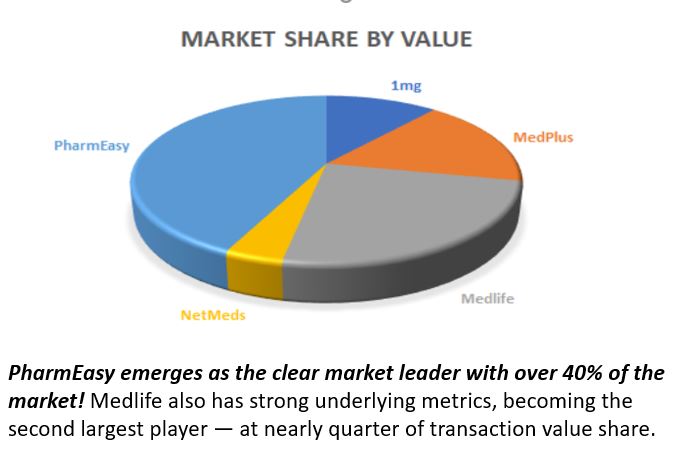 During the first half of 2019, 1mg's market share by transaction volume fell significantly to 18% from 23%, whereas Pharmeasy maintained its leadership with a 29% share. Pharmeasy also replaced 1mg in terms of monthly frequency of purchase by users. Fast forward to today, Pharmeasy has surpassed everyone in terms of valuation. With the acquisition of Medlife by Pharmeasy, it commands a combined revenue market share of >50% becoming a force to reckon with. 1mg's market share has reduced to 18%. In fact, Pharmeasy has emerged as the leader in the majority of other metrics such as MAU it serves, order frequency by customers, and average order value.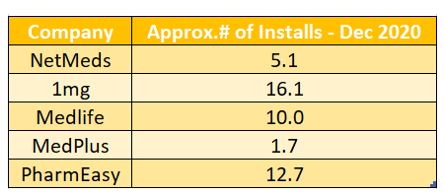 MedLife and PharmEasy, owned by API Holdings, had one of the highest installs as of December 2020. A snapshot of the E-Pharmacy Players explains the revenue difference and the quick adoption of online services by API holdings which led to the increased revenues.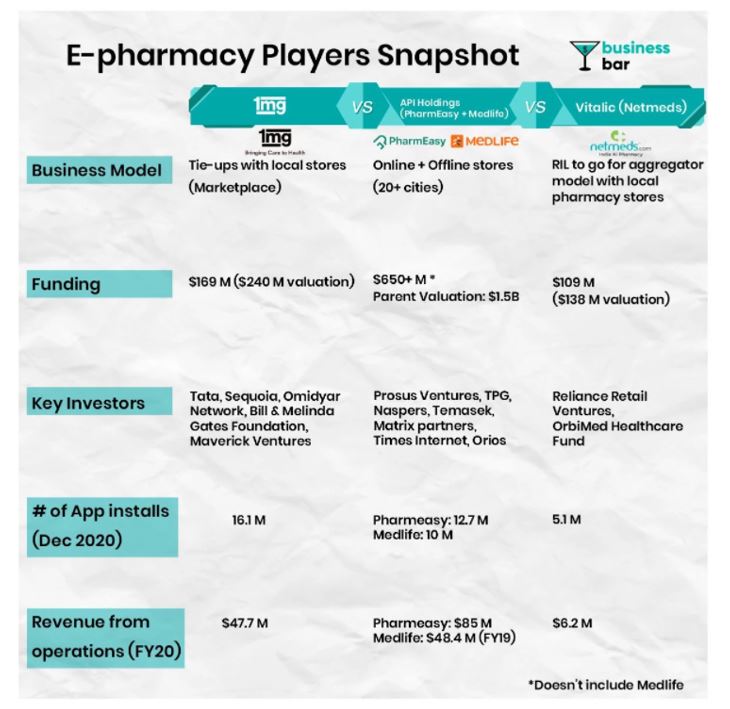 PharmEasy also has a clear edge in how often customers order — on average — 12% more often than 1mg.

Even on Average Order Values or Ticket Size, PharmEasy enjoys a ~40% premium vs. 1mg. Its strategy on servicing chronic patients could be key in maintaining customer loyalty, as well as a price premium.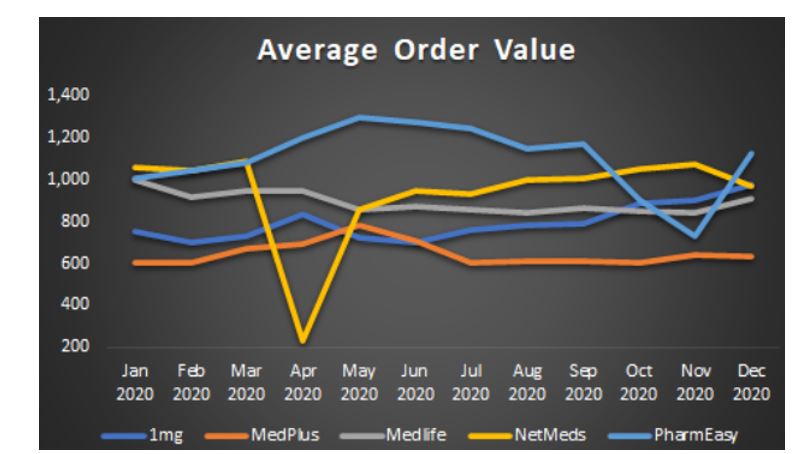 To find out more about API Holdings, visit https://altiusinvestech.com/company/PharmEasy