About the Company
Studds Accessories Ltd (Studds), founded in 1973, is a renowned helmet manufacturer in India. Studds and SMK are two of the company's brands. SMK, a premium brand introduced in 2016, is primarily aimed at the export market. Despite a steep decline in demand for two-wheelers (2Ws) in FY20 and FY21, demand for helmets increased by 5% in FY20 and 8% in FY21. This was owing to state authorities across India strictly enforcing legislation requiring 2W riders to wear helmets.
We anticipate that helmet laws for 2W riders will remain tight in the future. This, combined with an increasing number of states enacting rules making helmet use mandatory for pillion riders, would be the primary growth engine for the helmet sector.
Given the backdrop and Studds' market-leading position, we project its top line to grow at an 18% CAGR between FY21-24E. PAT is predicted to improve at a CAGR of 20-22 percent over this time due to continuing cost management and the premiumisation trend. Furthermore, the low capex requirement and negative WCC would ensure that the company's cash flows and ROCE stay good in the future, maintaining a solid valuation.
It has two main brands:  
Studds: Helmets priced from INR 825 to INR 2165. It has a market share of around 25.66%. Mainly, targeted for African and Asian mass commuter segment.
SMK: These are premium helmets mostly for biking enthusiasts. Priced between INR 2300 to INR 9800. It has a market share of 27.79%, in the premium segment. This brand is targeting European countries, Latin America and Asian countries.
Website: www.studds.com
Robust top line and ROCE visibility to keep valuation healthy
We believe the sharp rise in the share of the organised segment, rising demand for premium helmets, the company's focus on expanding export business and strict implementation of compulsory pillion helmet rules across the country would bode well for growth in top line. Meanwhile, improving margin profile, low capex requirement and negative WCC would ensure strong cash flow and ROCE, thereby strengthening the valuation. Hence, we have a BUY rating on the stock with a target price of INR 1,990 valuing the company at 30x FY24E P/E. 
Improvement in margins and strong cash flow to continue
The trend of premiumization and aggressive cost control would enable Studds to maintain a modest improvement in profitability. We estimate EBITDA to grow 19–20% and PAT to expand at ~20–22% CAGR during FY21–24E. Also, the company has maintained its negative WCC, resulting in a strong ROCE profile over the last 7–8 years. Going forward, we expect margins to improve. This, coupled with low capex and negative working capital cycle (WCC), would help Studds to maintain its strong ROCE. 
Accident rates have increased significantly since FY00, owing to a lack of strong driving standards.
Vehicle demand has surged since FY00 as the middle-class population has grown. One of the fastest growing segments has been the 2W category. Domestic 2W sales surged fourfold, from 4 million units in FY00 to 15 million units in FY21.
Before the steep decline in demand in FY20 and FY21, 2W sales in the domestic market increased 2.2x from 9 million units in FY10 to 21 million in FY19.
Growth in middle class households boosts demand for 2Ws in the last two decades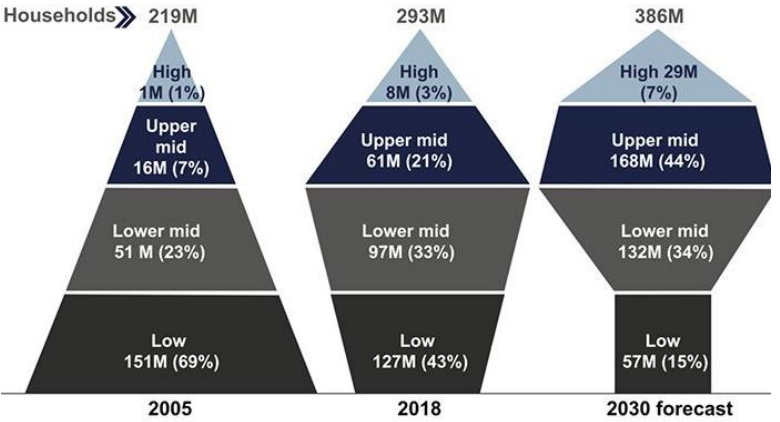 Rise in accidents prompts the Supreme Court to make it mandatory for OEMsto provide a helmet for every 2W sold
Every hour, six 2W riders are killed in road accidents in India. Two-wheelers are quite popular in the country, accounting for 80% of all vehicles on the road. However, there is a lack of substantial infrastructure in the form of roadways. As a result of these factors, the number of traffic accidents involving 2Ws is also relatively high. More than one-third (37%) of those died in traffic accidents in 2019 were 2W riders.
The Supreme Court acted quickly in 2010 to address the rising number of accidents. It made helmets mandatory for 2W riders and required OEMs to supply a BIS-certified helmet with every 2W sold. While the Motor Vehicles (MV) Act of 1988 made it mandatory for 2W riders to wear helmets, local authorities' enforcement of the requirement was lax. However, following the Supreme Court's decision, the execution of rules across states became substantially tougher.
The regulatory framework for helmets in India is based on two pillars: a) the mandatory wearing of helmets while driving a 2W, which is governed by the MV Act, 1988; and b) the quality of the helmet material that can withstand the impact in the event of an accident, as specified by the Bureau of Indian Standards (BIS).
Driving a 2W without a helmet is a penal offence punishable by a fine of INR1000 under Section 194D of the Motor Vehicle Act. Furthermore, noncompliance may result in the suspension of a driver's licence for three months.
The Ministry of Road Transport and Highways issued an order making the production and selling of non-ISI-marked helmets unlawful. Furthermore, according to the BIS Act, producing, storing, selling, or importing non-ISI-marked helmets will result in a one-year prison sentence or a fine of INR1-5lkh.
Regulatory framework governing helmet industry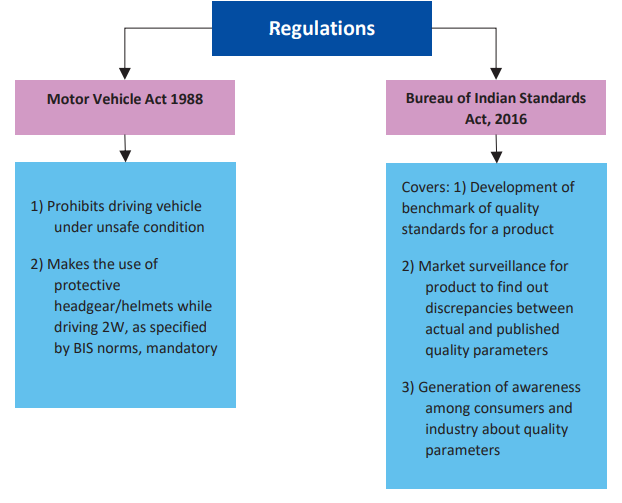 Restrictions on sale of non-BIS helmets bode well for organised
BIS standards governing helmet manufacturing quality have been in place since the early 2000s. The Government of India issued a rule in 2018 making the selling of non-BIS-marked and counterfeit helmets illegal. This was a huge step forward for organised players.
Because of increased safety awareness and state governments instituting severe procedures to prevent the sale of non-BIS-marked or duplicate helmets, the unorganised sector's share of the helmet market fell from 55% in FY12 to 30% in FY18. Nonetheless, we predict that when actions are taken to restrict the sale of non-BIS-marked helmets, significant chances for organised players to extend their presence will emerge.
Regulatory push towards enhancing safety significantly boosts helmet demand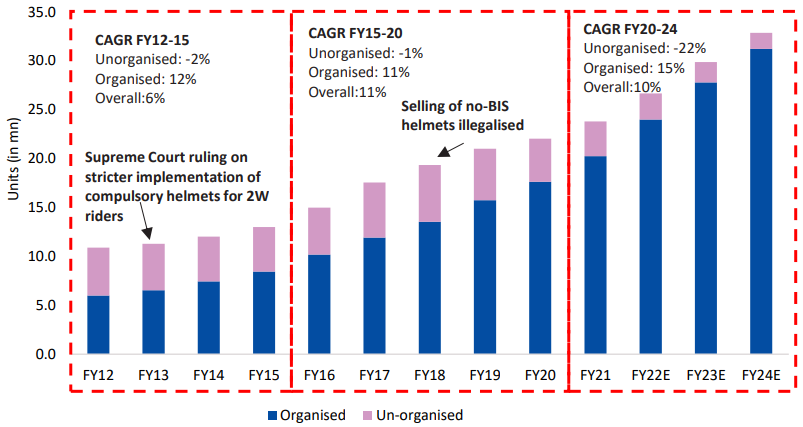 Brand loyalty gradually catching up in helmet industry
Studds, Vega, and Steelbird are the top three domestic helmet manufacturers, accounting for roughly half of the market. Other organised players include Aerostar, Wrangler, Ergo, Aeron, and Gliders.
Helmets, a 2W rider's protective gear, have become a status symbol, particularly for premium motorcycle or scooter riders. This has paved the road for 2W riders to develop brand awareness and commitment to helmets.
Premium helmets are those that cost more than INR3,000. AGV, Bell, HJC, Revolt, and Arai are some of the market's premium brands, with helmets costing more than INR15,000.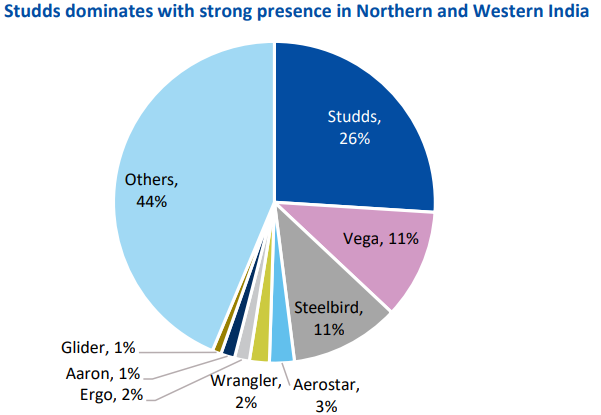 A strong presence is expected to aid in the expansion of market share.
Studds holds a dominant position in the sector, owing to its widespread presence, particularly in the high-volume northern and western markets. The northern and western regions account for more than 55 percent of the company's revenue.
Strong presence across regions helps Studds to dominate the industry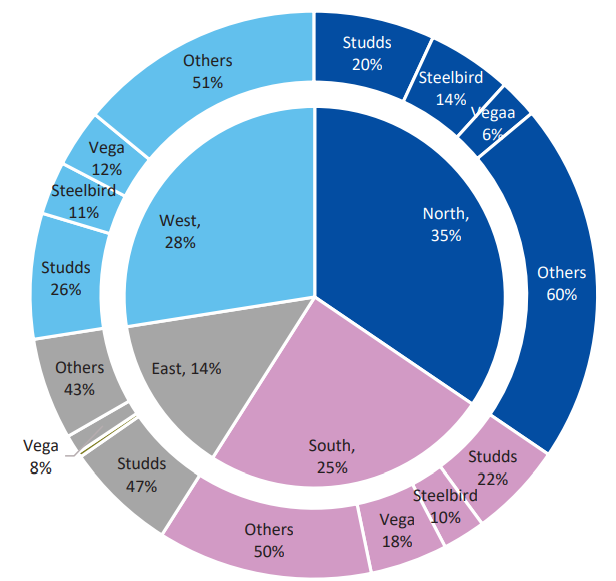 Effective cost control leads to improvement in margin profile over last 7–8 years
Studds' EBITDA margin increased dramatically from 10% in FY13 to 23% in FY21, thanks to sustained cost control and a gradual shift in mix as a result of the premiumisation trend.
We anticipate that a shift in mix, driven by the rising trend of premiumisation and the company's focus on boosting exports, will continue to increase margins in the future.
Margins likely to continue improving driven by positive product mix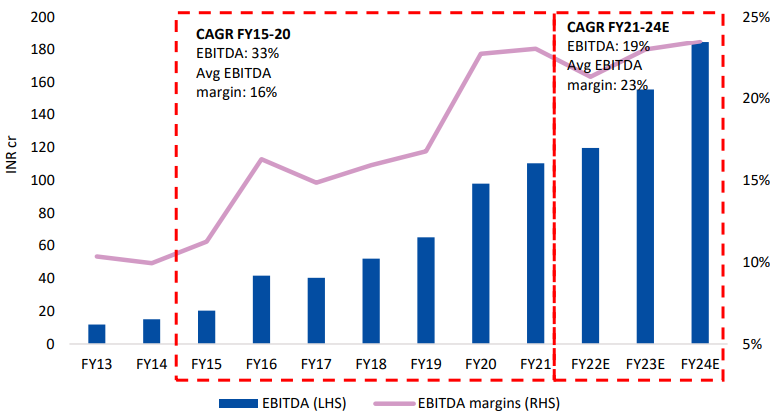 Valuation: Strong top line and ROCE visibility to keep valuation healthy
We anticipate that the company's top-line growth will be driven by a strong increase in the share of the organised segment, increased demand for premium helmets, the company's focus on expanding export operations, and stringent implementation of required pillion helmet laws across the country.
Meanwhile, an improved margin profile, along with minimal capex requirements and a negative WCC, would assure strong cash flow and ROCE, bolstering the price. As a result, we have assigned the stock a BUY rating and a target price of INR 1,990, valuing the company at 30x FY24E P/E.
Financial Performance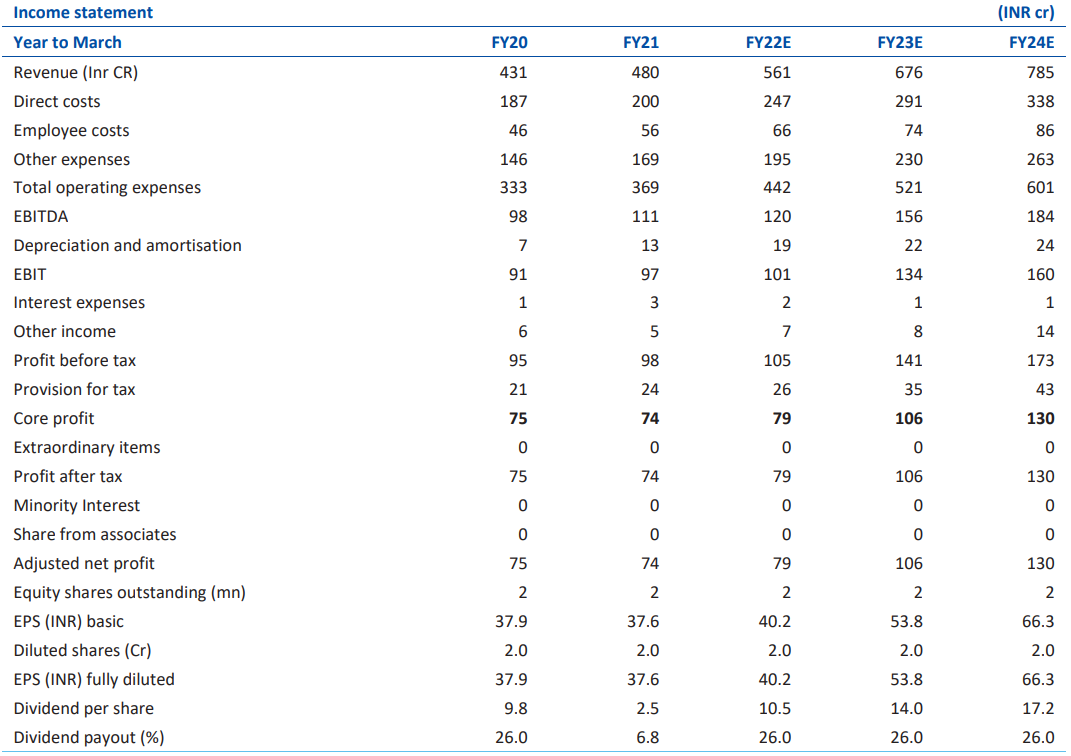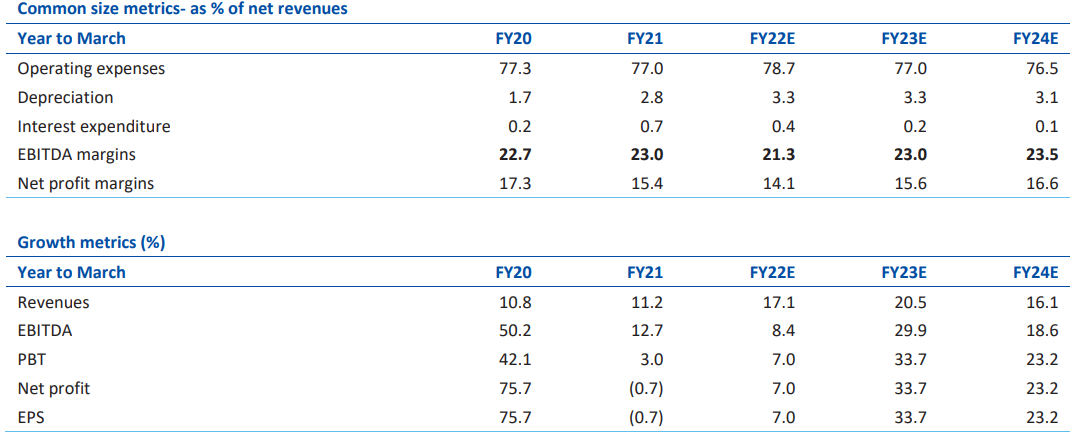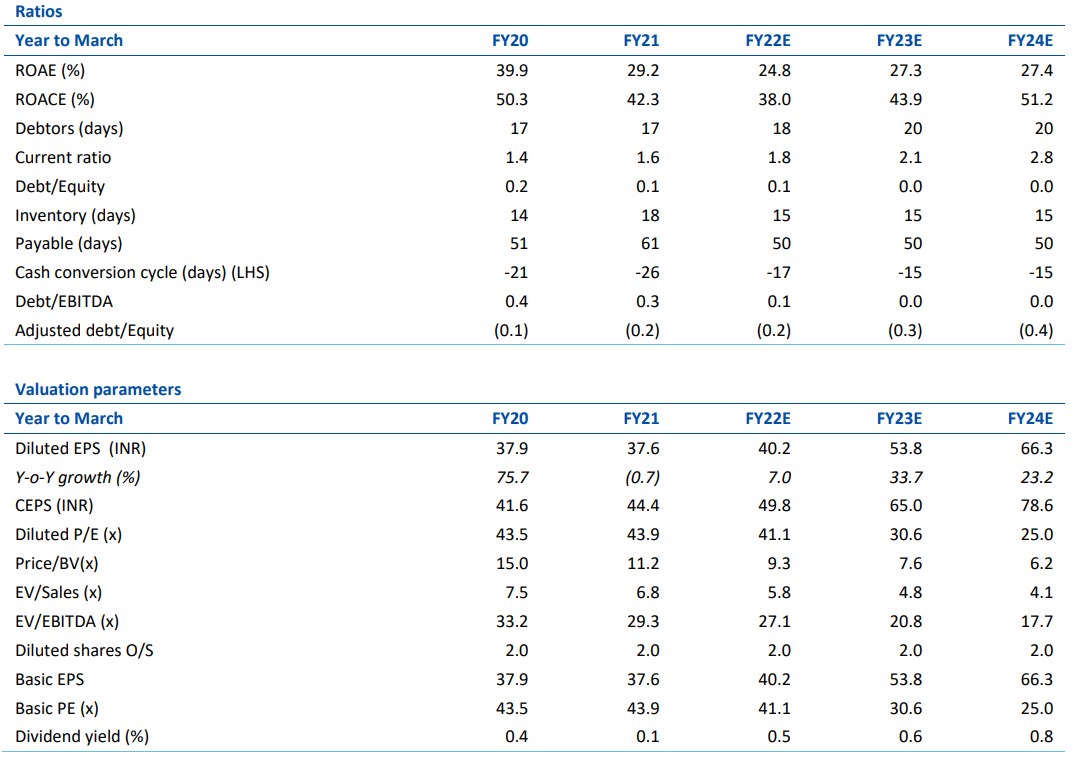 FAQs
How can I buy Studds Pre-IPO shares?
To invest in Studds pre-IPO shares – Click Here
What is Studds Pre-IPO shares price?
The current market price of studds Pre-IPO shares is 1199/share (as of Aug'2022)
Is it possible to buy Studds Pre-IPO shares before listing?
Yes, you can buy studds Pre-IPO shares from Altius Investech, they deal in 130+ pre-IPO shares including Studds Accessories ltd.
---
Also Read: All you need to know about CSK Pre-IPO share price.