We had first invested in Hexaware Pre-IPO Shares at around Rs. 470/share on Nov'2020 and since then here is how the price graph has moved of Hexaware Pre-IPO Shares:
Jan 2021 – Rs. 525/share
October 2021 – Rs. 899/share
Aug 2022 – Rs. 535/share
This translate to a CAGR of roughly around 6.69%+
Now let's have a look at company's business model, Insights, Financials, Valuation, Latest News and FAQs.
Hexaware Technologies Limited is a leading global provider of IT and BPO services. The company provides services to clients in Banking Financial Services Capital Markets Healthcare Insurance Manufacturing Retail Education Telecom Professional services (Tax Audit Accounting and Legal) Travel Transportation and Logistics verticals.
Hexaware delivers highly differentiated services in Rapid Application prototyping development and deployment; Build Migrate and Run cloud solutions; Automation-based Application support; Enterprise Solutions for digitizing the back-office; Customer Experience Transformation; Business Intelligence & Analytics; Digital Assurance (Testing); Infrastructure Management Services; and Business Process Services.
The company not only showed stellar performance in 2020, but has also set itself up for sustained profitability. Despite a negative start to the year,  the revenue grew by 12.2% and EBITDA grew by 24.2%. The  transformed, creating a new and highergear at Hexaware, turbo-charged to adapt to the COVID world today and ready for a post-COVID world tomorrow, and has helped its client partners do the same. They elevated their performance and delivered outstanding results for their customers, employees, shareholders and the communities they live and work in. In fact, their Customer Delight Score hit an all-time industry high of 84.3 (on a scale of -100 to +100).
The company launched its automated application transformation platform for cloud replatforming AMAZE, and the suite of products and services have seen outstanding traction, already garnering us over a dozen, referenceable Fortune 100 and 500 client success stories. AMAZE helps create their differentiated and valuedriven competitive advantage to win in the US$ 120 billion cloud migration market (growing at 28% annual growth), and they expect this to be a significant driver of growth for many years.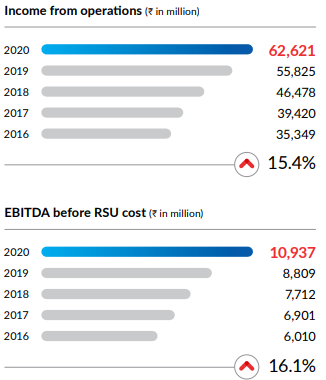 Income from operations increased to ` 62,620.80 million in 2020 from ` 55,825.18 million in 2019, growth of 12.2%. The growth in Dollar terms was 6.5%, reaching US$ 845.04 million in 2020 from US$ 793.26 million in 2019. Revenue in constant currency was US$ 844.50 million in 2020, growth of 5.4%. Growth was driven largely by volume increase.  
EBITDA after RSU costs increased to US$ 140.60 million in 2020 compared to US$ 124.84 million in 2019, growth of 12.6%. In INR terms, it saw growth of 19.2% and increased to ` 10,468.44 million in 2020 compared to ` 8,782.87 million in 2019.  
Profit from Operations (profit before Exchange rate difference, Interest, Other income and Provision for taxation) was at ` 8,144.55 million in 2020 as against ` 7,748.74 million in 2019, growth of 5.1%. The growth in profit from operations without considering RSU cost under long term incentive plan was 10.8%.  
Profit before tax grew 2.7% to ` 8,004.99 million in 2020 compared to ` 7,792.67 million in 2019.  
Profit after tax stood at ` 6,215.00 million in 2020 as compared to a profit of ` 6,413.43 million in 2019, decrease of 3.1%. PAT margins in INR terms were at 9.9% in 2020 compared to 11.5% in 2019.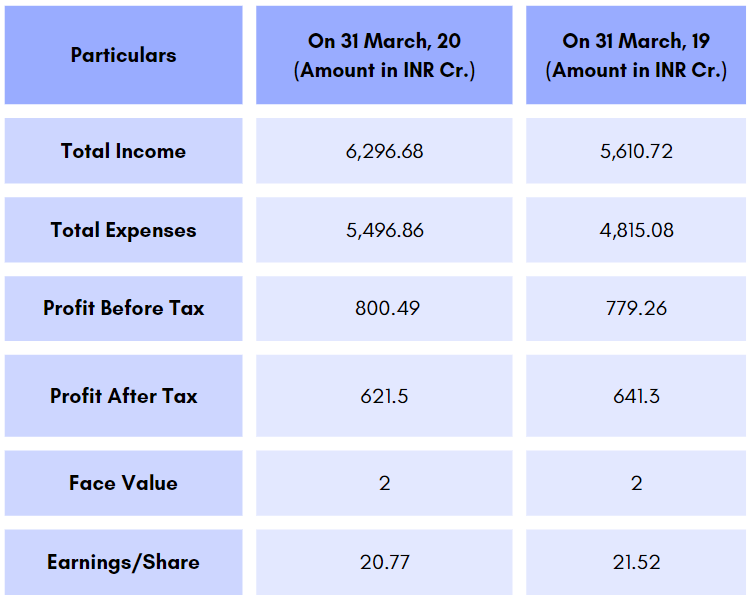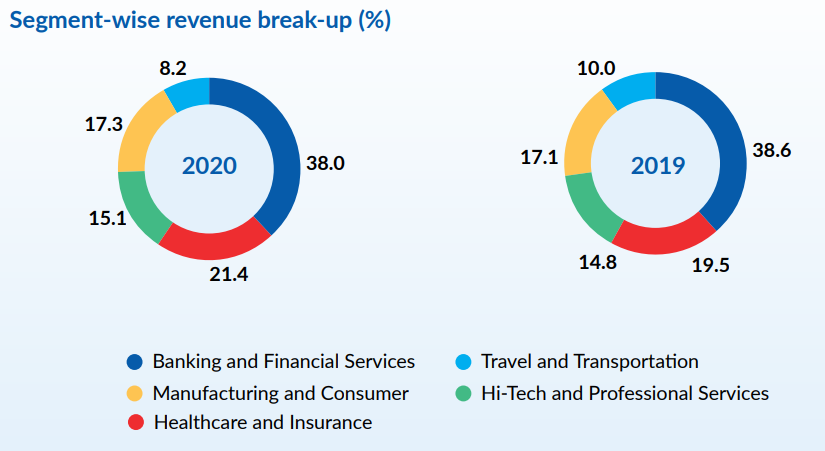 Why you should invest in Hexaware Pre-IPO Shares?
The following are the three main reasons to invest in Hexaware  pre-IPO shares:
1. Hexaware Tech. is active in futuristic verticals: Poised for robust growth
Hexaware is leading their clients' digital transformation experience to the next-level by leveraging industry-
leading delivery and execution model, built around a three-pronged strategy:

Amaze (Cloud Everything):  Through Hexaware's for Data & AI platform enables enterprises to leverage automation capabilities and to cloudify their Data Warehouse & Analytics ecosystems.
Tensai (Automate everything): Hexaware's Tensai for AIOps provides incredible benefits to customers right from the launch of their applications, helps ensure that the applications run as per business demand and provides the appropriate levels of performance and availability.
Mobiquity (Transform Customer Experiences): A digital consultancy that partners with the world's leading brands to design and deliver compelling digital products and services for their customers.

Carlyle Group, a US-based PE firm, bought Baring Private Equity Asia stake in the IT firm for reportedly close to $3 billion. The change in board comes at the back of this acquisition. Prior to the acquisition, then promoter Baring de-listed Hexaware from the Indian stock exchanges in November 2020.
To read more – Click here
     Why does this matter ?
Private equity offers clear added value to a company. These are experts who constantly analyze businesses. As a result, they have a good insight into best practice, across diverse sectors.
Exit Focused: Most private equity funds are extremely focused on timelines and this ensures that the portfolio company either goes for an IPO or a secondary buyout. In either case the investors get a timely exit from such companies
3. PE Ratio of Hexaware as compared to its peers:
Hexaware's PE Ratio is about 24 and while its peers are trading at much higher multiples, eg Infosys's PE Ratio is about 36.
This makes Hexaware's current valuation attractive as when the company goes for a IPO, a re-rating would be likely. The PE ratio could up from 24 to industry standards, leading to an additional 30-50% upside for investors.
Latest News about Hexaware Pre-IPO Shares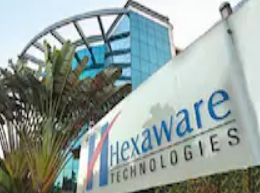 IT Company Hexaware Tech To Add 10,000 More To Headcount In 2022
FAQs about Hexaware Pre-IPO Shares
How can I buy Hexaware Pre-IPO Shares?
To invest in Hexaware Pre-IPO Shares – Click Here
What is Hexaware Pre-IPO Shares?
The current market price of Hexaware Pre-IPO Shares is 595/share (as of Aug'2022)
Is it possible to buy Hexaware Pre-IPO Shares before listing?
Yes, you can buy Hexaware Pre-IPO Shares from Altius Investech, they deal in 130+ pre-IPO shares including Hexaware Technologies.
---
Also Read: All you need to know about Sterlite Power Pre-IPO Shares!