Tata Technologies is a global engineering and product development digital services company. After a Massive jump in sales of EV vehicles, Tata technologies share price has also seen a massive run up.
Tata technologies vision Statement :  'Engineering a better world'
Tata Technologies lines of service :
outsourced product engineering services : conceptualize, design, and develop better products
identify and deploy technologies and solutions that are used to manufacture, service and realize better products
The Indian electric vehicle market was valued at USD 1,434.04 billion in 2021, and it is expected to reach USD 15,397.19 billion by 2027, registering a CAGR of 47.09% during the forecast period (2022-2027).
Government Initiatives
The government of India has undertaken multiple initiatives to promote the manufacturing and adoption of electric vehicles in India to reduce emissions pertaining to international conventions and develop e-mobility in the wake of rapid urbanization.
The National Electric Mobility Mission Plan (NEMMP) and Faster Adoption and Manufacturing of Hybrid & Electric Vehicles in India (FAME I and II) helped create the initial interest and exposure for electric mobility. For instance, in phase two of FAME, the government announced an outlay of USD 1.4 billion through 2022. This phase focuses on the electrification of public and shared transportation through subsidizing 7,090 e-buses, 500,000 electric three-wheelers, 550,000 electric passenger vehicles, and 1,000,000 electric two-wheelers.
To promote the domestic electric vehicle industry, the Indian government has provided tax exemptions and subsidies to EV manufacturers and consumers.
Several states, like Delhi, Kerala, Karnataka, Telangana, and Andhra Pradesh, have formulated their electric vehicle policies, while others are in the process of doing so. For instance,
According to the Delhi Electric Vehicle Policy 2020, the government plans to have at least 50% e-buses for all-new stage carriage buses and aims for 25% of the new vehicles to be electric by 2024. In March 2021, the Delhi government announced its plans to introduce an interest subvention of up to 5% for electric vehicle (EV) purchases in the state. This initiative has been taken to promote the Delhi government's EV policy offering financial incentives on all categories of e-vehicles.
In February 2021, the Delhi government announced a subsidy of INR 30,000 for promoting e-rickshaws as last-mile connectivity in Delhi. This, in turn, has led to the proliferation in their demand in the city, further benefiting the market.
Government Support
The government has adopted multiple barriers to keep the penetration of EVs low in India

The government has shown a strong intent to drive electrification by enabling policies to overcome the barriers to adoption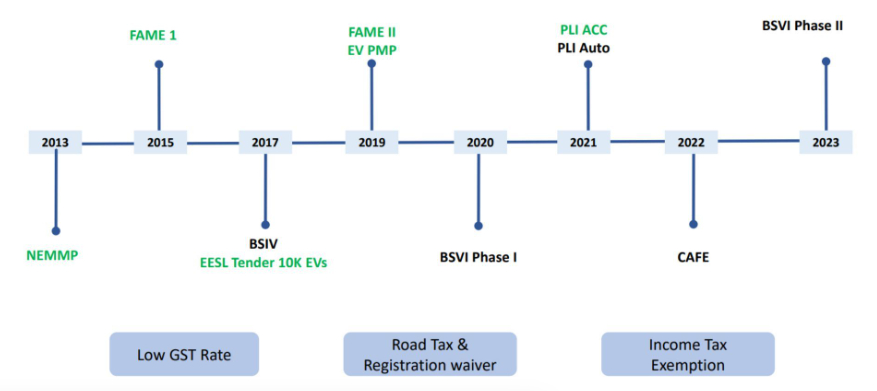 Going forward, state-specific EV policies will drive EV adoption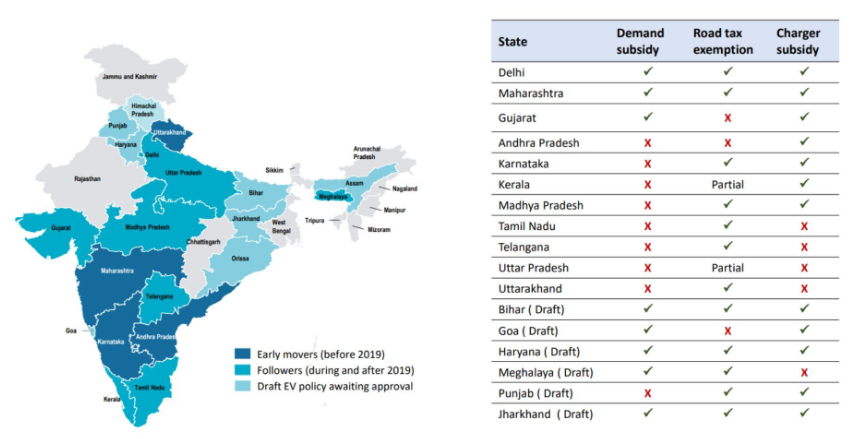 Tata is planning for 20% penetration in 5 years as EV penetration in India is well poised to witness sharp penetration.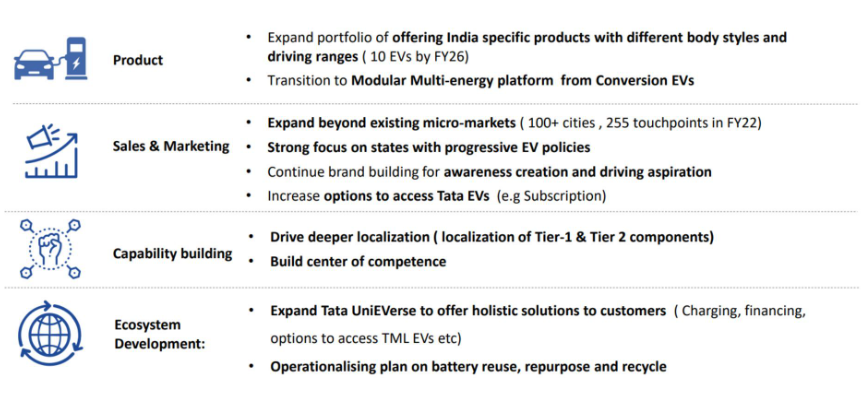 Tata Technologies
Tata Tech. is a Tata group company that provides technical services in a variety of industries, including engineering and design, product lifecycle management, manufacturing, product development, automotive, and aerospace. Tata Tech, a Tata Motors company, was created in 1989 and operates largely in North America, Europe, the Middle East, and Asia Pacific. In the public and unlisted space, It is one of the best available electric vehicle (EV) plays. It is aiming for high revenue growth in the current fiscal year in order to get back on track with new business prospects.
Website: www.tatatechnologies.com/in
Present situation-
The worldwide engineering and product development digital services corporation entered into a partnership with the Assam government to transform 34 state polytechnics and 43 Industrial Training Institutes (ITs) into futuristic Centres of Excellence (CoEs), involving a Rs 2,390 crore investment. For this objective, the business has inked a 10-year Memorandum of Agreement (MA) with the Assam government.
Tata Technologies paid £53.4 million for INCAT International, a UK and US-based automotive and aerospace computer engineering company, in August 2005. The INCAT was founded in 1989.
Tata Technologies received fresh orders totaling $100 million in October 2021. (750 crores). The company is on track to meet its revenue target of Rs 3,600 crore if present trends continue.
Tata Tech reported a net profit of Rs 239.2 crore for the fiscal year 2020-21, with total revenue of Rs 2.425.7 crore. Even during the epidemic, the technology company claims to have observed a considerable rise in several categories such as embedded technology business segment.
For more adoption, The company has partnered with automakers from India, China, the United States, Japan, and Sweden. The majority of overseas orders are coming from four-wheeler OEMs, but it is also looking at two-wheeler OEMs. For a premium European luxury automobile, Tata Tech.' mechatronics enabled infotainment integration and certification.
Financials
Tata Technologies' profit after tax (PAT) increased by 8.6% to Rs 106.4 crore for the quarter ended March 31, 2022, compared to Rs 98 core in the previous fiscal.
The overall revenue from operations increased by more than 40% to Rs 922.3 crore in the March 2022 quarter, compared to Rs 658.2 crore in the March 2021 quarter.
The profit-after-tax (PAT) for the entire fiscal year 2021-22 climbed by 82.65% to Rs 436.9 crore, compared to Rs 239.2 in the previous fiscal. During the same year, revenue from operations climbed by 47.5 percent to Rs 3,578.4 crore, up from R 2,425.7 crore.
In the fourth quarter of FY22, the company generated a profit before taxes (PBT) of Rs 141.3 crore. 16.7% higher than the 121.1 crores in the fourth quarter of FY21, but fell 29.8% from Rs 201.2 crore in the third quarter of FY22.
In the first quarter of Covid-19 hit the economy the company lost 36% of the revenue. Despite the challenges faced in the first quarter, Tata Technology was able to drive revenue and operating profit improvements in each of the subsequent quarters as market conditions recovered.
Partnerships and New Deals
Tata Technology Unlisted Company opened an AUTOSAR (AUTomotive Open System ARchitecture) development facility in India for GKN, demonstrating the company's rising reputation in the fast-growing Mobility and embedded electronics field.
Developed an SUV with a North American original equipment manufacturer (OEM) for the Chinese market, the world's largest automotive market.
Secured a multi-year digital thread engagement with a tier 1 automotive supplier using PLM. This approach allowed specifications, test and behavioural simulations, certifications, bill of materials (BOMs), and associated process plans to be integrated with digital representations of mechanical/electronic components and embedded software data.
Implemented a next-generation ERP solution for a North American battery electric vehicle (BEV) manufacturer in support of numerous product launches in 2021.
Tata Technology signed a ground-breaking agreement with the Karnataka government to revamp 150 Industrial Training Institutes (ITs) around the state. The award was based on Tata Technology's I GET IT -Learning platform and will require the creation of instructional content in the areas of Smart Manufacturing and Industry 4.0.
Partners-
Logility
Logility **is the supply chain leader entrusted by the world's leading brands to deliver a digital, sustainable supply chain that powers the resilient enterprise.
PTC
The company is a Platinum Global Systems Integrator (GSI) of PTC. The company support the entire suite of PTC solutions including the ThingWorx, Vuforia, Windchill, Creo, and Servigistics solutions and provide next-generation Smart Manufacturing & Digital Transformation solutions to the manufacturing industry worldwide.
DASSAULT SYSTÈMES
Dassault Systèmes SE is a French software corporation which develops software for 3D product design, simulation, manufacturing and other 3D related products.
Tata Tech. are a Dassault Systèmes Premier Partner and work with the principal suite of software applications – CATIA, DELMIA, ENOVIA, SIMULIA and 3DVIA. Tata Technologies consultants, engineers, designers, trainers, and support teams have been using Dassault Systèmes products for two decades. The company merge years of real-world experience with the dynamic force of Dassault Systèmes applications to help clients around the world thrive throughout the entire product lifecycle.
Competitive Landscape
The Indian EV market is moderately consolidated with the presence of major players in the market due to cheap and readily available manpower. The startups are also expanding their presence by raising funds from investors and tapping into new and unexplored cities. Companies are investing a tremendous amount in R&D and launching new models to mark their presence in the market. However, established players in the market are introducing new models to gain a competitive edge over other players. For instance,
In July 2021, Audi launched 2 EVs: e-tron SUV and e-tron Sportback . The e-tron SUV is available in e-tron 50 variant with a 71 kWh battery and two electric motors. This configuration puts out 308 bhp with 540 Nm and claims a driving range between 264 km and 379 km (WLTP) on a single charge.
In February 2021, Ampere Electric, the wholly-owned electric mobility subsidiary of Greaves Cotton Ltd, announced a phased investment potential of INR 700 crore over 10 years to set up a world-class e-mobility manufacturing plant in Ranipet, Tamil Nadu. A Memorandum of Understanding (MoU) to this effect was signed by the company with the Government of Tamil Nadu.
Major Players
1. Mahindra & Mahindra Limited-
Mahindra is the pioneer of EV in the Indian space. Being the first major EV manufacturer it launched Mahindra Reva, its first EV as early as 2001. The Mahindra Reva was India's first electric car. Mahindra however has not only focussed on the manufacture of EVs but also battery packs and has partnered with various institutions in order to boost EV charging
2. Hyundai
With the launch of the Hyundai Kona EV in India, Hyundai caused a stir in the Indian EV market. Kona was developed exclusively for Indian operating circumstances, according to the South Korean global automobile behemoth. The Kona, on the other hand, costs Rs.23.8 lakhs ex-showroom, making it too pricey for Indian buyers.
Addressing this Hyundai has however said that another EV is in developmental stages keeping affordability in mind in order to serve the mass market. This EV is expected to be ready to enter the market in the next 2-3 years.
Recent Developments
In January 2022, Tata Motor Company along with Tata technologies announced its plans to mainstream EV and target 50,000 annual sales in FY 2023. The company has sounded out vendors on an assured production plan of 50,000 EVs in fiscal 2023 and scaled it up to 125,000-150,000 units annually in the following two years.
In January 2022, MG Motor India officially announced to launch an electric vehicle before the end of FY 2022-23, before March 2023. It will be priced between INR 10 lakh and INR 15 lakh. This all-electric crossover will be based on a global platform, which is customized for the Indian market. It will be a sub-4-meter crossover and could offer an electric range of over 300kms. It will be positioned against the best-selling Tata Nexon EV. The company aims to localize some of the components for its new electric vehicle to meet the government's guidelines for a product-linked incentive scheme.
In December 2021, Hyundai Motor India announced its plans stating the company plans to invest INR 4,000 crore to launch half a dozen electric vehicles (EV) by 2028 in a series of targeted product interventions, underscoring increasing consumer preference in the country for mobility solutions of the future. The company is also in talks with six private and state-run companies in India to boost vehicle charging infrastructure and alleviate a key concern among EV buyers.
How the Tata Technologies Share Price Graph has moved in Unlisted Space:


We had first invested in Tata Technologies Ltd. in 2014 and at that time Tata Technologies share price was around Rs.300/share. since then this is how the Tata Technologies share price graph has moved:
March 2014 – Rs 345/share
June 2017 – Rs 1150/share
June 2021 – Rs. 1800/share
February 2022 – Rs. 6100/share
This translate to a CAGR of roughly around 45.72%+
To know the Tata Technologies Share Price and to invest: Click Here
Also Read: Why Invest in Hexaware Technologies