Arohan – About and How it Works?
Arohan Financial Services Limited is a leading NBFC-MFI with operations in financially under-penetrated Low-Income States of India. The Company provides income generating loans and other financial inclusion related products to customers who have limited or no access to financial services. As of September 30, 2020, Arohan were the fifth largest NBFC-MFI in India and the largest NBFC-MFI in Eastern India (Source: CRISIL Report), based on Gross Loan Portfolio ("GLP") with a GLP of INR 48.57 billion.
Arohan offer a broad range of products to financially underserved customers. Financial products are classified into credit and insurance products. Credit products include income generating loans and other loan products for various household purposes. Insurance products include life and health insurance covers issued and underwritten by certain Indian insurance companies with whom they have entered into tie-ups. They also offer term loans to microfinance institutions.
As of September 30, 2020, Arohan has served approximately 2.21 million borrowers in 17 states. These included 12 of the 14 Low Income States in India (as defined in the CRISIL Report). As of that date, Arohan microfinance business branch network consisted of 710 branches in 11 states and their MSME lending business branch network consisted of 10 branches in eight states.
Arohan Financial Services is a part of the Aavishkaar Group, which provides business solutions to assist sustainable enterprises dedicated to social and environmental change, has advised a large number of organisations on inclusive business strategies and has provided significant amounts of venture capital funding to social impact businesses. As of September 30, 2020, the Aavishkaar Group had an AUM of approximately US$ 1.00 billion across Asia.
Arohan has a bank loan rating of A- (stable outlook), MFI grading of MF1 from CARE Ratings, a Social Performance rating of SP1, COCA Dimensions of C1, all of which are top-notch gradings.
Company Highlights
| | |
| --- | --- |
| Headquarters | Kolkata, IN |
| Origin Country | India |
| Industry | Fintech, Financial Services |
| Founders | Vineet Rai |
| Founded | 2006 |
| Revenue | Rs 934 cr in FY20 |
| Total Funding | $25.9 m |
| Website | arohan.in |
Industry- Microfinance Industry
India is one of the most promising markets for microfinance in the world. Banks and microfinance institutions, are unveiling plans to meet the enormous demand for credit from the huge untapped market, both in urban and rural areas.
India is the largest microfinance market in the world, with the sector growing at an average rate of over 50 per cent. Consequently, it is attracting domestic and foreign investors and new players, who are hoping to practice profitable philanthropy. Close to two decades after its emergence in India, microfinance has matured from being a pure development activity to also being an economic driver at the grassroots level.
Thus, even the largest selling mobile phone maker, Nokia, is looking at microfinance as a major initiative to further increase mobile penetration in India. Increasingly, microfinance is perceived as an effective channel for ensuring financial inclusion of the low income population and those in the informal sector
Microfinance, or micro-credit, typically comprises very small-sized loans of about $100 extended to an individual or a group of individuals, which are called self-help groups (SHGs). Borrowers are generally from the weaker sections of society. The Reserve Bank of India (RBI), the country's central bank, has urged banks to opt for the SHG model to lend to over 30 million small and micro units, to ensure they have easy access to funds.
According to the Intellecap study, the market size for microfinance in India is in the range of 58 to 77 million clients, assuming the entire poor population of the country represents potential clientele. This translates to an annual credit demand of $5.7 to $19.1 billion, assuming loan sizes range between $100 and $250.
One reason that microfinance is a much sought after business is the higher interest rates charged for loans by MFIs at 24 per cent, the interest rates are much higher than the average interest rates of about eight to 12 per cent enjoyed by middle class borrowers.
However, they are still cheaper than the rates charged by local moneylenders, which can be as high as 500 per cent. Hence, MFIs are the preferred option for the poor, who need very small-sized loans and convenient repayment options.
Arohan – Founders and Team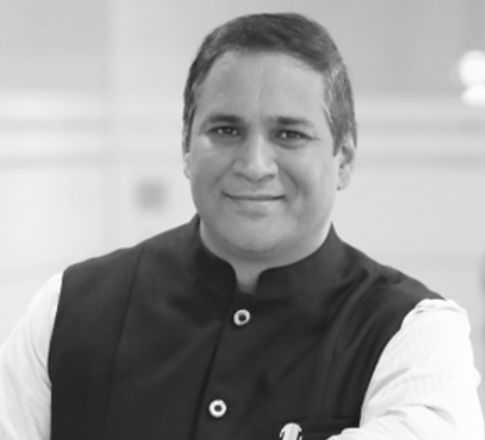 Vineet Rai is a Non-Executive Nominee Director of Arohan Financial Services. He was nominated to Board by Aavishkaar Venture Management Services Private Limited and been a Director since October 24, 2013. He holds a post-graduate diploma in forestry management from the Indian Institute of Forest Management, Bhopal.
Additionally, he is an Honorary Member of XLRI Alumni Association. He was the founder of Aavishkaar Venture Management Services Private Limited and Intellectual Capital Advisory Services Pvt Limited, which are part of the Aavishkaar Group. Vineet was awarded the Outstanding Social Change Agent by TiE Mumbai in January 2020 and also featured on the cover of Forbes India (January 2018 issue). He participated in the 'Champions of Change' event in August 2017 organized by the National Institution for Transforming India. Further, he was also appointed by SEBI as a member of the 'Working Group on Social Stock Exchanges' in India. He has also served as a commissioner member at the Global Commission on Business and Sustainable Development.
Arohan – Mission and Vision
Mission
To empower the under-served households by offering a range of financial services, in a manner sustainable for all stakeholders
Vision
To impact over 20 million lives by 2025 Aspiring to be in the Top 3 FI players while covering over 5 million households with an INR 25,000 Cr portfolio and being in the Top 3 places to work by 2025.
Tagline– "For the journey forward"
Arohan Financial Services – Startup Story
Arohan Commenced microfinance operations and disbursed its first microfinance loan in Kolkata.
The number of customers reached was 10,000
Launch of 'Bazaar' loan product
The number of customers crossed 100,000
Commenced operations in Assam
Launch of 'Pragati' loan product
The number of customers crossed 200,000
Acquisition of controlling interest in Arohan by Intellecash and AVMS, Acquisition of Intellecash's microfinance portfolio in Bihar
Endorsement of status as an NBFC-MFI by the RBI Commenced operations in Jharkhand
Commenced operations in Odisha,
The number of operational branches reached 180,
Achieved AUM of over INR 5,000 million
Launched mobility solution which captures operational transactions on a real time basis through a mobile application,
Commenced operations in Meghalaya and Chhattisgarh, Launched sanitation, mobile and bicycle loans, Undertook first cashless disbursement
Overall score of 8 out of 10 indicating "High Level of Adherence" in Code of Conduct Assessment Report conducted by ICRA Management Consulting Services Limited
Launch of "Arohan e-Bazaar" mobile application and "Bazaar 2.0" product, Gross loan portfolio reached INR 10,000 million, Completion of implementation of "PROFILE" , Commenced operations in Tripura and Uttar Pradesh
Undertook the first disbursement through PayTM payments bank
Launch of "Perdix", a centralized digital audit platform for internal audit
Inorganic business portfolio reached INR 1,000 million
The number of customers reached 1,000,000
Intellecash merged with and into Arohan pursuant to the Scheme
Commenced operations in Madhya Pradesh
Launched Adrenalin, the HRMS portal
Raised INR 990 million of external commercial borrowing from IFC
The number of customers reached 2,000,000
Launched the ApnaBazaar application for cross-selling of products
Securitization deal of non-qualifying assets completed
Commenced operations in Manipur
Implementation of Diligent – a board management software
Enabled digital repayment using digital wallets such as PayTM and PayU which make use of Aadhaar Pay Enabled Software platform, Bharat Bill Payment System platform, UPI and debit card
CARE MFI 1 grading from CARE
Social performance grading of the highest-rating SP1 from ICRA
Dual Credit Rating of A- with stable outlook from CARE & ICRA
Onboarded Trackwizz, an anti-money laundering and compliance software
Arohan Financial Services – Operational Model and Revenue Model
Arohan's business operations are focused on low-income households that have limited or no access to formal financial institutions. Their goal is to provide these households with support for their financial needs. Target customers are women with an annual household income of INR 200,000 or less in urban areas and INR 125,000 or less in non-urban areas. They predominantly provide core financial loans to groups consisting of three to five women. A centre typically has between eight and 30 members in total. They offer collateral free loans to customers who are willing to borrow in a group and agree to accept joint liability for the group's loans, which is referred as the joint liability group model ("JLG model"). JLG model enables customers, who typically do not have sufficient collateral, to gain access to formal credit. JLG model also provides a community support system for customers, regardless of their financial circumstances.
Arohan – Funding and Investors
Number of Funding Rounds – 3
Total Funding Amount $20M
Arohan Financial has raised a total of $25.9M in funding over 3 rounds. Their latest funding was raised on May 18, 2017 from a Venture – Series Unknown round
Arohan Funding
Summary Metrics
| | |
| --- | --- |
| Arohan total Funding | $25.9 m |
| Arohan latest funding size | $14.94 m |
| Time since last funding | 5 years ago |
| Arohan investors | Aavishkaar Venture Management services, Michael & Susan Dell Foundation, Lok Capital, Tano Capital, Swaminathan Anklesaria Aiyar, Maj Invest Equity |
Arohan Financial Services – IPO
Arohan Financial Services, the Aavishkaar Group's microfinance business, may be able to raise 150 crores from current investors after abandoning plans to raise 850 crores in an initial public offering (IPO). The lender may seek new approval for the IPO after improving its financial status.
"Our current IPO ticket will expire in the last week of April." "Refiling for an IPO is a reasonable option now that the market has improved," Manoj Kumar Nambiar, managing director of Arohan, told ET. "Even if we intend to seek new approval, we won't be able to do it until June." In the meantime, we may be able to raise around 150 crores. "We're discussing it with our present investors," Nambiar said.
Investors who were previously wary of microfinance due to high levels of post-pandemic stress may now reconsider after interest rate deregulation allowed lenders in the sector to raise lending rates.
Arohan's aim is to empower poor households and small businesses through a range of financial services in a way that is sustainable for all stakeholders by 2025, with a goal of influencing 20 million lives. Arohan is one of the few NBFC-MFIs in India that can issue loans ranging from 10,000 to 100 lakh rupees. It works with strong, local partners on the ground to broaden its reach into the most remote parts of the low-income geographies it targets.
Arohan Financial Services – Acquisitions
Arohan Financial has made 1 Acquisition-
Intellecash Microfinance Network on Sep 14, 2012 through a series of transactions for a total Rs 52 crore.
Arohan -Awards
2019
Digitally Advanced NBFC Award, 2019 at the India NBFC Summit and Awards
Institute for Competitiveness Strategy Awards by Times Network
Indian Chamber of Commerce Special Jury for Environment Sustainability in 2019 in the Large Enterprise category
Certified as Great Place to Work by the Great Place to Work Institute
'Client Protection Certification' from The Smart Campaign
2020
'Best Governed Company – Unlisted Segment – Emerging Category' award at the 20th ICSI National Awards for Excellence in Corporate Governance, 2020
COCA Assessment score of C1 (top grade) indicating "Excellent Performance on COCA Dimensions"
CARE MFI 1 grading from CARE
Social performance grading of the highest-rating SP1
Dual Credit Rating of A- with stable outlook from CARE & ICRA
Internal Audit Department certified with ISO 9001:2015 by the British Standards Institution for operating a Quality Management System which complies with the requirements of the certification for conducting Internal Audit for Operations and all other Support Functions
Recognized as Responsible Lender for adopting and adhering to the Code for Responsible Lending (CRL) in micro-credit with a CRL score of 99%
Arohan – Competitors
Arohan
Snap finance
Vistaar Finance
Farm Credit Canada
Bankers Healthcare Group
Arohan is a company that provides financial services.
Snap Finance is a company that provides consumer financing and rent-to-own purchase options.
Vistaar Finance is a non-banking financial company that focuses on lending to small businesses.
Farm Credit Canada (FCC) is a federal Crown corporation that operates as a lender to agriculture and food companies.
Bankers Healthcare Group (BHG) is a company providing healthcare professionals with medical practice financing and healthcare professional loans.
Founding Date
2006

2011

2010

1959

2001
Type

Private
Private
Private
Private
Private
Tags
Financial Services

alternative lending

Financial Services

alternative lending

Financial Services

alternative lending

Financial Services

alternative lending

Financial Services

alternative lending

Locations

Kolkata, IN HQ

Salt Lake City, US HQ

Bengaluru, IN HQ

Regina, CA HQ

Davie, US HQ

Miramar, US

New York, US

Syracuse, US

Employees
1,1062% increase
7725% increase
1,4401% increase
2,0907% increase
1,1293% increase
Employee Rating
3.6
3.8
4.5
4.6
4.5
Latest funding round

$ 14.9m (almost 5 years ago)

N/A

$ 30m (over 1 year ago)
N/A
N/A
Total funding raised
$ 25.9m
$ 9.1m
$ 76m
N/A
N/A
---
Also Read Why Mobikwik's Share price falls by 30% – Click Here