Ixigo is among the top 5 online travel booking platforms. Ixigo share price is currently between 100-120/sh leading to a P/S (Price to Sales Ratio) of 30X whereas the only other domestically listed EaseMyTrip is at a valuation of 35X its P/S ratio. With the travel industry coming out the shadow the pandemic, OTAs may see volumes reviving on their platforms.
In this post we break down the online travel platform industry and take a in depth look ixigo's business model, ixigos IPO plans and the current competetive landscape it operates in.
Lets dive in:
Industry overview
Online Travel companies are 3rd party agents reselling trips, hotels, cars, flights, vacation packages, etc., provided by others. Customers can book a range of travel-related services via the Internet.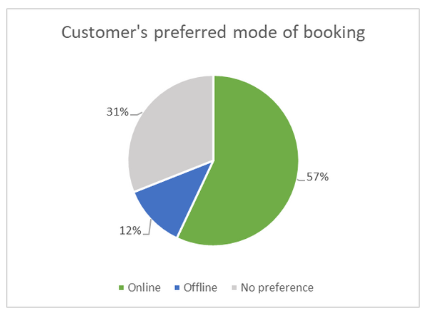 Consumers utilize both online and offline to plan their trips believing that internet channels offer better deals and are more convenient.
Online travel is evolving fast due to high penetration of internet, smartphones becoming ubiquitous and increasing number of Indians resorting to convenience of the web for better travel pricing and lodgings.
The travel market in India is projected to reach US$ 125 billion by FY27 from an estimated US$ 75 billion in FY20. In FY20, tourism sector in India accounted for 39 million jobs, which was 8.0% of the total employment in the country.
Key growth factors
| | |
| --- | --- |
| Improved user experience: Mobile applications have brought the most important change in travel, allowing users to access their full user experience. | Shift in customer preferences: Travelers have begun to opt for a variety of shorter vacations throughout the year, which has resulted in increased sales. |
| Economic growth: An increasing number of Indians with more disposable incomes travel more domestically and internationally. | Government Support: India's UDAN-RCS 2016, has made air travel accessible to a wider spectrum of economic groups, which has resulted in a significant increase in domestic passenger traffic in India. |
| Penetration of online market players: Increasing penetration of foreign flight and hotel reservations driven by online portals account for majority development in the Indian online travel sector | Improved Infrastructure: Several measures have been taken to curb frauds in the digital platform by introducing safer avenues and gateways for making payments. |
| Increased investments: Growing Indian travel business has attracted investors towards internet travel companies. OYO, Treebo, India's largest cheap hotel companies, are backed by Chinese investors. | |
India's online travel market is approaching maturity, as more segments transition to digital channels.
Services Provided by Online Travel agencies
Transportation Booking

2. Accommodation Booking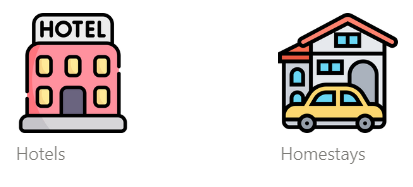 3. Vacation Packages

OTA Business Models
The business models of OTAs are defined by:
a variety of pricing models,
numerous customer outreach channels,
alternate revenue streams,
management of large amounts of inventory and multiple vendors, and
massive investments in next-gen tools and apps
How Online Travel Agencies make money
Hotels basically outsource marketing to OTAs, who then make money in two ways: the merchant model (guest pays in advance) and the commission model (guest pays at check out). Most OTAs offer a blended model so that hotels can allow guests to decide which one they'd prefer:
The merchant model: In this model, the OTA acts as merchant of record and collects payments from guests at the time of booking. Once guest has checked out, OTA pays the hotel. Contracts exist between hotels and OTAs to provide a set number of rooms to the OTA at a favorable rate. OTA then makes a profit off each room sold but must meet its contractual thresholds.
The agency (commission) model: In this model, the consumer books via the OTA but pays the hotel directly at time of checkout. The hotel then pays the OTA a commission on the total value of the booking after checkout. There are no contracts and rates are set by hotels.
Over the years, as hoteliers began to rely on online travel agencies for more of their bookings, OTAs leveraged their dominance to shift to the commission model and gradually increase commissions.
Impact of the COVID-19 on Travel Industry
Travel and tourist industry was one of the hardest-hit around the globe, and India was no exception. In several months of 2020, due to travel restrictions, the number of overseas tourists dropped to virtually nothing. From a customer perspective, many people yearned for a weekend trip after months of being in lockdown
The growth has started again in an upward direction. The pandemic has also created an acquisition opportunity for stronger players as the industry consolidates
Domestic tourism however is expected to pick up sooner and the latest available data suggest plenty of pent-up demand to support a relatively speedy recovery. Indian travel firms have reportedly seen a 25%-30% increase in bookings both for air travel and accommodations for the Christmas and New Year holidays.
Ixigo
About
Ixigo is a technology company launched in 2007 which is focused on empowering Indian travelers to plan, book and manage their bookings across railways, air, buses and hotels.
Ixigo is assisting travelers make better travel decisions by using AI/ML and data science-led innovations on it's websites and mobile application.
Website: www.ixigo.com
Business Model and Revenue Model Of ixigo
Ixigo's business model allows for an unbiased evaluation of all available options, assisting travellers in picking which website to book via rather than being stuck in the middle of a transaction. It primarily acts as a middleman between the user and a trip booking website, earning a commission on each transaction.
It is presently operating as a blend of merchant and agency model.
Evolution of the business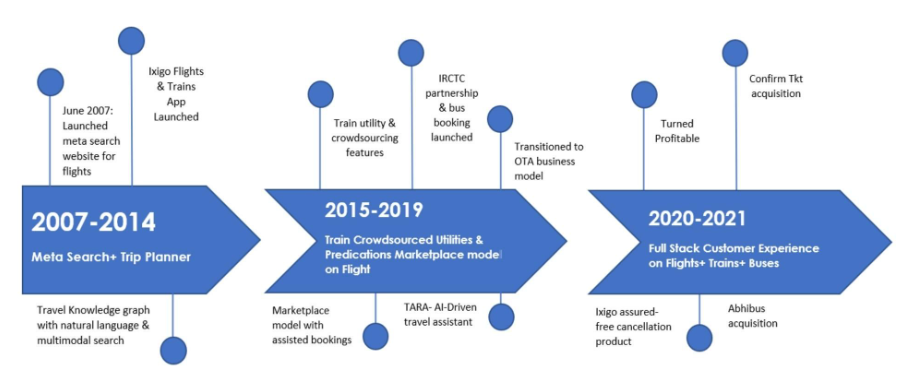 Funding
Over six rounds of funding, Ixigo has raised a total of $88.5 million. Most recent round for Ixigo was on July 27, 2021, when the firm raised $53 million from GIC, Singapore's sovereign wealth fund.
| | | | |
| --- | --- | --- | --- |
| Date | Stage | Amount | Investors |
| July 27, 2021 | Series C | $53 Million | GIC |
| Mar 22, 2017 | Series B | $15 Million | Sequoia Capital India, Fosun RZ Capital |
| Nov 29, 2016 | Venture Round | $10 Million | Sequoia Capital India |
| Jun 23, 2015 | Funding Round | $4 Million | Micromax |
| Aug 11, 2011 | Series A | $6 Million | SAIF Partners, MakeMyTrip |
| Feb 1, 2008 | Seed Round | $500K | BAF Spectrum |
Acquisitions By Ixigo
Ixigo has made 5 strategic acquisitions till date.
| | | |
| --- | --- | --- |
| Date | Company | About |
| Aug 5, 2021 | AbhiBus | An online Indian ticket booking platform for bus, train tickets and more |
| Feb 4, 2021 | Confirmtkt | A one-stop destination for booking and confirmation of railway tickets |
| Jan 11, 2017 | Reach App | A mobile app for users to browse and download music, games and other content directly from their friends' mobile devices |
| Aug 7, 2015 | Desi Backpacking Travelers | A portal where Indian and foreign backpackers share articles and photos of their trips in India |
| Aug 27, 2015 | Rutogo (Owned by Square Hoot Hikes) | A marketplace where taxi vendors from across the country are connected under a single platform |
Ixigo Financial
Analysis 
| | | | |
| --- | --- | --- | --- |
| Particulars (in crore rupees) | FY19 | FY20 | FY21 |
| Total Income |  43 |  113 |  138 |
| %growth | | 163% | 22% |
| Restated Profit/Loss | ₹-57 | ₹-27 | ₹8 |
| %growth | | 53% | 130% |
| EPS- Basic (Rupees/share) |  -79 |  – 37 |  10 |
| %growth | | 53% | 127% |
| EPS- Diluted (Rupees/share) |  -79 |  – 37 |  10 |
| %growth | | 53% | 127% |
| Total Borrowings |  216 |  233 |  15 |
| %growth | | 8% | -94% |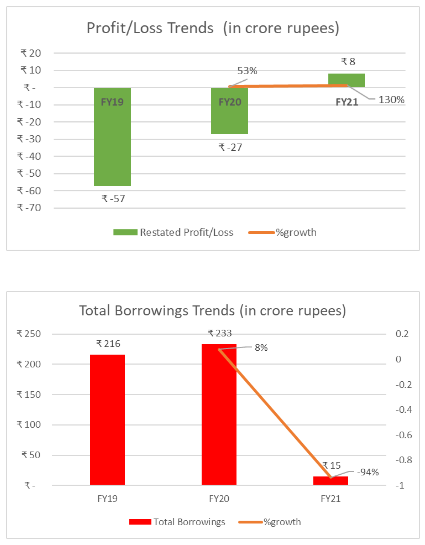 Ixigo's Total Revenue has grown at an impressive CAGR of 79.15% from FY19 to FY21. Ixigo had reported a Total Income of Rs 138 crore in FY21.
Ixigo has only recently posted a profit of Rs 8 cr in FY21. It was loss-making before that.
The company has also drastically reduced its total borrowings from Rs 216 cr in FY19 to Rs 15 cr in FY21.
Ixigo shows a significant improvement in the amount of borrowings made in FY21. This reflects on the company's ability to manage outside borrowings while the business was not doing well due to the pandemic.
Ixigo has shown positive EPS in FY21 despite the travel curbs and lesser bookings owing to the pandemic.

Ixigo's Peer Analysis
| | | | | |
| --- | --- | --- | --- | --- |
| Particulars | Ixigo | MakeMyTrip | Yatra | EaseMyTrip |
| Gross Transaction Value (In Rs crore) | 2150 | 11,700 | 1470 | 2120 |
| Revenue (In Rs crore) | 135 | 1170 | 120 | 106 |
| Employee Strength | 200 | 3200 | 2000 | 420 |
| GTV Per Employee (In Rs lakhs) | 125 | 36 | 7 | 50 |
| Monthly Downloads (In lakhs) | 35 | 8 | 1 | 2 |
| Monthly Active Users (In lakhs) | 310 | 230 | 30 | 10 |
| Monthly Average Sessions Per User | 22 | 9 | 9 | 10 |
| App Reviews (In lakhs) | 18 | 17 | 3 | 1 |
| App Rating | 4.6 | 4.4 | 4.2 | 4.6 |
Scale: Ixigo is the 2nd largest player in the travel industry market place followed closely by ease my trip which stands at a gross transaction 2,120 crores as compared to 2,150 crores for Ixigo
Employee Strength: While the GTV is approx. similar for Ixigo and Ease my trip the employee strength is more than double for Ease my trip reflecting a much lower GTV per employee (50- Ease my trip, 125- Ixigo).
Operational Efficiency: While comparing GTV per employee Ixigo has the highest numbers implying highly optimised operations allowing more revenue to be generated by using lesser resources.
Customer Experience: Ixigo's current platform shows superiority reflected by the number of monthly downloads which is almost 1650% of Ease my trip downloads. This implies a better and enhanced user experience on Ixigo's mobile application.
Brand Strength: The above numbers are accurately reflected while looking at monthly active users. Ixigo's active users are 3000% of Ease my trip active users. This reflects current customer loyalty towards using Ixigo platform for all travel bookings.
Ixigo's IPO Plans
Ixigo is gearing up for their initial public offering (IPO) and has already filed its Draft Red Herring Prospectus (DRHP) on August 13, 2021.
Ixigo has revealed its ambitions to raise Rs. 1,600 crores in a draft copy submitted with SEBI. The business expects to collect Rs 750 crores in its primary fundraising round, followed by another Rs 850 crores from current investors via an offer for sale (OFS).
Early investors such as Elevation Capital (formerly known as SAIF Partners) and Indian smartphone manufacturer Micromax will be able to sell a portion of their shares.
Why should you Invest in Ixigo?
Market leader with deep penetration in the underserved 'next billion user' segment
According to a F&S Report, the company is the leading OTA for the 'next billion users with the highest Monthly Active Users across all OTAs. They were also the second-largest OTA in terms of GTV and revenues, in Fiscal 2021 (Source: F&S Report, Company DRHP)
AI and technology-driven operations
The company has implemented an artificial intelligence-driven personal travel assistant, TARA, which is supported by deep learning and contextual awareness. TARA helps users achieve end-to-end resolution for queries over chat, without human intervention. (Source: Company DRHP)
Strong consumer travel brand built with a user-first approach
Top-ranked OTA App on Google Play Store as of July 2021 and had the highest usage and engagement among all key OTA players and standalone transactional train mobile apps in India in Fiscal 2021 in terms of MAUs and sessions per user per month (Source: F&S Report and Company DRHP)
Things to consider while investing in Ixigo
1. COVID-19 pandemic has had and is expected to have, a material adverse effect on the travel industry and the company
The company observed a significant decrease in the supply of domestic transportation tickets and international air tickets in response to comprehensive containment measures in India and the closure of borders due to the pandemic. (Source: Company DRHP)
2. Train ticketing services depend on agreement with IRCTC
The termination of the agreement with IRCTC could preclude the company from undertaking  train ticketing services and could otherwise have a material adverse effect (Source: Company DRHP)
---
Also Read: Breaking Down Journey and Current BoAt Share Price