Ixigo, a full-service online travel agency (OTA) and the leading rail travel booking OTA, has maintained its growing pace and turned profitable in the first quarter of FY23.
According to Ixigo's addendum filed with the SEBI, the IPO-bound firm reported operating revenue of Rs 118.8 crore in its first quarter (April-June 2022). Ticketing revenue is a significant source of income for Ixigo, accounting for 94% of total operating revenue. It also recorded other income of Rs 10 crore in the first quarter, the majority of which was from liability written back, which represented excess liability assessed upon completion of contractual duties and reconciliations.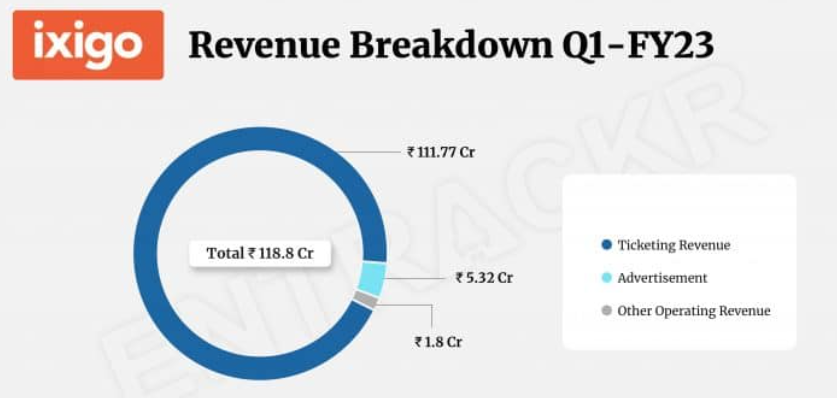 The portion of ConfirmTkt, the FY21 acquisition that propelled it to the top of the OTA train ticket bookings, is not yet known. In FY22, the company also purchased the bus ticketing platform AbhiBus.
Employee benefit spending emerged as the company's greatest cost component, accounting for 25% of total costs. In the first quarter of the current fiscal year, this cost was Rs 30.25 crore (FY23).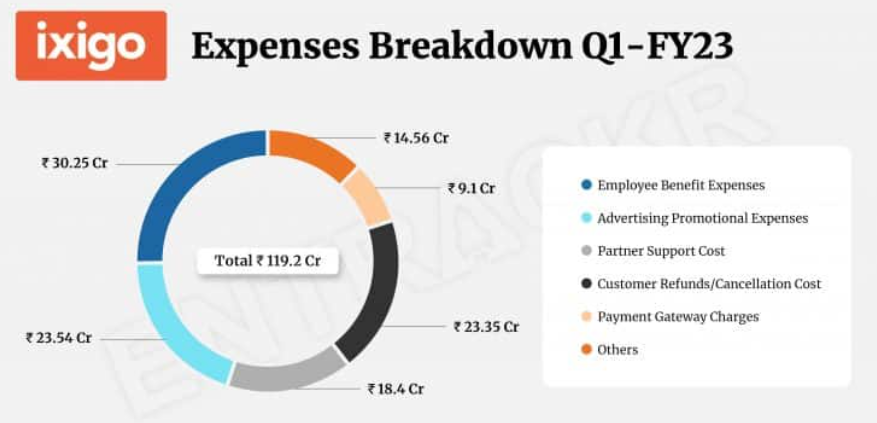 Advertising costs for the firm came in at Rs 23.54 crore during the three months period (April to June). Cancellations and customer refunds at Rs 23.35 crore came in a close third as the firm continued with its free cancellation offers in key segments.
The Gurgaon-based company further spent Rs 18.4 crore and Rs 9.1 crore against partner support costs and payment gateway charges which pushed the total expenditure to Rs 119.2 crore in the aforementioned period.
With growth in scale, Ixigo has booked a profit of Rs 8.73 crore in Q1 FY23. On a unit level, Ixigo spent Rs 1.00 to earn a single unit of operating revenue.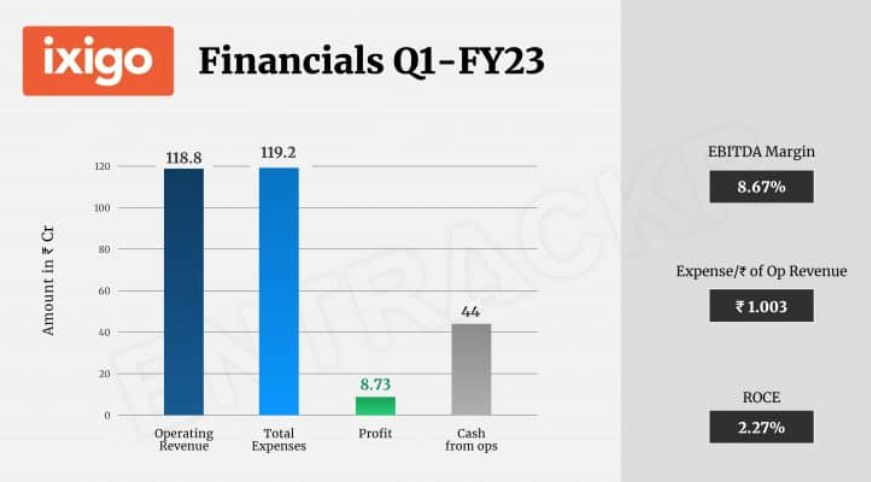 The 15-year-old company plans to go public early next year and filed a draught red herring prospectus (DRHP) in August last year to raise Rs 1,600 crore. Ixigo has currently raised $95 million in funding, including a $53 million round led by Singapore-based GIC in July 2021.
Following a pandemic-hit fiscal year (FY21), the company increased its scale by 2.8X, with income from operations reaching Rs 370 crore in the most recent fiscal year (FY22), despite losses widening to Rs 21 crore.
Ixigo's entry into net positive figures indicates that it will be one of the few profitable firms to go public in the coming quarters. The list includes two direct to consumer (D2C) brands including boAt and MamaEarth. In the recent past, omnichannel beauty and lifestyle retailer Nykaa and automobile classifieds portal CarTrade were the other new age firms that were also profitable when they made their public debut.
To Invest in Ixigo Pre-IPO shares, Click Here
---
Also Read: Ixigo Share Price, Pre-IPO: Deep-dive