About ESL Steel and Industry trends in India
ESL Steel Limited is a fully integrated iron and steel Plant, situated at Siyaljori Village in Bokaro, Jharkhand. The Company has fully integrated steel capacity of 1.5. MTPA with expansion plan underway to double the existing capacity. ESL is selling primarily TMT Bars, Wire Rods, DI Pipes, Pig Iron and Steel Billets in open market and has established its presence in the domestic market.
The Ind-Ra agency expects the prices of iron ore, a raw material used for steel making, to increase in the coming financial year. Besides, the agency expects domestic iron ore prices to gradually correct in FY22, as iron ore supply improves, although remaining elevated till the domestic iron ore output increases to FY20 levels. According to CARE Ratings, crude steel production is expected to reach 112-114 MT (million ton), an increase of 8-9% YoY in FY22.
The ministry of Steel plans to invest 8,225 crores from 2020 to 2025 through accelerated development of the sector.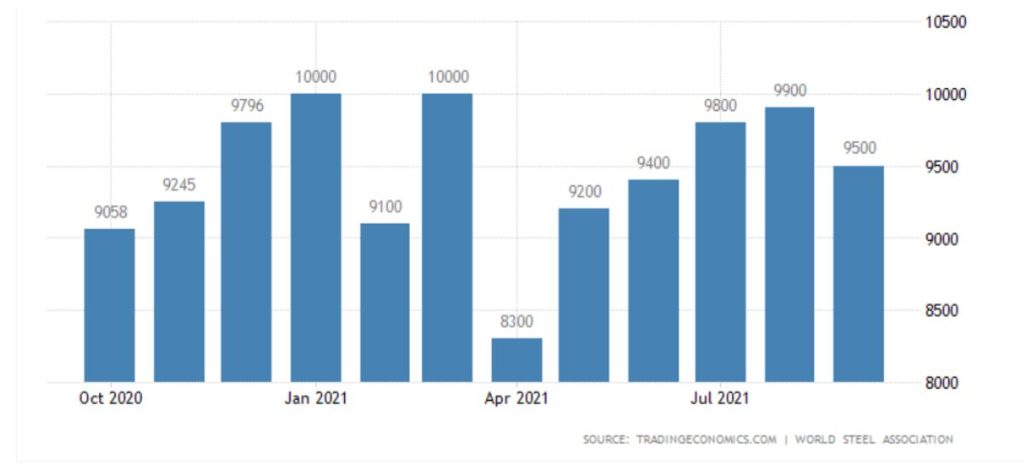 Steel Production in India declined since September to 9000000 tons from 9900000 tons. The Steel Production is forecasted to decline until January 2023.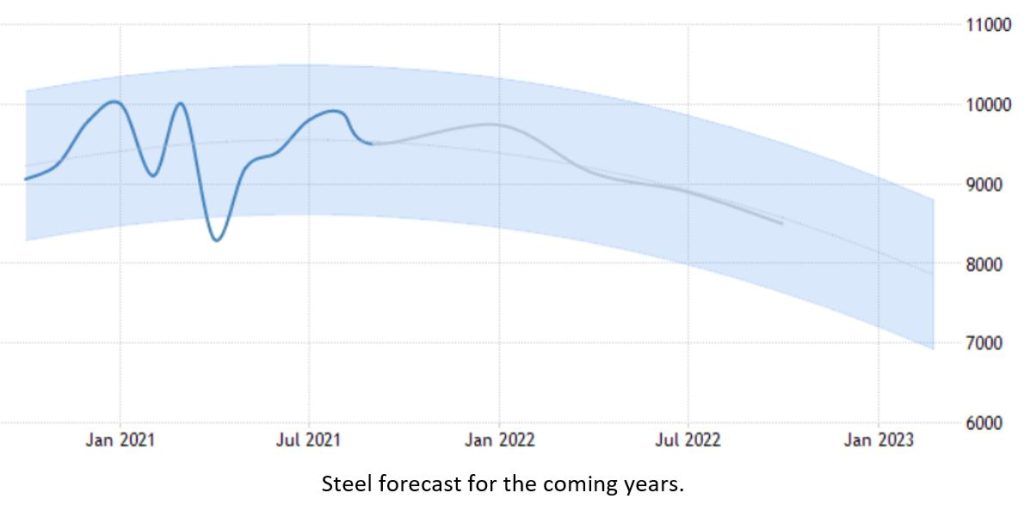 ESL Steel Revenue Segments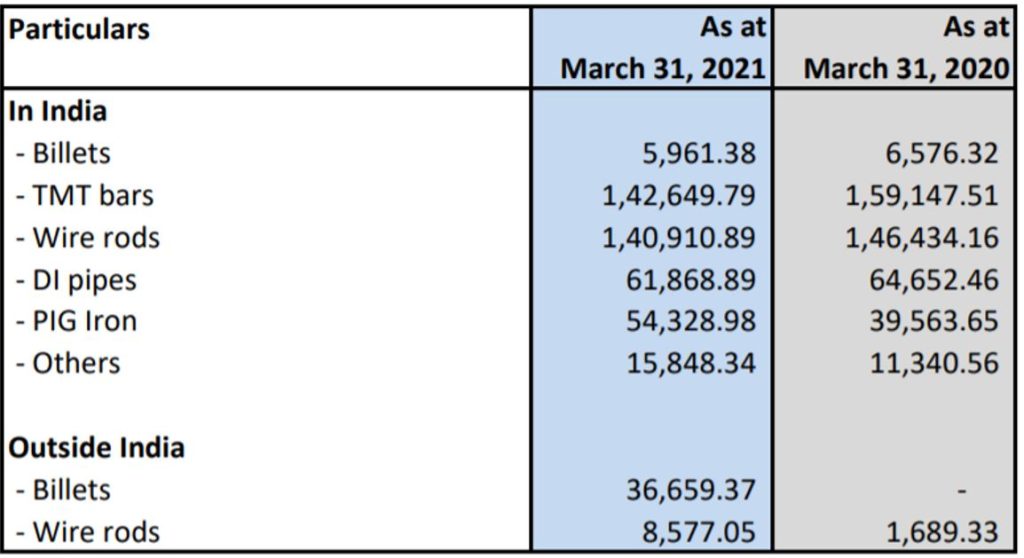 (in INR Lakhs)
Financials
The company has an impressive Net Income Margin of 57.3% with a 46.5% gross profit margin. The revenue from operations of ESL Steel grew by 9% despite the pandemic, which disrupted local and global supply chains and caused labor unrest.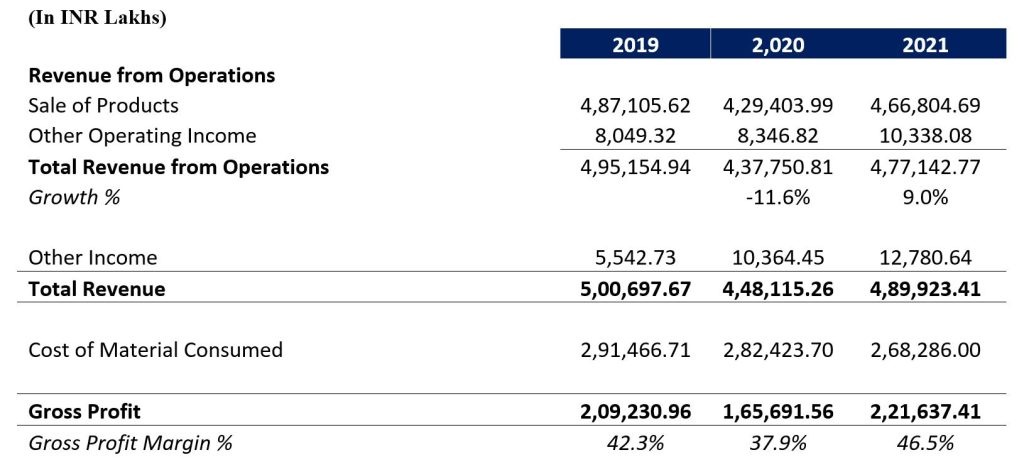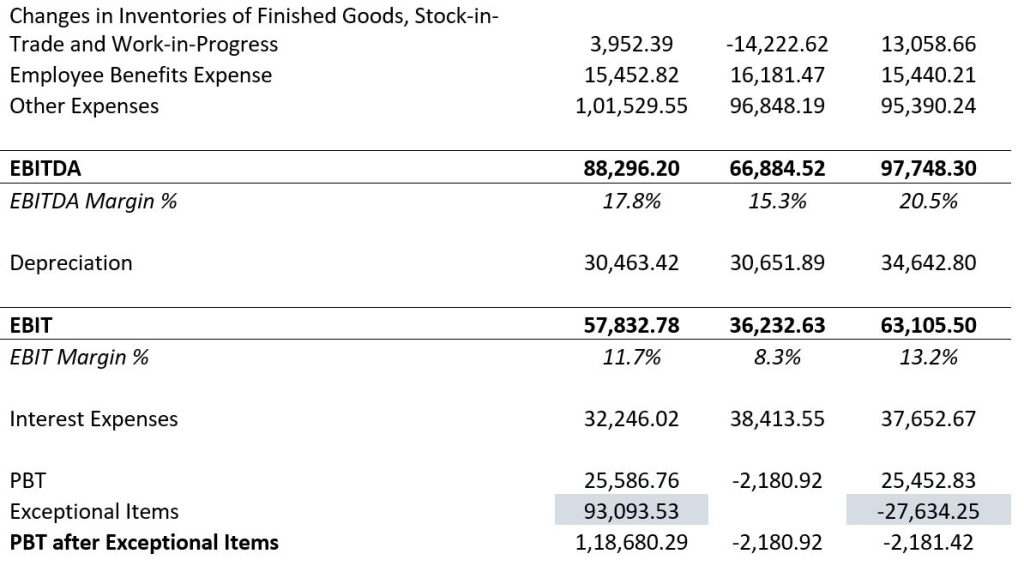 Valuation
The industry Median of EV/Revenue when applied to ESL Steel indicates a share price of INR 16.23 adjusted for Net debt, whereas when industry mean EV/Revenue is applied to ESL Steel, it indicates a share price of INR 34.09


The following table depicts the production capacity, market capitalization (Cr) and capacity utilization (%) of the companies in the large cap (Tata Steel and JSW Steel) and mid cap (KIOCL and Jindal Steel) segment. ESL Steel has a prominent capacity utilization of 79.1%, second to JSW Steel. ESL Steel plans to double their capacity in the Fiscal year ended 2022 to 3 MTPA.

The following table indicates the average Market Capitalization of ESL Steel relative to its peer with respect to the production capacity.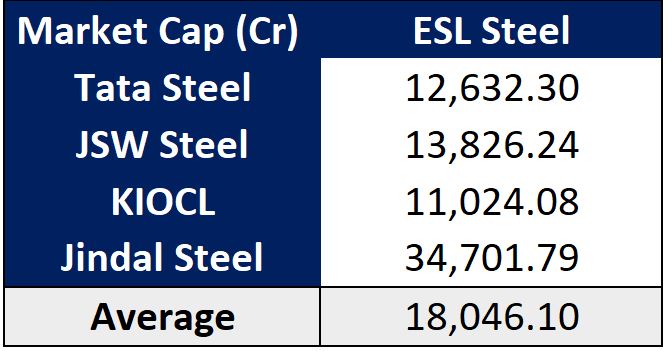 According to the Average Market Capitalization, the price per share is approximately INR 97.
To find out more about ESL Steel: https://altiusinvestech.com/company/ESL-Steel-Unlisted-Share-Buy-Sell-ESL-Steel