Boat cancelled their 2000 crore IPO and instead raised 500 crore funding. Why? Let's find out
Assume I am the CEO of a late-stage startup. In the past, I have raised numerous rounds of funding. It's IPO time! The issue is that an IPO takes time, which I do not have. My startup is happily burning money every day, and we will soon run out. As a result, I require one more round of funding before the IPO.
I'll begin the fundraising process by calling each investor and explaining that I need more funding. But the fact is that investors are tired and have provided me with funding for Series A, B, C, D, E, F, and G. They do not wish to visit H. They want their money back now. and want to go public.
This is not a big problem. I just need to make an offer they can't refuse. If I give them more equity for the same funding, I'm sure they will accept my offer. That's when my CFO drops the big bomb: we are out of stock on equity. For every round of funding, I had to give equity to investors. But I raised so many funding rounds that I don't have any more equity left to give.
This is now a major issue. I will not receive funding if I cannot provide equity to investors.
Yes, I could use debt funding, which is essentially a loan. However, my startup is already losing money. Banks are aware that I will be unable to repay the loan. There's no way. Also, taking a large loan right before the IPO makes my startup look bad.
What should I do now?
That's when someone tells me about a unique type of funding known as
Convertible preferred stock note:
It's a loan that magically transforms into equity after a certain period of time. Here's how it works:
Investors will provide me with funding.
This funding is currently structured as a loan. I'll have to pay it back, plus interest.
However, this loan is not indefinite. It can be converted.
I'm currently out of stock on equity. However, the IPO is approaching. Many previous investors will say goodbye and sell their equity during the IPO. Equity will be restocked! That is when the loan transforms into equity.
Everyone is content. I'm relieved because I received funding and will not have to repay the loan. Investors are pleased because they will receive equity in my startup (along with other benefits, which I will discuss later).
Because these investors helped me get out of a tight spot, I'll have to give them lots of favours:
They will receive a discount when their funding converts to equity. For example, if my IPO is worth $100 billion, a typical investor will receive 5% equity if he pays $5 billion. But for the same $5 billion, these investors will get more, possibly 6 or 7% (depending on how well I negotiate). So, in essence, these investors are receiving a discount on my startup's valuation.
They are given special liquidation preferences, which means that if the Titanic collides with an iceberg, they will be given first priority on the lifeboat. These investors will be paid first if my company goes bankrupt or liquidates.
The funding is initially structured as a loan to protect investors in a worst-case scenario. In case my startup is not able to do IPO or get another round of funding, then their funding won't convert to equity. It will remain a loan and I'll have to pay it back, with interest.
That's "convertible preferred stock note" for you. I think of it as Funding Now, Equity Later.
Back To Boat:
When Boat filed IPO papers in February, it was all set for a massive 2000 crore IPO. But then things got serious: war, recession, stock market crash, and so on. The IPO market has gone dark. Boat realised, shit, we can't do an IPO, how are we going to get the money?
Boat desperately needed this money. That is the issue with Boat: it lacks a moat. Selling earphones made in China is hardly a game changer. That is why they have so many knockoffs: noise, fireboltt, ptron, zebronics, blaupunkt, mivi, boult, oppo, redmi, realme, infinity, and oneplus. As a result, they must continue to spend money in order to stay ahead of competitors.
Ideally, this money should come from Boat's profits. Last year they had a profit of 80 crore on a revenue of 1500 crore. ET says that this year they have doubled profits, so 160 crore profits. But I think 80 crore and 160 crore were not enough to stay ahead of competitors. That's why Boat has to keep raising funding, and that's why they were going for 2000 crore IPO.
When the IPO window closed, Boat decided to seek special funding in the form of "convertible preferred stock notes." Boat announced last week that they had raised 500 crore in funding from Warburg Pincus and Malabar through "convertible preferred stock notes."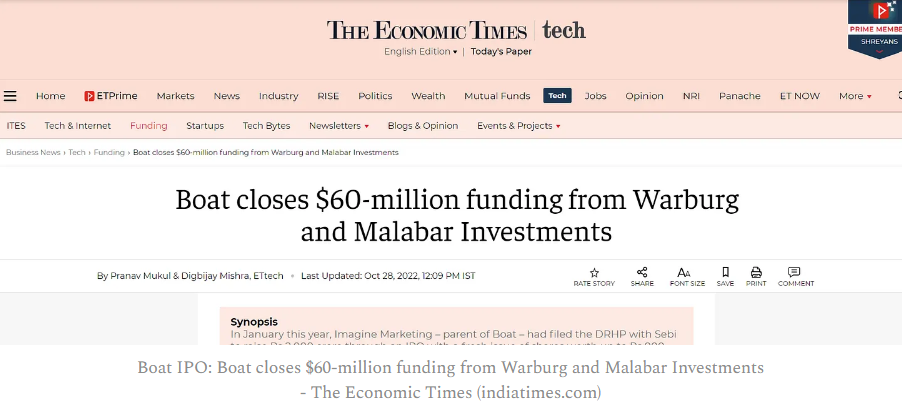 This means that Warburg Pincus and Malabar are currently lending Boat 500 crore. This 500 crore will be converted to equity at a later date. It is worth noting that they have not stated that the conversion will take place only on the IPO. This means that the conversion can occur either during the IPO or if Boat is unable to complete the IPO and instead raises another funding round.
Boat has set a minimum valuation cap of around $1.2 billion as part of this funding, according to ET.
This is the valuation discount I mentioned earlier. If Boat goes public at a valuation of $2 billion, ordinary investors will receive 3% equity for 500 crore ($60 million). But these 2 investors, Warburg and Malabar, will get a valuation discount. For them, Boat's valuation will be 1.2 billion, not 2 billion. So they will get 5% equity for the same 500 crore.
With this 500 crore, Boat plans to do 2 things:
1. attack the smartwatch market: 
Boat is currently ranked third in the smartwatch category. Noise and Fire-Boltt are the market leaders. This irritates Boat. The smartwatch market is significant. It is the most rapidly growing segment of the wearables market. So, like the earphone market, they want to be number one in this market. Their strategy for defeating Noise and Fire-boltt is to spend more money than Noise and Fire-boltt.
2. pay off its debts: 
pay off its debts:  They want to reduce it to 300-400 crore so that they are ready for the IPO.
Many startups are going on the convertible road:
Boat is not the only company doing this. Many startups planned to IPO this year, but were forced to postpone due to the poor IPO market, and instead raised convertible funding. Udaan, for example, loves convertible funding so much that they raised two rounds of it this year after delaying their IPO. They raised $225 million in January and another $120 million in convertible preferred stock notes in October. Pharmeasy also delayed their IPO in favour of convertible funding.
All of these startups have the same goal: use convertible funding to get through the winter and closer to profitability so that their IPO doesn't fail like Zomato and Paytm.
---
Also Read: Breaking down journey and current boAt share price