In India, consumer electronics startup boAt maintains its dominance in the wearables and wireless audio accessories markets. For two consecutive fiscal years, FY21 and FY22, the company's scale increased by more than twofold. However, the company's profit fell 20% in FY22 as procurement costs outpaced revenue growth.
According to its consolidated annual financial statements filed with the Registrar of Companies, boAt's revenue from operations increased 2.2X to Rs 2,873 crore during the fiscal year ending March 2022, compared to Rs 1,314 crore in FY21 (RoC).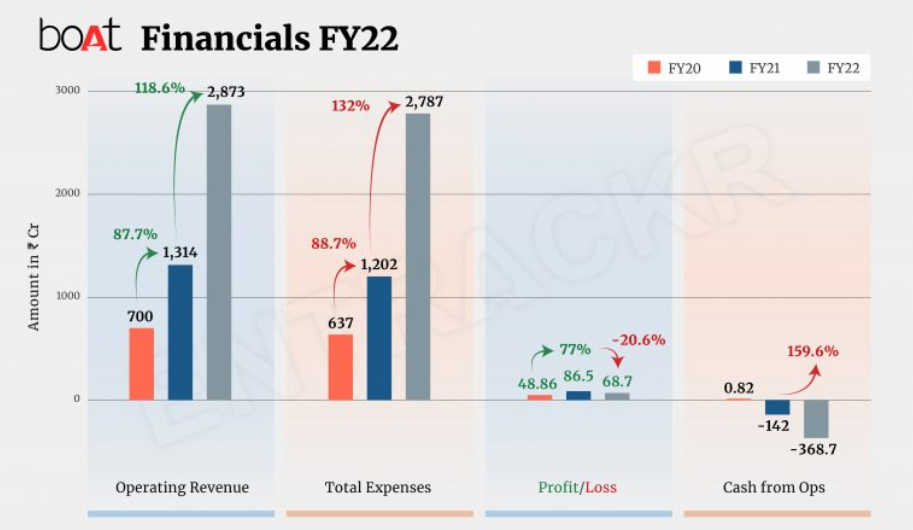 The sale of audio devices such as wired earphones, wireless earphones, headphones, speakers, wired headphones, and soundbars accounts for the majority of boAt's revenue, accounting for 79.2% of total collections. This vertical's revenue increased by 85.3% to Rs 2,276 crore in FY22, up from Rs 1,228.6 crore in FY21.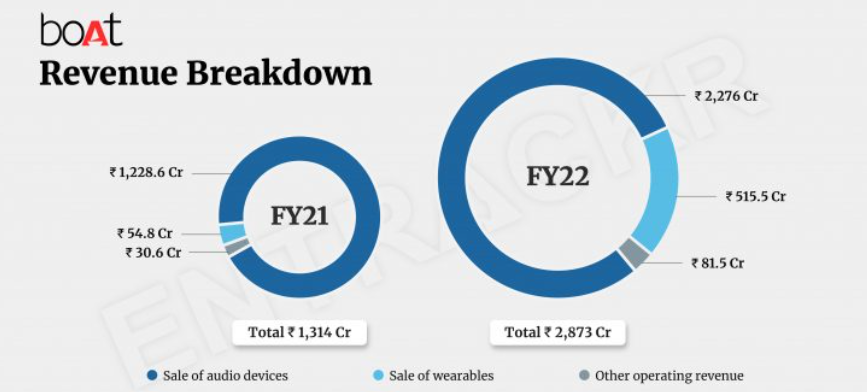 Wearables, including smart watches, accounted for approximately 18% of total revenue, which increased 9.4X to Rs 515.5 crore in FY22 from Rs 54.8 crore in FY21. During FY22, the company also made Rs 81.5 crore from the sale of cables, charges, men's grooming kits, and gaming equipment.
In FY22, boAt earned Rs 13.5 crore in finance income, which included interest on fixed deposits and other non-operating income.
According to Counterpoint Research, boAt leads the true wireless stereo (TWS) segment with a 46% market share in Q2 2022. Following that were Noise, Boult, MIVI, and pTron. In terms of manufacturing, nearly 85% of devices are still imported from other countries, primarily China. The cost of procurement of material turned out to be the largest cost element for the company, forming over 80% of the total expenditure. This cost surged 2.3X to Rs 2,346.6 crore in FY22 from Rs 1,020.84 crore in FY21.
boAt outsources warranty claims and after-sales services to third-party contractors, and warranty claim expenses increased 2.6X to Rs 136.6 crore in FY22. Employee benefit expenses increased 3.8X to Rs 56.12 crore in the previous fiscal year.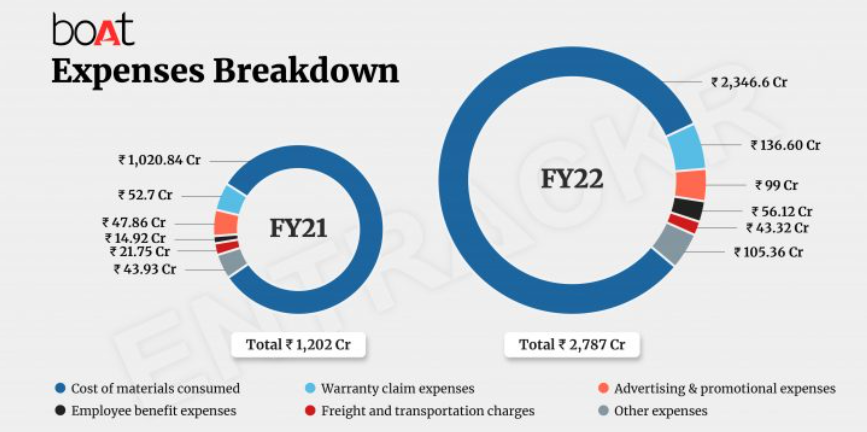 In comparison to most unicorns and consumer electronics companies, boAt spent only 3.6% of its total cost on marketing. During FY22, this cost was Rs 99 crore.
It also spent Rs 43.32 crore on logistics and Rs 17 crore on legal fees, bringing its total expenditure to Rs 2,787 crore in FY22, up from Rs 1,202 crore in FY21.
With a more than 2.3X increase in total costs, boAt's profits shrank by 20.6% to Rs 68.7 crore in the previous fiscal year, compared to Rs 86.5 crore in FY21. Its cash outflows from operations increased 2.6X to Rs 368.7 crore in the fiscal year ending March 2022.
As per Fintrackr's analysis, EBITDA margin and ROCE were depressed to 4.96% and 19.86% respectively which could be attributed to higher cash burn during FY22. On a unit level, boAt

In the fourth quarter of FY22, boAt filed a DRHP with SEBI to launch an initial public offering (IPO) worth Rs 2,000 crore, which was approved in May 2022. However, it abandoned its listing plans in favour of a new $60 million round from Warburg and Malabar in October 2022.
boAt competes directly with the bootstrapped firm Noise, which also increased its operating scale by 2.26X to Rs 793 crore in FY22. Unlike boAt, it increased its profit by 9% to Rs 36 crore in the previous fiscal year (FY22).
So far, boAt has had a fantastic journey with its 'affordable cool' image. The brand's caveat, as always, is its strong platform dependence, as well as the risk of disruption from any of the market's upstarts. The firm will undoubtedly face a margin challenge, and how it deals with it will most likely define its future.
Boat cancelled their 2000 crore IPO and instead raised 500 crore funding. Why? Let's find out

Why Boat cancelled its IPO?
Click Here to invest in boAt (Imagine Marketing Ltd.).
You can also reach out to us at +91 82406 24850
---
Also Read: Breaking down journey and current boAt share price