Tata Technologies Limited (TTL) is engaged in providing ESO (Engineering Services Outsourcing), IT services, and PLM (Product Lifecycle Management) services. These services are offered primarily to automotive and aerospace manufacturers with a range of services like IT consultancy, CAD/CAM engineering and design consultancy, SAP implementation and maintenance, and providing networking solutions.
Tata Technologies Ltd. has emerged as a leading end-to-end developer of electric vehicles (EVs) for global original equipment manufacturers (OEMs) and start-ups.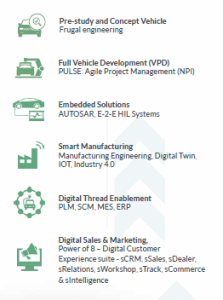 In FY22, Tata Technologies innovated end-to-end turnkey product development solutions as well as accelerators like Electric Vehicle Modular PlatformTM (eVMPTM) and Pulse NPI platform that is being leveraged by traditional OEMs as well as startups to launch competitive products faster.
The Beginning of the EV Dominance
In 2014, when the company saw a lot of disruption happening, it decided to focus on the EV space in China, banking on its years of expertise.
Tata Tech's holistic EV story started in 2015, when it bagged a contact from a start-up Next EV, now known as NIO, to develop a full EV from scratch!!
In 32 months, Tata Technologies delivered a complete EV called ES8, a full aluminum body seven-seater battery operated SUV!!
Tata Technologies was able to pool in experts and teams from China, India, UK and Romania to work together with the NIO engineering team to deliver the final product which adhered to the highest standards in safety and finesse.
The vehicle, unveiled in Beijing in December 2017, went on to production without any hiccups, and was a testament that Tata Technologies was capable of doing end-to-end Electric Vehicles. That created a lot of pull in the China market.
With the goal of creating a product-development process that would establish an industry benchmark, NIO and Tata Technologies have worked on a range of concepts on weight optimisation using advanced materials. The team has worked on creating a process that would lead the way for more advanced material based vehicles in China. The result of implementing such expertise is that the ES8 is currently achieving body weight efficiency targets that are better than the EuroCarBody Conference.
End-to-End Development Capabilities
Tata Technologies' full-vehicle development capabilities have enabled them to secure multimillion-dollar engagements with established and emerging automotive original equipment manufacturers (OEMs) in both Europe and China. The majority of these wins has been in the battery electric vehicle space, something that can be attributed to rapidly gaining recognition as a leader in lightweight body structure solutions, a prerequisite for any alternative propulsion solution.
In the last 10 Years Tata Technologies has continuously developed Proprietary Industry Leading products to provide quick, efficient and state-of-the-art solutions to its Global Clientele. Some of Tata Technologies' solutions are listed below –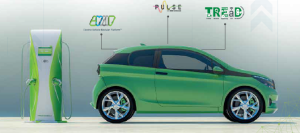 "One click scalability"
An industry first software "One click scalability" controls one click scalability of length, width, and height. Consequently, it helps automakers to reduce the overall product development time to 24 months and accelerated development time for model year / derivative programs.
5R Light Weighting
5R light weighting methodology is helping OEMs optimize weight of vehicles without compromising safety thereby helping them develop Evs which are weight optimized that in turn impacts the Vehicle range. We collaborated with a leading Chinese OEM to develop a vehicle that achieved one of the lowest lightweight indexes, better than leading European OEMs with a 5-star safety rating.
Digital Customer Experience Solutions
Tata Technologies have developed an end-to-end customer experience platform Power of 8, which is an integrated offering of 8 solutions beginning with digital targeting of customer to after-sales experience. The solution has witnessed a tremendous response from OEMs in Asian market where the pandemic accelerated the need of augmenting digital customer experience at a rapid pace.
What is Tata Technologies' role in connected car tech and safety?
A wide range of expertise working with OEMs across Europe and North America where safety standards are amongst the highest in the automotive industry. Tata Tech working with one of theirur automotive clients in Sweden on their first hybrid-vehicle ADAS development and integration, led to the OEM winning the award for its passenger and pedestrian safety.
TRACE : Connected Proprietary Solution
The Connected Proprietary Solution is a collection of mobility applications with solutions ranging from connected car mobile applications to fleet management.
TRACE solutions have been deployed by various leading OEMs in Asia and India which has helped OEMs deliver a truly connected experience to its customers. The OEMs have reported a 5-10% increase in its customer satisfaction surveys.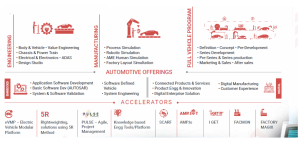 Partnership with GKN Driveline
In 2020, Tata Technologies had tied up with the German firm GKN Automotive—a global leader in driveline systems and advanced e-Powertrain technologies—and set up an e-mobility software engineering centre in Bengaluru.
The Embedded software development center at Bengaluru is a testament of two leading organizations collaborating to develop and deliver AUTOSAR solutions. The collaboration will contribute toward sustainable mobility solutions for the industry at large. The center will utilise Tata Technology's expertise in e-powertrain and embedded systems. It will enable to attract India's software engineering talent to work on GKN Automotive's next-generation e-Drive technologies, reshaping the future of sustainable e-mobility.
The State of the Art Engineering centre is spread across an area of 12,650 square feet.  The centre houses a design studio, lab stations, meeting and conference rooms, and a wellness centre.
CEO Warren Harris said, "the tie-up with GKN is like an endorsement from the entire market as 50% of EVs sold globally have some parts consisting of GKN. We are developing software and embedded electronics (as part of the tie-up)".
How important are Tata Technologies' Mechatronics capabilities for EVs?
Tata Technologies is uniquely positioned to help OEMs address any and every challenge as they have compelling offerings across the EV value chain, be it EV design, EV platform, Battery management systems, vehicle integration, EV manufacturing solutions, or EV customer journey management.
They collaborated with a leading Chinese OEM to develop a vehicle that achieved one of the lowest lightweight indexes, better than leading European OEMs with a 5-star safety rating.
Starting with a $30 million revenue, Tata Technologies has now grown to be a $460 million company with 9,000 plus headcount in the U.S., Europe and Asia.
Evidently, Tata Technologies is looking to become the Foxconn of EV engineering services.