As it prepares for its IPO, Ixigo has made history by surpassing INR 10,000 crore GTV with more than 50 million bookings.
Getting on a Startup One-Way Ticket
Aloke Bajpai was a gifted student who excelled in the classroom.
He graduated from IIT Kanpur and was now employed in Europe by a French travel technology company. He was highly renowned for his ability to think outside the box, thus he did not much enjoy the 35-hour work weeks at this great, well-paying position.
As he began to reflect, he realised that India was expanding more quickly than most other economies, not Europe. Aloke could understand that India's future belonged to those who would create it in 2006 and that future belonged to India.
He wanted to take a bet on India. But it took a lot of work and required a lot of soul-searching. He had yet to repay the loan he took to do his MBA, which made the decision tricky.
He wasn't by himself.
Rajnish Kumar, an IIT Kanpur alumnus who worked for the same travel technology company, was similarly contemplating his life and could identify with Aloke's need to start his own business.
Perhaps the remarks by Steve Jobs in 2005 or Shahrukh Khan's role in Swades (2004) provided the impetus. Aloke ultimately made a choice he would never remorse.
Aloke and Rajnish left their positions in 2006 and moved back to India. With a modest investment of 6 lakh rupees, the pair rented an apartment in Gurgaon to concentrate on their firm.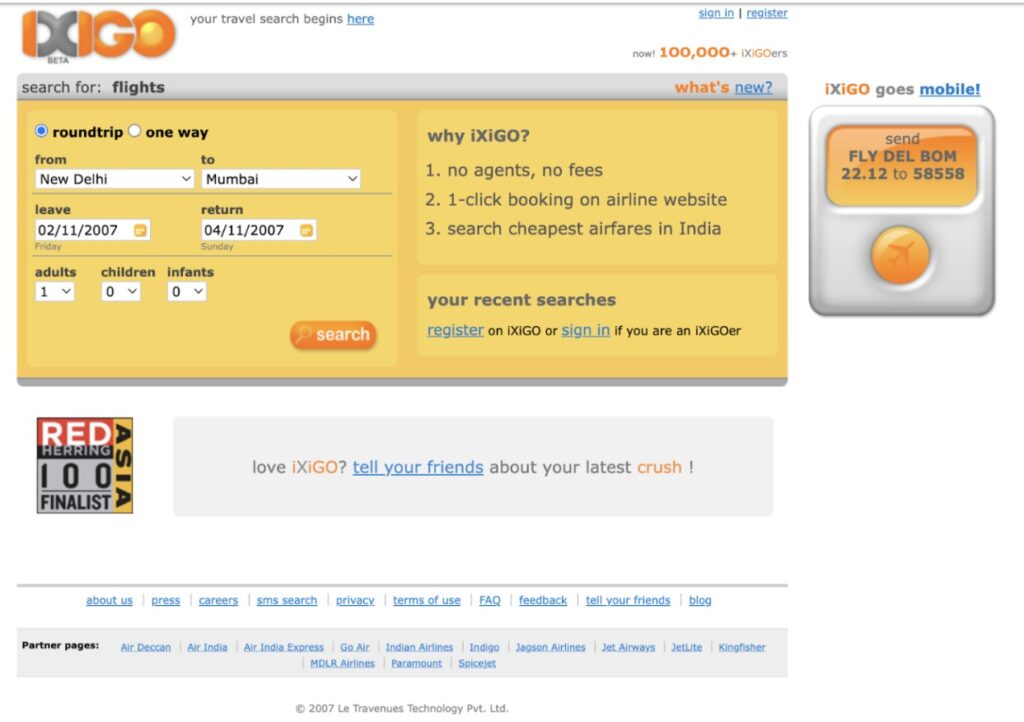 They began developing a travel meta-search website for travel in India after having some disappointing personal encounters while working with a travel technology business. They worked on creating this product for almost a year without receiving any compensation.
Ixigo was created in 2007, long before the internet even existed. Initially, the journey was turbulent.
Investors believed that the online travel agency (OTA) market was already too crowded with competitors like Make My Trip, Yatra, Cleartrip, and other travel websites. Aloke was even chided by an investor who claimed they wouldn't be able to raise even $100,000 in finance.
The rollercoaster had a sharp drop to start.
But against all odds, by December 2007, it reached 100,000 users per month. Ixigo reached $10,000 monthly revenue within 6 months of launch with zero marketing spend.
Also Read: Ixigo Share Price, Pre-IPO: Deep-dive
Detoured by a Crisis
Early in 2008, the traction began to show early indications of product market fit (PMF), and the small number of Indian investors were prepared to back Ixigo.
A $1.5 million seed round of funding was provided by investors, including Make My Trip, a well-known online travel business established in 2000. The creators of Ixigo have always emphasised the importance of the product and the primary issue facing the client.
They had the distinct insight that most portals focused on the booking, where transactions were place, when they first started creating Ixigo. But many consumers, the time leading up to and following the booking is the most stressful part of any trip arrangement.
That's why it started with the flight meta-search website providing all the information a customer may need before and after the booking. While customers started loving Ixigo as a product, real monetisation would take a while.
The early team members and founders of Ixigo were prepared to make short-term sacrifices in order to create a long-lasting business. They were well aware of the tradeoffs that this long-term bet would bring.
2008 was one of those years that had a promising beginning, but by August, everything had abruptly altered. Ixigo had 15 members when Lehmann Brothers failed.
They began spending money to fuel expansion with the promise of a nearly closed $5M round. They were shocked to learn that the investment did not materialise because to the collapse of travel, and the founders proposed firing 50% of the workforce unless someone had a better idea.
Once more, the ixigo roller coaster had a sharp descent.
Ixigo's team took a voluntary pay cut until they did not have enough cash to pay salaries instead of letting go of their colleagues. They stuck together in difficult times and worked to bring out industry-changing products by focusing on customers and their problems.
They could see that mobile was gaining popularity and realised that they would have to start funding a mobile app if they wanted to stay ahead of the competition.
Embracing the Mobile Track
Ixigo became one of India's pioneers in mobile travel solutions in 2010 when its mobile app was released.
Ixigo realised they needed to grow to include the greater travel market connected to train, hotel, and bus booking because they had a key use case in place and ongoing consumer input.
Ixigo concentrated on strategic collaborations as its mobile app gained popularity and a rapidly growing user base. In order to provide its users with special discounts and offers, the company partnered with well-known airlines, hotel chains, and travel agents.
Customers received additional value from this strategy, which also accelerated Ixigo's growth as it started to get commissions from bookings.
This team then built and launched many products in the next two years, taking the average number of visitors from 200K to almost a million by April 2010.
Ixigo entered its first profitable month in April 2010 by diversifying into new industries while keeping costs to an absolute minimum. Ixigo's roller coaster was rising.
After the 2008 recession, investors started to gently reenter the market in search of the winners.
They began to show a lot of interest in Ixigo, which by that point had more than 1 million users visiting it each month. Ixigo had become into a one-stop shop for everyone looking to travel.
Given that about 18 million people visited websites connected to travel in April 2011, this was a sizable number. In terms of visitors, Indian Railways had the most with 8.4 million, followed by Make MyTrip with 3.9 million. In contrast, Yatra had 3.5 million, ClearTrip.com had 2.1 million and US-based Expedia Inc. saw 1.8 million visitors.
At that time, Ixigo was an informational website and not an online travel agency (OTA) like Make My Trip that clients used to make the reservation.
Since the competition was fierce, Make My Trip was searching for strategies to stand out and prospects for inorganic growth. Make My Trip and the informative business of Ixigo may have synergies.
When Swiggy first launched, MakeMyTrip did fulfilling similar to Swiggy, while Ixigo did informational discovery similar to Zomato. But in this case, MakeMyTrip was significantly bigger than Swiggy and Zomato.
Instead of merging the two companies, the plan was to let them coexist and expand. Let the Ixigo creators manage the company and develop a win-win plan.
By 2011, they partnered with other investors and funded a Series-A round of $18.5 Million, taking up 75% of the business. While it helped keep Ixigo alive, selling a huge chunk of the business to a competitor was not necessarily a win.
It would be another twist in Ixigo's unique story as it survived for another day.
It would be another twist in Ixigo's unique story as it survived for another day.
High Ticket Volume Train Riding
Ixigo had created a sizable information hub for all types of travel, but it soon saw there was a chance just waiting to be grabbed.
In India, railways carried millions of passengers, constituting the bulk of the country's traffic.
Ixigo had released its first mobile application in 2013 that was only dedicated to reducing information asymmetry for rail travellers.
Ixigo released a total of 6 applications by the end of 2014, with use cases ranging from discovering restaurants for road trips to offline Goa vacation guides.
The Railways app was by far the most well-liked of all, as was to be expected. It witnessed over a million downloads in its first four months and continued to see more than 100,000 monthly downloads throughout November.
It would be another twist in Ixigo's unique story as it survived for another day.
Ixigo's portfolio had expanded by 2015 to include travel meta-search features for hotels, buses, trains, and flights.
Over 2.5 million travellers per month were served by its diverse portfolio and cutting-edge social media marketing strategies involving "travel hacks" articles and videos.
But despite these impressive figures, a storm was developing.
Ixigo had trouble monetizing its user populations; around half of its revenues were lost to losses. Four years ago, MakeMyTrip's fundraising efforts were over.
Ixigo was mortgaging its financial resources in order to survive. The rollercoaster had made another curve.
A saviour emerged as a local cellphone maker named Micromax purchased an unknown minority stake in Ixigo in June 2015.
Ixigo's portfolio had expanded by 2015 to include travel meta-search features for hotels, buses, trains, and flights.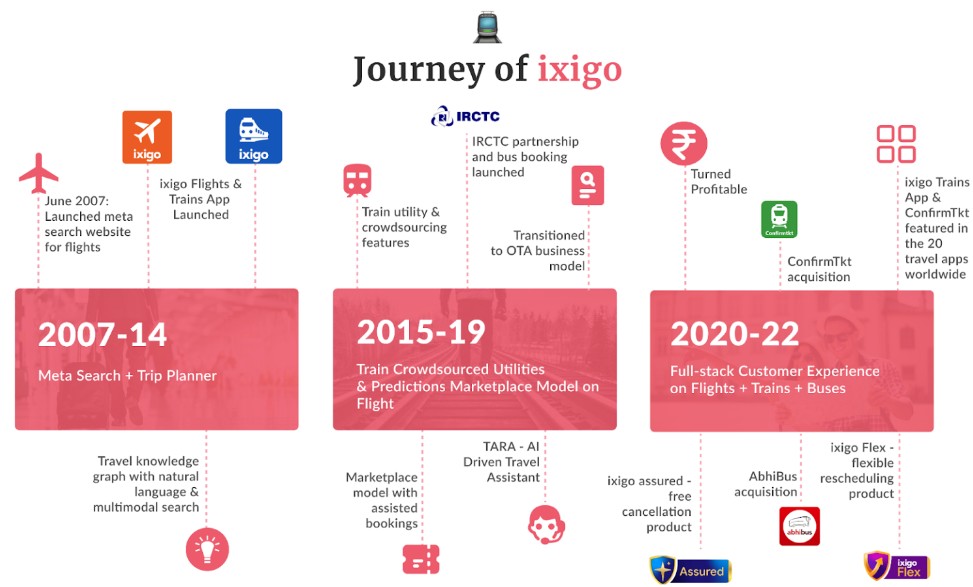 Over 2.5 million travellers per month were served by its diverse portfolio and cutting-edge social media marketing strategies involving "travel hacks" articles and videos.
But despite these impressive figures, a storm was developing.
Ixigo had trouble monetizing its user populations; around half of its revenues were lost to losses. Four years ago, MakeMyTrip's fundraising efforts were over.
Ixigo was mortgaging its financial resources in order to survive. The rollercoaster had made another curve.
A saviour emerged as a local cellphone maker named Micromax purchased an unknown minority stake in Ixigo in June 2015.
Using High-Speed Online
Ixigo attempted to boost its user monetisation potential by deepening its client funnel after learning from its brief time of financial difficulties.
In March 2016, it enabled quick one-click booking for hotels and flights, saving consumers from having to go to the websites of its partners.
Expanding the moat around its railway app, it introduced a number of value-added services in this market, such as coach and seat maps, alarms to alert users to station shops, and an AI-assisted chatbot to assist users in finding answers to their questions.
To increase its user base in tier 2 and tier 3 cities as well as the rural hinterlands, it launched a Hindi-only app. Partnering with Uber, BlaBla car and Red Bus on its railway app, it sought to offer its users last-mile connectivity.
The travel sector in India was evolving online at the same time.
By the end of 2015, gross online bookings had reached an astounding $5.5 billion, or 60–70% of all e-commerce transactions. Bookings for air travel made up an enormous 60% of this, followed by those for trains at 15% and hotels at 13%.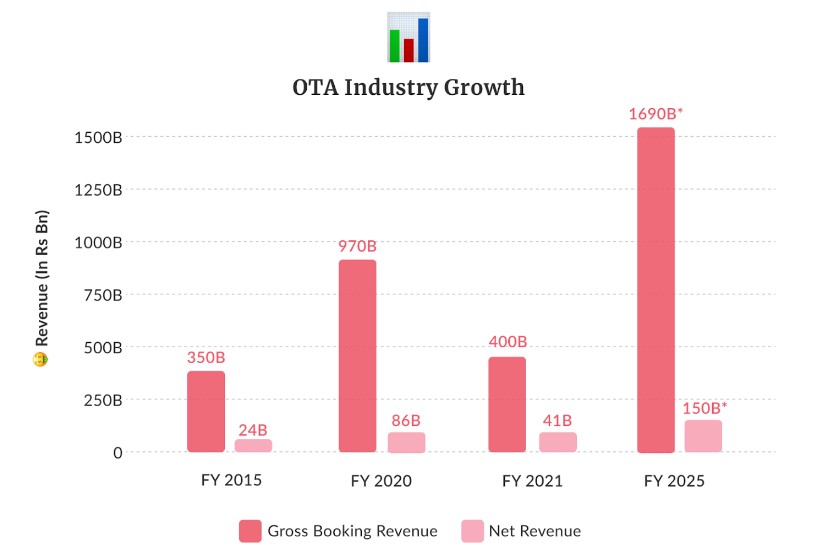 With Reliance Jio's disruption leading to low rates, India's 300 million internet users were expected to rise by double digits over the next five years, reaching 700 million by 2020.
Jio's disruption and macroeconomic reasons resolved customer accessibility. To overcome the retention and monetization problems, online travel portals are now required.
Ixigo's challenge was there.
While excellent for acquiring users, its travel meta-search business model needed help with retention and monetization.
Users were drawn to the Ixigo platform by its broad portfolio, which offered thorough solutions to information asymmetry across price, dates, bookings, and other factors.
However, once they had chosen their preferred route and mode of transportation, Ixigo's OTA partners and end-suppliers, to whom its platform was connected, were able to take the lion's share of their wallet value. Ixigo was essentially facilitating the cannibalization of its users.
Ixigo was unable to provide any additional value-added services after the booking was made, such as booking modification or cancellation.
Ixigo started along the path of becoming a full-fledged OTA after realising the shortcomings of their travel meta-search methodology.
A $15 million fundraising campaign made it possible to continue this growth. Everything was improving.
Meta-search platforms redirect users to bookings on partner websites, their margins are earned on a 'pay-per-click' model – each visit sent to a partner site earns a small margin amount for meta-search businesses.
On the other hand, OTAs fully control a user's booking process and have the potential to generate much higher profits for each successful booking made through their websites.
Ixigo and its investor-partner MakeMyTrip were now squarely in competition.
Analysing warning signs from rivals
The OTA sector underwent consolidation in 2017.
MakeMyTrip, the leading player with a 31% market share, has just acquired Goibibo, the second-largest player with a 27% market share, giving the combined company control of the market.
Even though it solely offered train services, the government-owned IRCTC managed to secure the third-largest share (around 23%) of online travel bookings. Cleartrip and Yatra competed for the remaining spot.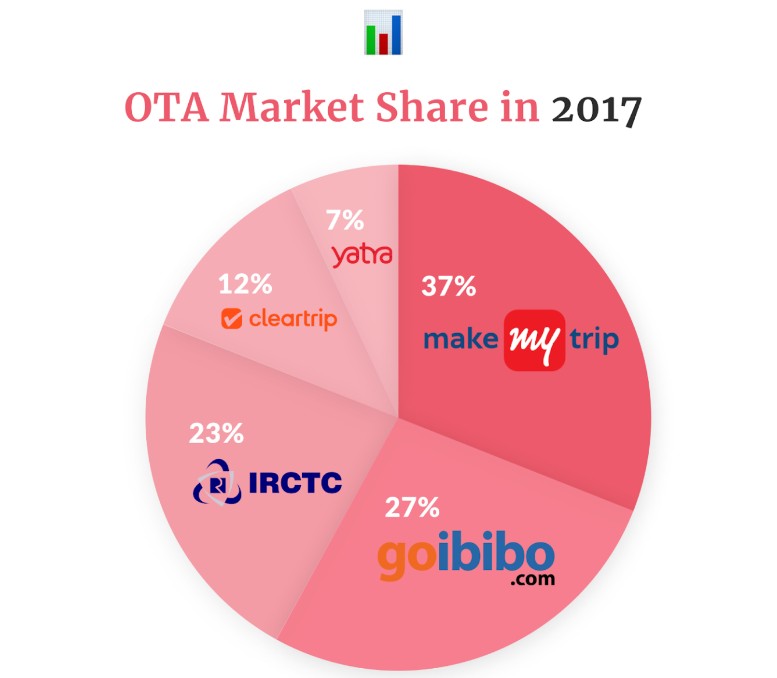 Ixigo used its competitive advantage to win in a market controlled by its investor-partner.
The trains app from Ixigo has consistently outperformed the rest of its portfolio by addressing a variety of customer pain issues. The trains app from Ixigo had almost 15 million active monthly users. One-third of that number was available on the Ixigo flying app.
Ixigo identified "The Next Billion" as its primary target market after mapping its competitive advantage against the surge of rapidly growing internet users outside of tier 1 cities who were also the most major rail users.
This group included the vast swaths of the population who only recently began using the internet as a utility. They didn't live in Tier 1 cities and preferred speaking local dialects to English when speaking. They accounted for an overwhelming 90 percent of rail users.
In order to become the first OTA to offer train tickets on its own application, Ixigo teamed up with IRCTC. The train app from Ixigo soon reached 500,000 monthly transactions, increasing by 10% each month.
The processing margins for rail ticket payments were the lowest of all the segments, ranging from $20 to $40 per ticket. However, it was a volume game; in 2018, over 66% of reserved tickets were purchased online.
Ixigo intended for its platform to serve as its initial entry point into online travel transactions because it had spent years establishing trust with the next billion user demographic.
It improved the platform's multilingual functionality to make this possible. In order to ensure that the new mobile internet user would find the applications easy to use, it created simple, lightweight programmes with large letter sizes.
While playing a low-margin, large-volume strategy, this segment expected large portions to transition into an aspirational middle class eventually.
Train reservations served as a loss leader for better margin goods, much to buying milk at a grocery shop. With a loyal client base, trains enable it to cross-sell and upsell higher-margin flight, hotel, and tour bookings.
The rail app from Ixigo was the sixth most downloaded travel app overall and the third most downloaded in India by 2019. It handled 4.27 million transactions worth 3.8 billion pounds annually, with a 90% repeat transaction rate.
Profits were still Ixigo's unreachable objective, despite its best efforts.
Pandemic Cancellation
In December 2019, Ixigo achieved profitability, marking a high point in their 14-year journey.
The team had just started on a prosperous path, so the future appeared bright and optimistic. But, the pandemic happened in March 2020 and the travel and tourism industry came to a standstill.
Online Travel Aggregators (OTAs), such as ixigo, saw a sharp drop in bookings followed by a sharp rise in uninstalls. They found themselves suddenly moving towards a trap with no payoff.
All of the top OTA players immediately implemented drastic cost-saving measures, including cutting back on marketing and firing employees.
The approach from ixigo, on the other hand, differed because it honed down on resolving customers' problems, raised engagement on its mobile app, avoided layoffs, and left the non-core business.
The largest source of frustration for consumers was refunds following frequent airline cancellations. The only OTA that offered prompt refunds to all impacted consumers was Ixigo, sometimes even before the money was made available by partner airlines.
Ixigo launched new products to keep traffic coming to its site with minimal marketing spending – a COVID Centre inside its train and flight app, and entertainment content to keep customers engaged and entertained during the toughest months of lockdown.
Its videos gained popularity online.
Ixigo offered Assured, which allowed consumers to receive full refunds for cancellations up to 24 hours before the scheduled flight time by paying an additional 200 rupees, as the travel market began to rebound after June 2020.
Ixigo also developed an internal discounting strategy that offers users customised airfare discounts through alliances with travel agencies and lodging establishments.
Ixigo completed a part tech, half IP deal with Spicejet for Travenues, which was developed to construct a Shopify airline platform, in order to concentrate on core business. Ixigo recognised significant prospects in ground transport as digitalization altered the industry's dynamics.
In February 2021, the firm acquired ConfirmTkt, a fast-growing train-focused business, and together they became the number one OTA for train bookings in India, with over 42 per cent market share among OTAs by the end of FY21.
With a goal of increasing its market dominance across all travel categories, ixigo acquired the bus division of AbhiBus in August 2021, adding another crucial piece to its next billion user growth story.
Ixigo responded to the COVID issue differently than other OTA players, and the outcome was sweet: despite the COVID's troubles, it became an anomaly in the OTA sector, charting growth and profits in FY21.
It needed to finish the task that MakeMyTrip had begun for it seven years earlier.
Getting to the IPO Station
The planned synergies had long since run out as Ixigo evolved from a meta-search platform into an OTA and outgrew MakeMyTrip's investment.
In Ixigo's previous persona, the two had worked together on material and overseas flights.
However, there was now a clear overlap between both industries and there was inescapable competition.
The shade that MakeMyTrip had been casting for Ixigo to grow under felt inactive and was no longer there on the cap table. The two parted ways in August 2021, with the former earning nearly an 8x return on its $5 million investment and the latter filing for a Rs. 1,600 crore initial public offering (IPO).
In December of that year, SEBI had approved the public issuance. But by that point, the IPO market, which had been scorching hot and had also seen the successful listing of EaseMyTrip in March, had started to cool off. Ixigo decided to delay the IPO and focus more on its current business.
By March 2022, Ixigo touched 5 million daily active users and 55.5 million monthly active users across all its platforms – Trains, Flights, Confirmtkt and AbhiBus. The multi-app strategy made it relevant to affluent travellers and aspiring Tier II, III & IV India users.
Smaller towns and cities began using online methods to purchase bus and rail tickets as a result of new habits formed during the pandemic. In FY19, FY20, and FY21, respectively, 84%, 87.5%, and 93% of Ixigo's transactions had either the origin or the destination as a non-tier-I city.
Ixigo's financial performance has also significantly improved, with a gross margin of about 65%. Marketing fell to 6% of the overall AOV thanks to its thoughtful and viral marketing strategies and a solid product. It generated a 30% contribution margin when labour expenses and technology costs are not included.
Even with staff, it was turning a profit on each and every deal.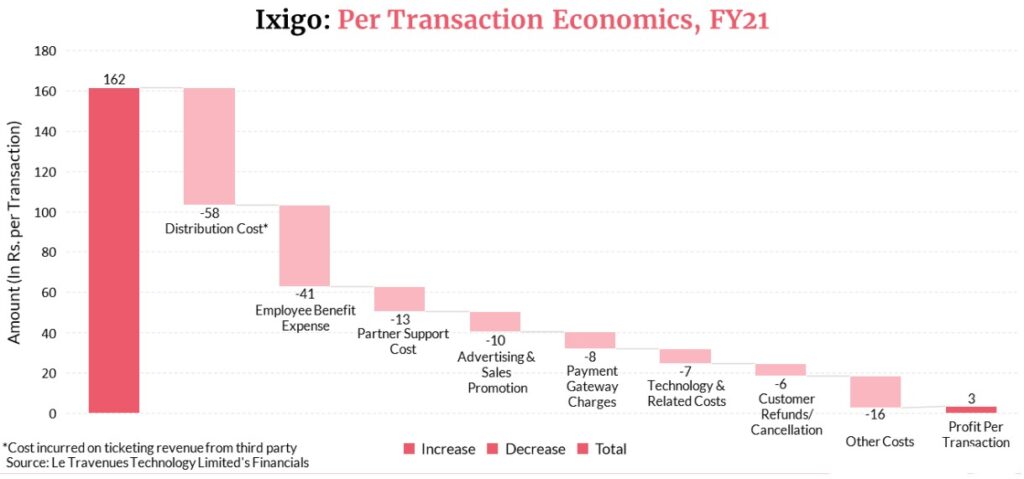 Ixigo's business strategy, which involves earning tiny amounts of money from a sizable user base, has received overwhelming support from this base. Ixigo, which designed for Bharat before expanding to India, has Patna and Lucknow as its two major markets. It was also one of the earliest outliers in the Indian IT industry.
It had between a tenth and a third of its contemporaries' headcount (just over 500). In order to operate effectively, Ixigo had also made use of data science and machine learning to transform crowdsourced data and travel information into usable business insight.
Additionally, a repeat transaction rate of 85% indicated lowering yearly customer acquisition costs, which in FY22 was at Rs. 84 per customer, down more than 11% from FY20.
Also Read: Ixigo's Profit Rises to Rs 9 Cr. in Q1 FY23!
Ixigo's frugal positioning was thus built into its way of doing business.
Confirming Your Greatness
Always a browse category rather than a search, travel.
Instead than looking for a precise outcome, the user often seeks ideas and possibilities. Travellers now desire an LLM to serve as a neighbourhood travel agent after ChatGPT's widespread adoption in late 2022.
Ixigo was the first to provide PLAN, a GPT-powered plugin that gives customers individualised recommendations and itineraries.
Indian tourists are looking for shorter getaways, flexible arrangements, and package deals centred on adventure, heritage, wellness, and spirituality in 2023.
Ixigo, riding the wave, had worked with Booking.com before launching its own independent hotel booking site. It has joined hands with a travel-tech startup called Pick Your Trail to offer packages and tours.
One of the major stories in the wake of the pandemic was revenge tourism. The retaliation can be seen in Ixigo's financial results.
The company has grown five times in three years, putting a strong emphasis on self-sufficiency and positive cash flow. The forecast revenue for FY23 was in the neighbourhood of Rs. 500 crores, with an EBITDA margin of more than 7%, and it is anticipated to increase to Rs. 700 crores in FY24.
The platform currently manages 50 million bookings annually totaling Rs. 10,000 crores, and it has a challenging goal of tripling it over the next two years. Currently, 8 million apps are downloaded on average each month.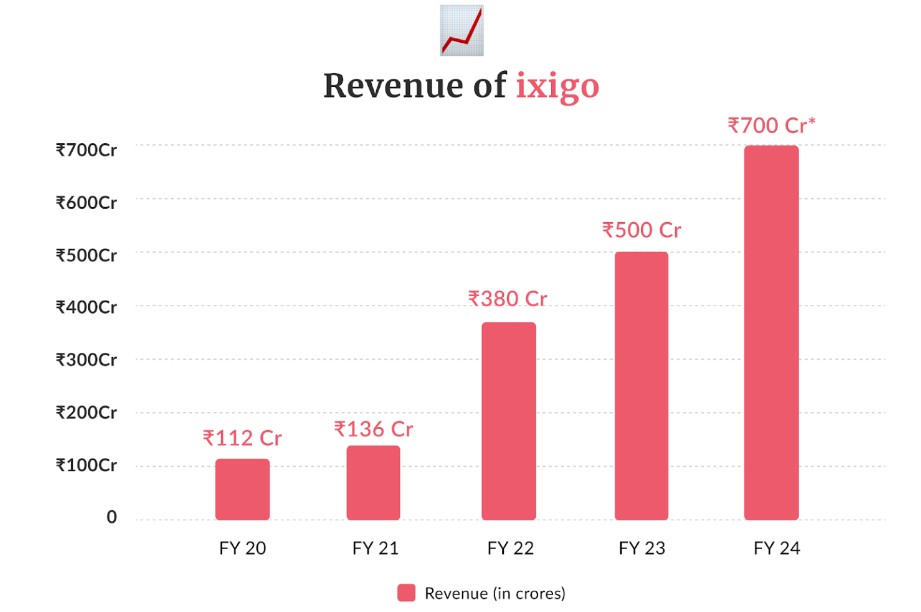 In a revenue-first world typified by tempered funding and extensive layoffs, which it has notably avoided, Ixigo's performance bodes well.
Yatra.com's forthcoming IPO will provide a glimpse into how interested the public market is in Internet businesses in general and OTAs in particular.
Ixigo's arduous journey to become one of India's top OTAs is a remarkable example of tenacity and the victory of the entrepreneurial spirit, regardless of what it does next. In order to provide a model for consumer tech startups wanting to scale, it has consistently survived the course.
Therein also lies a lesson for Indian internet businesses: the client is thrifty yet discerning. She needs to be recognised as unique and catered to accordingly.
Thus, complete confidence comes before effective monetization.
At every stage of their journey, Aloke and Rajnish Indianized an established Western business strategy. The founders take satisfaction in having created a cockroach business since survival talent and business acumen are both ingrained in their DNA.
The fact that Ixigo is now officially sponsoring the ongoing Men's Asia Cup 2023 is another indication of this. Accurately tracking PNR status for rail travellers was the platform's initial use case.
Despite being "Waitlisted" for its initial public offering (IPO) and having many instances of its existence being "Cancelled," Ixigo's importance in the modern, tech-savvy, internet-using Indian mind space appears to be "Confirmed."
---
Ixigo's shares are available in the pre-IPO/unlisted market, you can invest in it with Altius.
In case you want any personal assistance, you can reach out to us at +91 8240614850 or [email protected]
---
Also Read: Can ixigo's Frugality Playbook Show The Way In The Year Of Cockroach Startups?