largest module maker in the world (ex-China)
As part of our New Energy Series, we hosted the Waaree Energies management. It's an unlisted organisation.
Management claims that Waaree, with a 12GW capacity, is the world's largest module maker outside of China. ii) A 17GW/USD5bn order book to be completed over a two- to three-year period. iii) By Dec. 23, the proposed backward integration to cell production will reduce overall module costs and increase margins by 5-6%. INR19.2 billion (around 25% of the entire production cost) was paid to PLI for 6 GW of wafer-cell-module manufacturing capacity. expansion into emerging markets to unlock wealth, such as green H2, lithium batteries (which are already available in WTL), solar pumps, etc.
with a 12GW capacity, the biggest module maker outside of China
Waaree is the largest Indian solar PV module manufacturer with a credit rating of CARE A- (revised from CARE BBB). Its total installed capacity stands at 11GW (2GW in 2021), which is expected to increase to 12GW by May-23. Moreover, its current order book stands at 16.7GW/USD5bn in terms of revenue potential, which is likely to be executed over the next two–three years.
The company has secured a PLI for 6GW of capacity (estimated to cover around 25% of overall production costs) and expects it to be operational by the end of 2023 as part of its ongoing efforts to backward-integrate from wafers-cell-modules. Waaree's capital expenditures are about INR37 billion, of which INR27 billion is allocated for the cell production plant and INR9 billion for the 10 GW module capacity.
W+C+M backward integration will increase margins by 5% to 6%.
Setting up a plant to manufacture solar cells costs INR5–6 billion, whereas installing 1GW of solar modules costs INR1.2–1.4 billion, including the cost of acquiring land. However, internal cell production could lower module costs overall, allowing the business to increase profitability. Management reckons EBITDA margin shall rise to 15–16% (from 10–12%) once the cell manufacturing facility comes on stream.
Outlook: Waaree Group diversified across value chain; unlisted
With a 12GW capacity, Waaree Energies is the top module manufacturer in India. Additionally, through its publicly traded subsidiary Waaree Renewable Technology Ltd (WRTL 74.51% of WEL), it executes solar EPC projects. Waaree is also trying to take advantage of emerging prospects in the production of green hydrogen electrolysers (already meeting several MW orders), end-to-end modules (from polysilicon), lithium-ion batteries, and solar pumps.
According to IRENA, India's module costs for PV module solar installations are already 23% less expensive than the global average and 6% less expensive than China. With PLI, future module capacity expansion, and backward integration into cells, Waaree will be able to compete with industry leaders. Waaree is not included.
Increased focus on exports and franchisee sales
The share of Utility segment's sales as a % of total revenue slid to 40% in FY21 from 61% in FY19 as the company continues to focus on exports and sales to MSME customer and rooftops. The share of exports and franchisee sales increased to 25% and 20%, respectively. Going forward, the company expects exports and franchisee segment share to increase to 65% (currently 40–45%) by ~FY25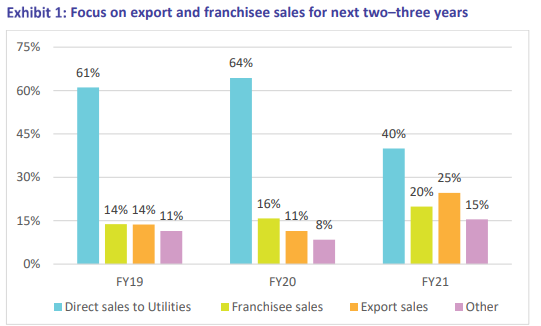 move towards the use of cutting-edge TOPCon solar technology
Waaree presently produces TOPCon N-type PV modules, which were formerly known as MONO-PERC modules, in M10 and M12 configurations with bi-facial glass-to-glass and glass-to-transparent back sheet versions. With its extra tunnel oxide layer and doped poly-Si layer for greater passivation and higher performance, TOPCon is regarded as the newest solar cell technology. The company is the first in India to produce M12 and M10 TOPCon N-type PV modules.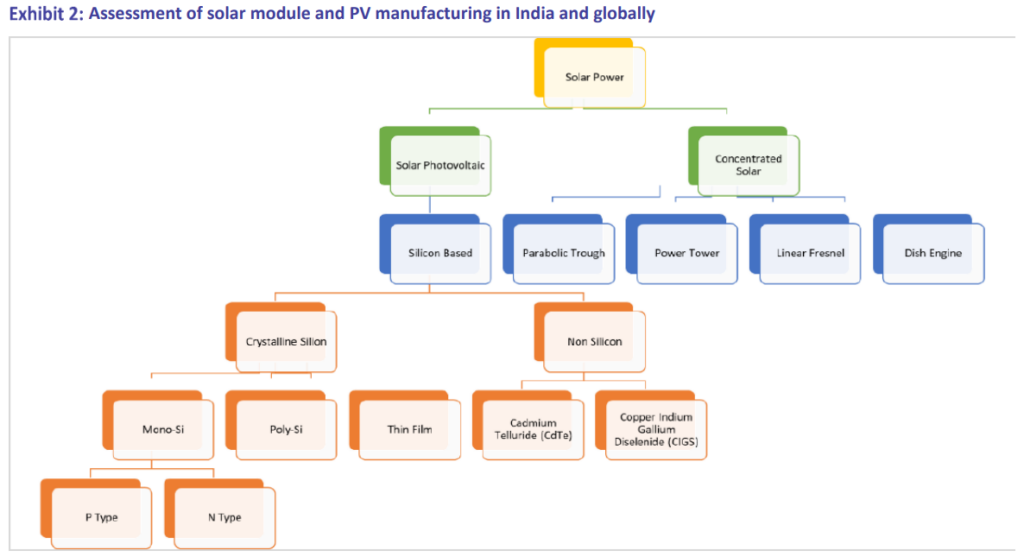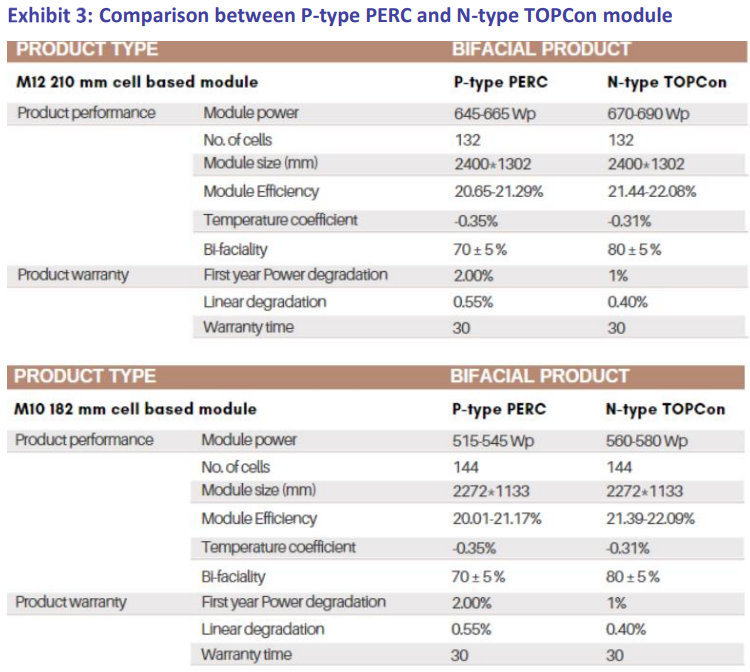 ---