TAX ON SELLING STOCK FOR LISTED STOCK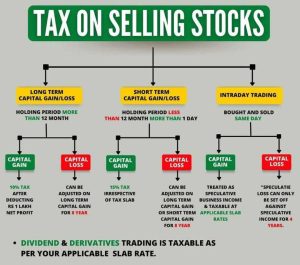 LONG TERM CAPITAL GAIN/LOSS
HOLDING PERIOD MORE THAN 12 MONTH
CAPITAL GAIN- 10% TAX After deducting Rs 1 Lakh Net profit.
CAPITAL LOSS- Can be adjusted long term Capital Gain for 8 years.
SHORT TERM CAPITAL GAIN/LOSS
HOLDING PERIOD LESS THAN 12 MONTH MORE THAN 1 DAYCAPITAL GAIN- 15% TAX Irrespective of Tax slab
CAPITAL LOSS- Can be adjusted on Long Term Capital Gain or Short term Capital Gain for 8 Year.
INTRADAY TRADING
BOUGHT AND SOLD SAME
CAPITAL GAIN- Treated as Speculative Business Income & Taxable at Applicable Slab rates
CAPITAL LOSS- Speculative loss can only be set Off against Speculative Income 4 Years.
    Percentage Of Citizen Participating in Stock Market by Country

Today, there are numerous stock exchanges worldwide, representing the capital important to help the enterprise boom. The stock marketplace creates non-public wealth and economic balance through non-public funding, permitting people to fund their retirement and or different ventures.
Most of the people are not able to comply with markets from 9:15 am to 3:30 pm even as they're at work, however, the enforced lockdown should have created greater possibilities for informal Indian marketplace with the coronavirus confining humans to their homes. India's 3 % suggests that there's lots of headroom for India's stock marketplace penetration to grow.
Smaller NBFCs, Microlenders May Be Most Impacted By RBI's New Corrective Framework

The Reserve Bank of India's prompt corrective action framework for non-bank finance companies is unlikely to hurt major lenders but may weigh on capital and growth of smaller NBFCs and microfinance companies. The banking regulator has released a new framework intended to take early action against weakness building across NBFCs. The framework will kick-in starting October 2022, based on March 
RBI Introduces Prompt Corrective Action Framework for NBFCs

The Reserve Bank of India (RBI) has introduced the prompt corrective action (PCA) framework for non-banking financial companies (NBFCs). The central bank has defined three risk thresholds for applying prompt corrective action to NBFCs.
It may be recalled that the revised Prompt Corrective Action (PCA) Framework for Scheduled Commercial Banks (SCBs) was issued on November 2, 2021.
"NBFCs have been growing in size and have substantial inter-connectedness with other segments of the financial system. Accordingly, a PCA framework for NBFCs has also been put in place to further strengthen the supervisory tools applicable to NBFCs," RBI said in a statement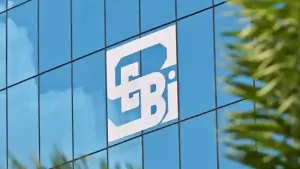 Court sends notice to SEBI over handling of complaints
The petition alleges that the SEBI Complaints Redress System, or SCORES, violates the principles of natural justice by disposing of complaints in a mechanical way. According to the petition, the system also fails to provide copies of replies sent by the party against whom a complaint has been lodged. Cases have been highlighted where investors have been verbally promised returns by PMS services etc. Read more about it here.