Five- Star business Finance Ltd's 38th Annual Report for the financial year ended March 31, 2022 is here.
Let's have a look!
About the Company
Five-Star Business Finance Limited (FSBFL), as per its credit rating reports, is a non-deposit-taking NBFC, registered with RBI. FSBFL provides secured financing solutions to micro-entrepreneurs and self-employed individuals, predominantly in the semi-urban markets.
It also lends small housing loans which are given for construction, takeover, home repairs, and improvements. The company also lends mortgage loans that are given to meet their personal needs. All these loans are collateralized and secured against the residential property of the customers and are given targeting the middle and lower middle-income segment in urban, semi-urban, and fast-growing rural geographies.
Website: https://fivestargroup.in/
Financial Performance
Gross Income of Company during the financial year ended March 31, 2022, amounted to INR 1,256.17 crores, higher by 19.5% over INR 1,051.25 crores in the previous year.
At INR 453.54 crores, Profit After Tax was higher by 26.34% over previous year's INR 358.99 crores (FY21).
The Company's net worth stood at INR 3,710.35 crores as on March 31, 2022 (INR 2,318.17 Crores as at March 31, 2021).
During the financial year ended March 31, 2022, your Company added 38 branches resulting in the branch network increasing to 300 from 262 during FY21.
The total loan assets under management as at March 31, 2022, increased to INR 5,067.08 crores from INR 4,445.38 crores during the previous financial year, registering a growth of 14%.
Also Read: Five-Star Business Finance Ltd.(A Complete Deep-dive Research report)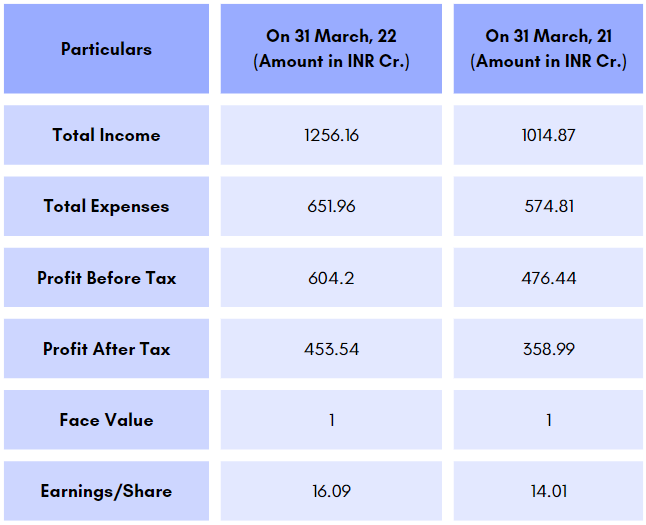 Business Highlights