In 2020-21, the Indian Private Equity (PE) Landscape witnessed strong investment momentum with $62 billion in deal value and 40% of that was from Jio Platforms and Reliance Retail deals. Investment activity recovered strongly in H2 to pre-Covid-19 levels with late-stage and buyout deals witnessing increased traction which was muted from March to May due to Covid-19-led uncertainty. Due to the pandemic, investors were dynamic in adapting to the situation, and investors focusing on alternate investment strategies such as distressed opportunistic sales and qualified institutional placements (QIPs).
In terms of sectors, consumer tech and IT/ITeS remained buoyant and were the largest sectors in 2020. Consumer tech investments were driven by accelerated growth in digital channels and spiked user adoption of on-demand, at-home cross-tech services. This led to a deal surge in edutech, fintech, verticalized e-commerce, and food tech, with big-ticket investments in Byju's, Zomato, and FirstCry. Within IT and ITES, abounding interest in software as a service (SaaS) and increased corporate focus on digital IT readiness drove multiple $100 million-plus deals. Some of the large investments include Zenoti and Postman in SaaS and Virtusa and Majesco in IT services.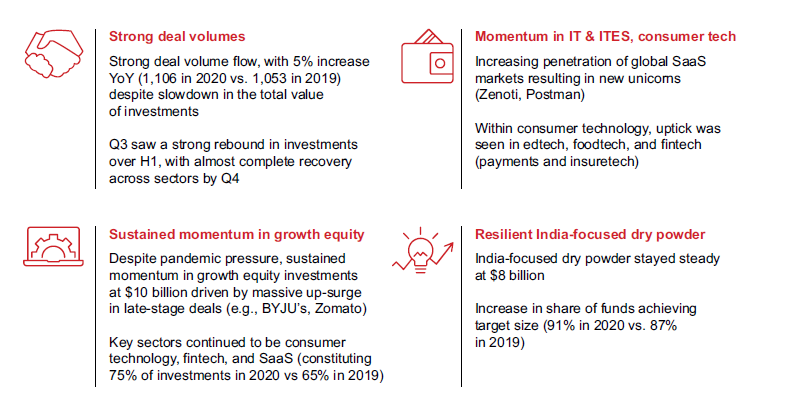 Healthcare witnessed the highest YoY growth at 60%, driven by de-risking of the supply chain, India's strength in chemistry, and a resilient domestic market. APIs, contract development and manufacturing organizations (CDMOs), and formulations contributed 80% of total healthcare investment, with Piramal Healthcare, JB Chemicals, and SeQuent Scientific being the largest deals.
Record High Investments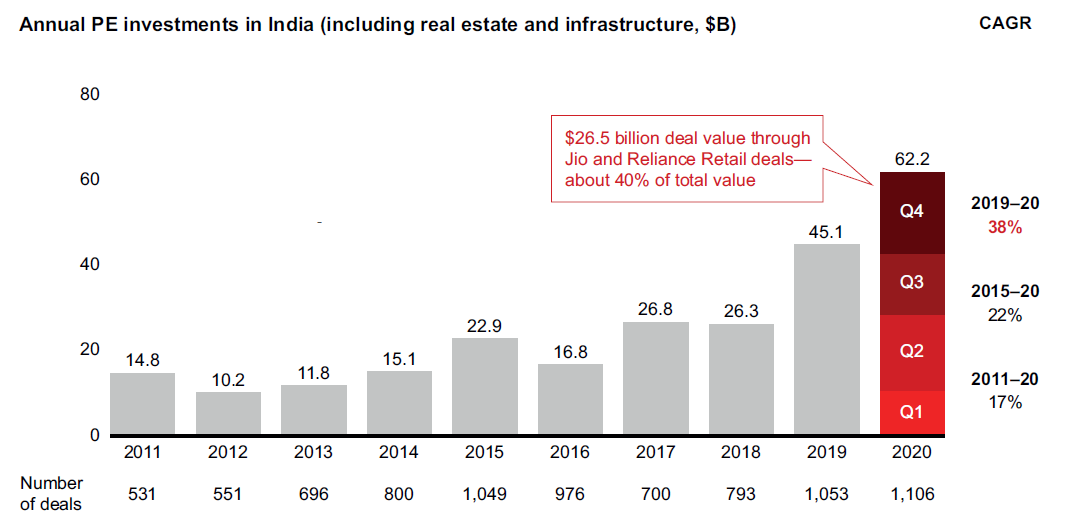 Total investment value in 2020 was at a record high of $62.2 billion on account of Jio Platforms and Reliance Retail deals contributing $26.5 billion, which is around 40% of total deal value.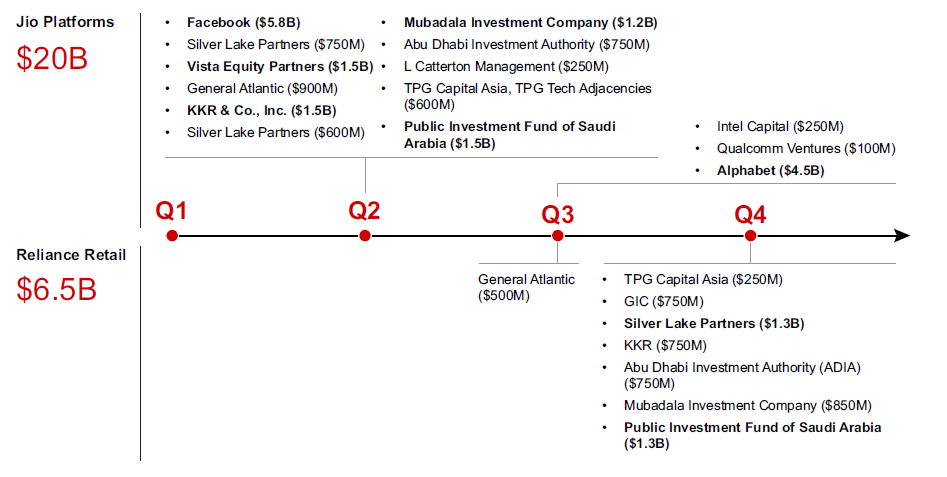 Barring Jio Platforms and Reliance Retail, deal value was down by 20% as the volume of large deals (>$100 million) dipped by around 25%. Muted sentiment in H1 was followed by increased investor confidence in H2.
The top 15 deals in 2020 constituted around 40% of deal value vs. 35% in 2019. Despite a dip in buyouts, growth, and late-stage deals in H1, there was a strong rebound in H2 given the recovery in investor confidence.
Consumer tech and IT/ITES maintained momentum throughout the pandemic, whilst healthcare witnessed high growth of around 60% over 2019.
The consumer tech sub-segments of edutech, fintech, and verticalized e-commerce saw a surge in deals on the back of Covid-19-induced changes in consumer behavior and market landscape.
BFSI faced a significant slowdown, with investments down by around 60% due to high NPAs and the impact of the loan repayment moratorium on bank balance sheets.
Competitive Landscape: Ideal for China + One theme
The number of active PE/VC players has been rising steadily, with global and domestic GPs making up the majority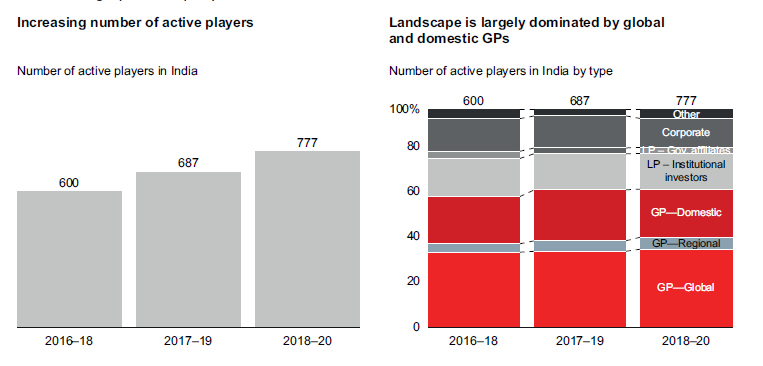 There has been a steady rise in active funds across the PE/Venture Capital (VC) landscape, with global
and domestic GPs making up the bulk at 60% of share followed by LP (institutional investors)
and corporates.
As more funds enter, over 70% of investors concur that global PE firms and LP/SWFs investing directly
is the biggest competitive threat.
PIF and KKR contributed the highest investment at around $3 billion each. Excluding Jio Platforms
and Reliance Retail deals, Blackstone and GIC were lead contributors at around $1.5 billion each.
Exits: Mostly Secondary sales
Exits by PE funds slowed by 30% as owners held onto assets amid a slowdown in Q2 and Q3; portfolios also contributed by not reaching full maturity levels in 2020.
Secondary sales were the most common exit mode, driven by increased fund activity in IT/ ITES and consumer tech even as strategic sales declined as corporates delayed new investments.
The top 10 exits accounted for 60% of the total exit value, up from 50% in 2019, with BFSI, real estate, and IT/ITES being the largest contributors.
Exit returns increased to 4.7x in 2020 from 1.4x in 2019, driven by high multiples on invested capital and the large volume share of consumer tech, IT/ITES, and BFSI exits.
Exit momentum is expected to continue with the future IPO pipeline led by BFSI and consumer tech.

Impact of Covid-19 and outlook for 2021
Covid-19 forced funds to alter investment strategies and refocus their attention on portfolio health, development of sub-sector views (to factor in pandemic-related behaviors), and assessment of target resilience.
90% of India-based PE funds concur that portfolios have largely proven resilient in the face of Covid-19.
Environmental, social, and governance (ESG) issues are rapidly gaining attention, with over 90% of firms planning to increase efforts. This is driven primarily by LP mandates, shifting mindsets among both talent and consumer pools, and a recognition of the financial returns in the ESG sector.
Overall, Covid-19 effects (e.g., increasing online touchpoints, a rise of D2C players, focus on healthy living), as well as government initiatives to boost the economy and investments, regulatory restrictions on Chinese investments, and the shifting of global supply chains from China, are likely to shape the ecosystem.
From an investment perspective, high traction is expected in IT/ITES, consumer tech, and healthcare, with BFSI set for recovery.
If you like our content do subscribe to our blog to get it in your inbox when we post any article in the future.
Suggestions are highly invited at [email protected] or leave a comment below.
Also if you want us to write on something, don't hesitate to reach out.