Signify Innovations India Ltd (Formerly Philips Lightings )
INE045U01015
Listing Status: DRHP Not Filed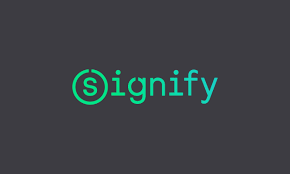 ---
---
About
Signify Innovations India Ltd (Formerly Philips Lightings )
Signify Innovations India Limited (SIIL) was formerly known as Philips Lighting India Limited. As per its credit rating report, it is engaged in the business of providing lighting solutions across segments such as conventional lighting, LEDs, luminaires, and professional lighting services. It is a part of Philips Lighting Holding BV. SIIL markets its product under the brand such as Strand, Vari-Lite, and UHP.
---
Overview
of Signify Innovations India Ltd (Formerly Philips Lightings )
Signify provides smart and energy-efficient lighting products, systems, and services for Professionals, consumers -
1. For Professionals - Professional Lighting Products, Professional Lighting Systems, Professional Lighting Services
2. For Consumers - Consumer Lighting Products, Smart Home Lighting.
3. UV-C Disinfection
In 2015, Philips India demerged its lighting business into a separate company- Philips Lighting India Ltd (now Signify Innovations India).

---
Insights
of Signify Innovations India Ltd (Formerly Philips Lightings )
This year your company has registered a de-growth of 14% (Previous year de-growth of 19%) due to decline in
professional lighting and Government business, slow down in infrastructure spending, liquidity crunch in Indian
markets due to defaults by few NBFCs, price erosions due to competitiveness in the market and the predominantly
due to the impact of Covid-19 outbreak and consequent lockdowns across India. The impact due to Covid-19
was widespread and impacted lives, livelihood and totally disrupted consumer markets and supply chains. The
demand of our products was also severely affected on account of lockdown; its effects were experienced not only
in the month of March but also in the succeeding quarter. Your Company generated an EBIT of
₹
2,370 Million
(Previous year
₹
2,616 Million) and a net cash inflow of
₹
5,991 Million (Previous year Net Cash outflow of
₹
2,627
Million). The Company has not made any major fund-based borrowings this year and has managed working
capital requirements from internal cash generation.
Capital expenditure during the year was ` 205 Million (Previous Year
₹
1,219 Million) and investment in new
plant and machinery and IT equipment's, etc.
---
Balance Sheet
of Signify Innovations India Ltd (Formerly Philips Lightings )
---
Profit and Loss
of Signify Innovations India Ltd (Formerly Philips Lightings )
---
---
Management
of Signify Innovations India Ltd (Formerly Philips Lightings )
NITIN MITTAL - Company Secretary
DIBYENDU RAYCHAUDHURY - Chief Financial Officer
SUMIT PADMAKAR JOSHI - Chief Executive Officer
SANGEETA PENDURKAR - Additional Director
VINAYAK KASHINATH DESHPANDE - Director
SUKANTO AICH - Wholetime Director
SUMIT PADMAKAR JOSHI - Managing Director
MAHESH SRINIVASAN IYER - Director
---
Ancillary
of Signify Innovations India Ltd (Formerly Philips Lightings )
---
Press
of Signify Innovations India Ltd (Formerly Philips Lightings )
---
Annual Report
of Signify Innovations India Ltd (Formerly Philips Lightings )
---
Company Information
of Signify Innovations India Ltd (Formerly Philips Lightings )
---
Chennai Office

19/10, Guru Vappa Chetty Street, Chintadripet, Chennai - 600002
Dubai Office

2701, Executive Tower G, Business Bay, Dubai, UAE
Andhra Pradesh & Telangana Office
54-19-25/1, Flat no.101, Sai Residency, Nelson Mandela Park Road, LIC Colony, Vijayawada (Urban), Andhra Pradesh - 520008