National Commodity and Derivatives Exchange Ltd (NCDEX)
INE127G01010
Listing Status: DRHP Filed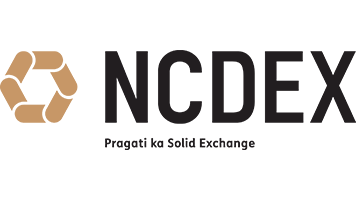 ---
---
About
National Commodity and Derivatives Exchange Limited (NCDEL) operates a de-metalized online multi commodity exchange in India. Its commodity exchange platform enables market participants to trade in a spectrum of commodities, including agricultural products, such as cereals and pulses, fibers, guar complex, plantation products, oil and oilseeds, soft sugar and guar, spices, and others; and non-agricultural products, such as metals, precious metals, and energy products. The company also provides collateral management, logistics and supply chain management, and clearing and settlement services. NCDEL headquarters are located in Mumbai and offer facilities to its members from the centers located throughout India.
---
Overview
---
Insights
Transfer Ristriction:-
Shares are not freely transferable.
Approval/fit and proper/ROFR from company boards required.
---
---
---
---
Management
HOSHI DHUNJISHA BHAGWAGAR - Company Secretary
ATUL ROONGTA - Chief Financial Officer
VIJAY KUMAR VENKATARAMAN - Chief Executive Officer
VIJAY KUMAR VENKATARAMAN - Managing Director
SIVARAMAKRISHNAN MANIKUMAR - Director
VENUGOPAL NAYAR BHASKARAN - Director
SRINATH SRINIVASAN - Director
RAKESH KAPUR - Nominee Director
ASHISH BAHUGUNA - Director
PREM KUMAR MALHOTRA - Director
NIRMALENDU JAJODIA - Director
PURVI AMITBHAI MEHTA BHATT - Director
---
---
---
---
---
Chennai Office

19/10, Guru Vappa Chetty Street, Chintadripet, Chennai - 600002
Dubai Office

2701, Executive Tower G, Business Bay, Dubai, UAE
Andhra Pradesh & Telangana Office
54-19-25/1, Flat no.101, Sai Residency, Nelson Mandela Park Road, LIC Colony, Vijayawada (Urban), Andhra Pradesh - 520008