Mohan Meakin Ltd
INE136D01018
Listing Status: Listed but not traded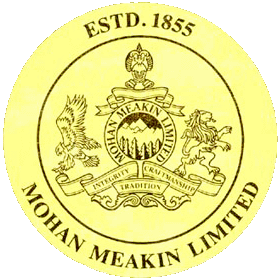 ---
---
About
Mohan Meakin Ltd
Mohan Meakin Limited (MML), as per its credit rating report, the company markets its products under the names such as 'Old Monk' in the rum segment and 'Meakin 10000', 'Asia 72', and 'Golden Eagle' in the beer segment. MML has two manufacturing facilities to manufacture beer, spirit, and food products (largely grain flakes) at Mohan Nagar in UP and Kasauli/Solan in Himachal Pradesh (HP). It also has bottling plants at Mohangram in Punjab and Solan in HP.
---
Overview
of Mohan Meakin Ltd
Industry Structure and Developments:
Mohan Meakin Limited ("the Company") is a Public Limited Company incorporated and domiciled in India with its registered office at Solan Brewery in Himachal Pradesh. It was formerly known as E. Dyer & Co., Dyer Meakin & Co. Ltd., Dyer Meakin Breweries Ltd., and Mohan Meakin Breweries Ltd., and was established as far back as 1855. Its shares are listed on Calcutta Stock Exchange (CSE).The Company is manufacturing Beer of all types and IMFS brands including premium Rums, Whiskies, Brandy, Vodka and GIN. In addition to the main products of Beer and IMFS, the company is manufacturing Juices, Canned products, Corn Flakes, Wheat Porridge and vinegars.
The Company has been pioneer in the liquor industry and made steady progress, and established Breweries and Distilleries in various parts of the Country and has created a respected name for itself by delivering an array of highly successful products. At present, the Company has following manufacturing centers, besides other Breweries & Distilleries established under collaboration arrangements in various other places in India.
Solan Brewery (H.P.) Brewery for manufacture of Beer and Bottling Plant for bottling of IMFL.
Kasauli Distillery(H.P.)DistilleryproducingMaltSpirit.
Mohan Nagar (Ghaziabad)(U.P.) Brewery, Distillery, Breakfast Foods, Fruit Products Factory. Mohangram Bhankarpur (Punjab) Bottling Plant for bottling of IMFL.
Lucknow (U.P.) Distillery - Production stopped for the time being.
The Company is manufacturing Beer of all types and IMFS brands including premium Rums, Whiskies, Brandy, Vodka and GIN. In addition to the main products of Beer and IMFS, the Company is manufacturing Juices, Canned products, Corn Flakes, Wheat Porridge and Vinegars etc. The Company's products are quite popular in the market and are well received by the customers being quality products.
The Company has introduced premium brand of Single Malt Whisky known as Solan Gold Single Malt Whisky in H.P., which is being introduced in other States of the Country. The product has been well accepted in the market. Company is in the process of increasing its productions not only for H.P. but also for Chandigarh and export to other countries.
The Company's Products like Old Monk Rum, Old Monk White Rum, Old Monk Legend Rum, Old Monk Deluxe Rum, Old Monk Supreme Rum, Old Monk Apple Rum, Old Monk Orange Rum, Old Monk Gold Reserve Rum, Solan Gold Indian Single Malt Whisky, Old Monk 10000 Super Beer andOld Monk the Original Premium Beer Can areexportedto21countriesi.e.U.A.E., Qatar, Russia, Singapore, Malaysia, Germany, New Zealand, Canada, UK, Australia, Estonia, Hong Kong, USA, Sri Lanka, Ukraine, Nigeria, Togo, Ghana, Congo, Japan and Khazakhastan. The total foreign exchange earned as a result of export of Company's products to these countries is 5806226US$, 28000 CAD and 54400 Euro, which in Indian Rupees stood at Rs.4197.32 Lacs. Company is also exploring the opportunities to further increase the export to other countries as the products of the company are very popular in foreign market and company is also getting enquiries regarding export to these countries. Old Monk Rum produced by the Company as per many publications is rated as the largest selling brand of Dark Rum. The Company's revenue streams are from 3 areas of activities i.e. –
Manufacture and Sale of alcoholic products
Manufacture and Sale of non-alcoholic products

Royalty and Technical Know-how by allowing Bottling & Manufacturing of Company's products throughout India.
Revenue from operations and other income of the Company has registered increase during the year under review and actual sales appear in the Annual Report.
The trend of various State Governments shows that they do not allow free flow of Beer and Whisky manufactured outside the States by putting restrictions and imposing exorbitant import fee as a result the liquor industry established outside the State cannot compete with the importing State. Moreover, due to unabated rise in oil prices, the logistic issues and different regulations applicable in different states with the result that sending the goods from one corner of the country to the other has become a costly affair and is un-remunerative and economically unviable. Therefore, to overcome these obstacles most of the leaders in the liquor Industry have opted for collaboration, technical know-how and bottling arrangements in various other States and our Company is one of them.
Opportunities and Threats:
The company operates in a highly competitive and rapidly changing market. The Company is channeling its efforts into exploring and utilizing excellence in the areas of customer development. Focus on customers, products delivery, service innovation and trained sales force is expected to deliver customer excellence in the coming year.
The Company has taken up several steps to serve its customers in a more efficient, cost effective, reliable and friendly manner, while strengthening its market position in the Industry. The Company will meet the ever- increasing challenges in the business through its quality products, easy reach and quick response to customers. The Management is drawing up plans to make the organization more competitive and strong so that the Company is equipped to face the emerging challenges in the coming years.
However, the fundamentals of the Indian market are very strong and favorable for the alcobev market even though the robust demands was constantly kept in check by the tough operating environment in 2019- 2020.India offers one of the largest growth potential in spirits consumption amongst all markets,
---
Insights
of Mohan Meakin Ltd
The total net revenue, after adjusting excise duty, from operations and other income of the Company registered an increase from Rs. 102778 lacs last year to Rs.110187 lacs. The profit during the year amounted to Rs.5415 lacs which is quite satisfactory in the face of stiff competition in the trade. The Company is taking all necessary steps to achieve higher Sales and it is expected that the measures being taken will bring the desired results barring uncertainty prevailing in the Country due to COVID- 19 Pandemic, which has adversely affected the trade.
Mohan Meakin Ltd is listed on Calcutta Stock Exchange.
---
Balance Sheet
of Mohan Meakin Ltd
---
Profit and Loss
of Mohan Meakin Ltd
---
---
Management
of Mohan Meakin Ltd
VINAY MOHAN - Director
Shareholding in the company - 8.21 %
HEMANT MOHAN - Managing Director
Shareholding in the company - 3.72 %
LALIT KUMAR MALHOTRA - Director
Shareholding in the company - 0.05 %
YASH KUMAR SEHGAL - Director
Shareholding in the company - 0.01 %
MASILAMANI NANDAGOPAL - Director
Shareholding in the company - 0.01 %
RAMESH CHANDER JAIN - Chief Financial Officer
HIRA HANDA NAND - Company Secretary
MURUGAN NAVAMANI - Director
RAMESH CHANDER JAIN - Director
---
Ancillary
of Mohan Meakin Ltd
---
Press
of Mohan Meakin Ltd
---
---
Company Information
of Mohan Meakin Ltd
---
Chennai Office

19/10, Guru Vappa Chetty Street, Chintadripet, Chennai - 600002
Dubai Office

2701, Executive Tower G, Business Bay, Dubai, UAE
Andhra Pradesh & Telangana Office
54-19-25/1, Flat no.101, Sai Residency, Nelson Mandela Park Road, LIC Colony, Vijayawada (Urban), Andhra Pradesh - 520008