MIL Industries Ltd
INE651L01019
Listing Status: DRHP Not Filed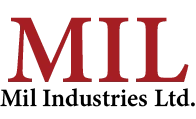 ---
---
---
Overview
Rubber Lining Division - MIL the country's leader in corrosion and abrasion resistant rubber linings for more than four and half decades. Set up in collaboration with Societe Chimique de Gerland, France and subsequent technical know-how from OHJI Rubber & Chemicals Co. Japan. India's largest and most modern rubber lining facility, MIL has been supplying the entire range of rubber and other elastomer linings for both standard and highly specialized process equipment.
MIL has, over the years, successfully executed numerous challenging projects for various process industries. A review of MIL's list of prestigious clients, the nature and size of jobs undertaken both in India and abroad - a number of which have been repeat orders - is testimony to the confidence reposed in MIL by Indian and overseas clients.
Plastics - MIL diversified into the field of Plastic Lining in 1989, as an extension of their technical expertise and capabilities in corrosion resistant field and has been a key player since then. MIL manufactures in a state-of-the-art factory at Gummidipoondi, near Chennai Metropolis, set up in technical collaboration with M/s. Fluorocarbon Company Ltd, UK, an extensive range of Plastic lined Pipes, Fittings, PTFE Expansion Joints / Bellows, PTFE lined Dip Pipes / Spargers, PTFE Spectacle Blinds, SS Braided Plain Corrugated Hoses, PTFE Tubes, Thermowells, Slide Bearings, Machined / Moulded products and so on. The annual installed capacity is 50 Metric Tonnes of Fluoropolymer Resins.
This factory is a true replica of our Collaborator's Facility in Manchester, U.K with respect to size, plant layout, production and utilities. The Factory has built up area of 1050 sq.m and have standby DG set to meet our power requirements.
Engineering - MIL's present range of services and products include the Design, Engineering and Supply of:-
Chemical Plants, Electrolytic (Mercury) cells Caustic Soda Chlorine Plants, Brine purification for which we had technical collaboration with KREBS SWISS, ZURICH.
MILAIRCLEN - Air Pollution Control Systems by Wet Scrubbing for which we had technical collaboration with Environmental Elements Corporation, USA.
Solvent Recovery System based on Carbon Adsorption Technology for which we had technical collaboration with AMEG (U.K) Ltd.
Working with Rafflenbeul Ingenieure, Germany for Molecular Sieve Adsorption Technology, Heat Recovery Systems and VOC Emission Control for Paper and other allied industries.
Working with Membrane Technology & Research Inc., USA for Vapour Sep Membrane System to recover volatile organic compounds.
Waste Water Treatment Systems with KISSLER Gmbh, (GERMANY)

---
Insights