Kurlon Enterprises Ltd
INE387W01025
Listing Status: DRHP Not Filed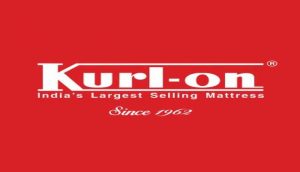 ---
---
About
Kurlon Enterprises Ltd
Kurlon Enterprise Limited (KEL) is engaged in developing and manufacturing mattresses. It offers mattresses, such as spring, rubberized coir, and PU foam products; furnishings, bed sheets, bolsters, cushions, pillows, and sheets; bed room products like cots, side tables, wardrobes, dressers, and drawers and dining room products. The company also provides living room products, such as wall units, TV units, computer tables, office tables, coffee tables, study tables, book shelves, shoe racks, and sofas. It also exports its products to customers in West Asia and UAE, Qatar, Oman, Bahrain, UK, the rest of Europe, South and East of Africa, Indian Ocean rim, SAARC, and the South East and Far East Countries. KEL sells its products under the brand 'Kurlon Mattress Express'.
---
Overview
of Kurlon Enterprises Ltd
Kurlon is the Mattress of India. Every minute, about 5 homes in India buy a Kurlon Mattress. Kurlon has geographical presence across all cities in India and is possibly the only Company reaching consumers directly through various channels such as Exclusive counters (Company owned Company Operated Stores (COCO) and Franchisees), Multi Brand Outlets, Large format retail outlets, etc to millions of consumers every year and the numbers are growing.

The company has evolved and now manufactures mattresses in 126 different configurations. Pan-India, and have partnered with a network comprising more than 10000 dealers, 72 branch and stock points, and 12 strategically located manufacturing facilities across Karnataka, Orissa, Madhya Pradesh, Uttaranchal, and Gujarat. With state-of-the-art technology, these factors continue to improve the standards in the mattress industry and serve the growing Indian population. The Online segment is a key focus for the Company. With COVID 19 pandemic, this segment has attained great significance and its potential has multiplied. Kurlon is targeting this segment through its own website, Kurlon.com as well as through e-marketplace partners.

Customer Experience continues to be another focus area and in order to continue improving the customer experience, Kurlon has increased its COCO retail outlets, housed under its wholly owned subsidiary M/s Kurlon Retail Ltd, to 93 during the year. These COCO stores are expected to contribute significantly to its growth in the coming years.

The Company's distribution network and brand name is well suited for marketing its product. Mattress requires high consultative selling; the dealer has a very high influence on converting the customer to our brand. By reaching out to such dealers, training them on the features of each of the mattress, creating a high quality speak about the product & improving the customer experience, we target upgrading the customer to better products from the Company's stable and increasing their satisfaction. Company has also taken several measures to sensitise its distribution network partners about the dangers from COVID 19, keep in regular contact with them, extend help as necessary to ensure the health and safety of all its partners.
---
Insights
of Kurlon Enterprises Ltd
During the current year, Revenues from operation of the Company, on standalone basis, decreased from 103,189.32Lakhs to 95,904.19 Lakhs.The decreases in revenue from operations are due to impact of COVID-19 during February/March'20 and the subsequent lockdown during the last week of March'20. However, Profit after Tax for the current year increased by 11.67% to 8,369.43 Lakhs from 7,494.69 Lakhs (Before Other Comprehensive Income) and increased by 10.30% to 8,403.59 Lakhs from 7,618.87 Lakhs (After Other Comprehensive Income). From April 1, 2019 onwards, the Company has opted to pay income taxes under the concessional tax regime as prescribed under Section 115BAA of the Income Tax Act, 1961. Accordingly, Current tax Liability for the year ended March 31, 2020 has been determined and recognized at the concessional rate. The impact arising from restating the deferred tax balances at the reduced rate has been recognized during the year.

On a Consolidated basis, Net Revenue from operations decreased to 98,763.14 Lakhs from 105,191.40 Lakhs. On a consolidated basis Net Profit after Tax increased by 13.92% to 7,524.53 Lakhs from 6,604.94 Lakhs last year (Before Other Comprehensive Income) and increased by 12.33% to 7,558.68 Lakhs from 6,729.12 Lakhs (After Other Comprehensive Income).


The Company has established itself as the top mattress producer / seller in the Country with the brand Kurlon being a Superbrand.
• COVID - 19 pandemic has adversely affected the economy. To support the Economy, the Government of India has rolled out policy stimulus equivalent to INR 20 trillion. It is expected that by end of the year the Indian economy would be back on track.
• With Work From Home expected to be the new normal and more people spending greater time at home, it is expected that the demand for the products used at home would go up specially in the Mattress and furniture space
• Online segment is expected to experience significant growth due to thrust on online mode of purchasing by customers
• The company has acquired the licensee rights of Spring Air and Englander brands which are premium luxury brands in
the global market which would improve the penetration in the luxury segment of the Company
• The Industry is largely unorganized and with greater awareness and higher income levels, the market share of the organized players would eventually go up
• In the current challenging scenario, your Company foresees a good opportunity for growth and off take of its products owing to its strong manufacturing base, established marketing & logistics infrastructure, & strong financials.
---
Balance Sheet
of Kurlon Enterprises Ltd
---
Profit and Loss
of Kurlon Enterprises Ltd
---
---
Management
of Kurlon Enterprises Ltd
NITIN GAJANANRAO KHOT - Director
Shareholding in the company - 0.53 %
ANANTHANARAYANAN SUBRAMANIAN - Director
Shareholding in the company - 0.01 %
JAYA SUDHAKAR PAI - Director
TONSE SUDHAKAR PAI - Managing Director
MONU KUMAR - Company Secretary
RITESH SHROFF - Chief Financial Officer
VISHAL TULSYAN - Nominee Director
---
Ancillary
of Kurlon Enterprises Ltd
---
Press
of Kurlon Enterprises Ltd
---
Annual Report
of Kurlon Enterprises Ltd
---
Company Information
of Kurlon Enterprises Ltd
---
Chennai Office

19/10, Guru Vappa Chetty Street, Chintadripet, Chennai - 600002
Dubai Office

2701, Executive Tower G, Business Bay, Dubai, UAE
Andhra Pradesh & Telangana Office
54-19-25/1, Flat no.101, Sai Residency, Nelson Mandela Park Road, LIC Colony, Vijayawada (Urban), Andhra Pradesh - 520008