Assam Carbons Products Ltd (ACPL)
INE496C01018
Listing Status: DRHP Not Filed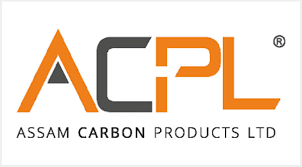 ---
---
About
Assam Carbons Products Ltd (ACPL)
Assam Carbon Products Ltd (ACPL) is engaged in manufacturing of carbon blocks of various grades. It manufactures a carbon brushes for railway. Its railway traction products include panto graph, current collectors & SIG contacts. The company manufactures various kinds of products which are categorized into three groups: electrical products like brush, current collector, silver impregnated contacts, carbon electrical blocks; mechanical products such as carbon seal rings, bearings, vanes and thrust pads; and graphite products like hi-temp insulator, fuel cells, heating elements, casting dyes and lubricating blocks. ACPL caters its products to agriculture, mining, steel, railway, cement, automobile and power industries. The company's clientele includes ACC, Bosch, ABB, HAL, Tata, Nalco, and among others.
---
Overview
of Assam Carbons Products Ltd (ACPL)
Assam Carbon is the leader in the field of Carbon and Carbon related products for the past five decades. They supply our products to various segments like Railway Traction, Cement, Steel, Sugar, Mines, Power ,Petrochemical, Chemical process Industries etc. for various applications.
Their plant was commissioned about 50 years ago and subsequently to widen Their Grades portfolio, they entered in a JV with Morgans, an association lasting from 1972 to 24.05.16, during which period they imbibed some of the best Technology, Plant & Machinery and Manufacturing Practices, catapulting them to the leadership position in India and also exporting to several countries in the world.
As of 25.05.2016, Assam Carbon has become an independent identity, after the Present Management acquired all Morgan shares, once Morgans decided to exit the carbon business in India. However, as per agreement entered into with Morgans, they have all the rights in perpetuity to produce all the grades/ products for which they have the requisite Technical KnowHow adopted from Morgans.
Assam Carbon has two plants with strength of about 350 people. Company has diverse product portfolio in the field of Electrical, Mechanical and speciality Carbons, encompassing a very wide range of carbon and graphite products for varied applications such as Carbon Brushes, Current Collectors, Railways Signaling Contacts, Carbon Seals & Bearings, Carbon Gland Ring,Steam joints, Thrust Pad , Radial bearing, Graphite Felt & Insulations, and other graphite products.
The Company has recently embarked on a major Modernization Programme at its Guwahati Factory to meet the rapidly growing domestic and export market to meet the stringent quality and volumes requirement.
---
Insights
of Assam Carbons Products Ltd (ACPL)
During the year under review, revenue from operations of the Company decreased to Rs. 4844.29 Lacs as compared to Rs. 5127.00 Lacs in the previous year. This was mainly due to the last minute Nation wide lockdown declared in the last week of March, 2020, as per the directives of the Central / respective State Government(s) to arrest the spread of the COVID 19 pandemic, leaving the Company with ready material which couldn't be dispatched. However, in spite of this decrease in the Turnover, the Company was able to close the year with a profit of INR 107.97 Lacs (before provision of tax) as against a previous year's profit of INR 634.11 Lacs. This amount of sales and profit was achieved by continuously improving the production and productivity by removing bottlenecks in operations and by adding new Plant and Machinery.
During the year, The Company incurred a forex gain of Rs. 0.61 Lacs only as compared to a forex loss of Rs. 0.25 Lacs in the previous year, basically as a result of better management of the forex transactions, as relative instability in the forex market continued in this financial year.
During the year, The Company achieved an export sales of Rs. 73.88 Lacs as against Rs. 27.67 Lacs in the previous year. However, the management has taken strong initiative and is confident that it will pick-up in the coming years.
During the year, The Company has further worked actively towards rationalizing its business and product portfolio, whilst adding new product lines, to better utilise the available talent and resources and stay abreast of the market dynamics in new products. Exercise commenced three years back for cost cutting, savings in power and fuel as well as improving efficiency and productivity continued relentlessly and is helping the Company reap rich dividends. Balancing of Plant and Machineries, refurbishing old equipment and addition of new equipments and machineries with a view to optimizing production through modernization, was undertaken on top priority as was production planning and optimization of raw materials procurement and stocks, which continued this year too.
In context of the impact of COVID-19, the international Monetary Fund (IMF) has cut its 2020-21 growth projection for India to 1.9% from 5.8% projected in January 2020. Major international ratings agencies like S&P, Fitch and Moody's had also cut India's growth forecast to 0% from 3%. India and China are the only two economies in the world that are not projected to shrink in 2020 even though their growth rates have slowed down considerably. However, the actual impact of pandemic on the economy will depend upon severity and course of COVID-19, and it's probably too early to make any justifiable comments.
In response to the decelerating economic growth, government has undertaken many supportive measures and made significant policy changes during the year including fiscal measures like corporate tax rate cuts, bank recapitalization, sectoral reforms to boost core sectors etc. The Reserve Bank of India (RBI) has also announced prudent monetary policies, reduced the policy rates for the sixth consecutive time and maintained its accommodative monetary policy stance. These measures supported the economy and businesses during 2019 despite the challenging macroeconomic indicators.
The Company has taken various initiatives towards financial, medical and community support in the fight against Covid-19 pandemic. In view of the outbreak of the pandemic, the Company undertook timely and essential measures to ensure the safety and well-being of all its employees at all its plant locations, various branch offices and the head office. The Company observed all the government advisories and guidelines thoroughly and in good faith. Despite the negative outlook for the global and domestic economy, the responsive action by the Indian government with supportive monetary policy are expected to improve the business environment in India and should help build a beʃer foundation for an economic resurgence post COVID-19.
---
Balance Sheet
of Assam Carbons Products Ltd (ACPL)
---
Profit and Loss
of Assam Carbons Products Ltd (ACPL)
---
---
Management
of Assam Carbons Products Ltd (ACPL)
RAKESH HIMATSINGKA - Director
Shareholding in the company - 28.9 %
ANITA HIMATSINGKA - Director
Shareholding in the company - 6.82 %
AMITAV SAIKIA - Nominee Director
Shareholding in the company - 3.63 %
MAALIKA HIMATSINGKA - Director
Shareholding in the company - 3.27 %
SUSHEEL KUMAR SHARMA - Director
Shareholding in the company - 0.08 %
SUBHENDU CHAKRABORTY - Company Secretary
PIJUSH BYSACK - Chief Financial Officer
SANJAY KUMAR LHILA - Director
KALI KRISHNA BHATTACHARYA - Managing Director
---
Ancillary
of Assam Carbons Products Ltd (ACPL)
---
Press
of Assam Carbons Products Ltd (ACPL)
---
Annual Report
of Assam Carbons Products Ltd (ACPL)
---
Company Information
of Assam Carbons Products Ltd (ACPL)
---
Chennai Office

19/10, Guru Vappa Chetty Street, Chintadripet, Chennai - 600002
Dubai Office

2701, Executive Tower G, Business Bay, Dubai, UAE
Andhra Pradesh & Telangana Office
54-19-25/1, Flat no.101, Sai Residency, Nelson Mandela Park Road, LIC Colony, Vijayawada (Urban), Andhra Pradesh - 520008