A V Thomas and Company Ltd (AVT)
INE944K01010
Listing Status: DRHP Not Filed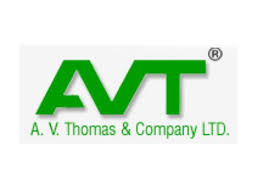 ---
---
About
A V Thomas & Co. Ltd was incorporated during the year 1935 with the main business being Trading, Manufacturing, and Exports. The main divisions under the company are Consumer Products Division, Trading, Logistics, Exports, and Services.
---
Overview
The company primarily derives its revenue from 2 sources -
1. Sale of products
2. Sale of Services
The proportion of revenue from sale of services is 95% and has been constant for 2019 as well. In sale of Products there are 3 kinds of products that the company deals in -
Sale of Tea, Coffee and Premix
Sale of Traded Goods
Sale of Roofing Materials and Pipes
In 2020, the share of each of the aforementioned segments in the total revenue from sale of goods was: sale of Tea, Coffee and Premix (71%), Sale of Traded Goods (23%) and Sale of Roofing Materials and Pipes (6%). These percentages have changed since 2019 when the share of revenue from sale of tea and coffee to sale of goods was 65%, from sale of traded goods was 28% and from sale of roofing material and pipes was 7%.
---
Insights
A V Thomas and co ltd's performance in fiscal 2020 and the first quarter of fiscal 2021 remained stable despite the Covid-19 pandemic because of the essential nature of its key products, tea and coffee, which contribute to over 60% of the revenue and 80% of the operating profit. Performance of the trading (aluminium sheets), roofing and logistics businesses was, however, impacted by slowdown in end user demand.
A V Thomas and co ltd
business performance is expected to remain steady over the medium term, but with slow revenue growth, expected at 5-7% in fiscal 2021. Revenue from tea and coffee is expected to grow at a steady pace, driven by strong brand equity in markets in the south and increased focus on market penetration. Demand for aluminium sheets, roofing materials and logistics is expected to gradually recover over the medium term, in line with expected recovery in overall economy.
Financial risk profile should remain healthy, as capital expenditure (capex) is expected at a nominal Rs 9-11 crore annually, to be met entirely through internal accrual and liquid surplus. Besides, incremental working capital requirement is also expected to be negligible. Hence,
A V Thomas and co ltd
should sustain its healthy capital structure and debt protection metrics.
In fiscal 2020, the company liquidated one of its investments for a consideration of Rs 140 crore (including profit of Rs 93 crore). Consequently, liquid surplus increased to Rs 86 crore despite special dividend payout. These funds are expected to remain in the business over the medium term, thus supporting liquidity
---
---
---
---
Management
AJIT THOMAS - Wholetime Director
Shareholding in the company - 45.22 %
DILIP THOMAS - Wholetime Director
Shareholding in the company - 33.39 %
RAMASWAMY VENUGOPALAN - Chief Financial Officer
Shareholding in the company - 0.01 %
FRANK SOLOMON MOHAN EDDY - Director
HUSSAIN HABIB MIRZA ALTAF - Director
APPARANDA DEVAIAH BOPANA - Director
SHANKAR PEJAVAR - Director
---
---
---
---
---
Chennai Office

19/10, Guru Vappa Chetty Street, Chintadripet, Chennai - 600002
Dubai Office

2701, Executive Tower G, Business Bay, Dubai, UAE
Andhra Pradesh & Telangana Office
54-19-25/1, Flat no.101, Sai Residency, Nelson Mandela Park Road, LIC Colony, Vijayawada (Urban), Andhra Pradesh - 520008