Dalmia Bharat Refractories Ltd
INE0EB001012
Listing Status: DRHP Not Filed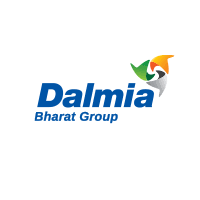 ---
---
About
Dalmia Bharat Refractories Ltd
Dalmia Refractories Limited (DRL) was formerly known as Shri Nataraj Ceramic and Chemical Industries Limited. As per a credit rating report, the company is engaged in manufacturing high alumina refractory bricks and castables. The company has 3 manufacturing units located at Dalmiapuram (Tamil Nadu), Khambalia (Gujarat) and Katni (Madhya Pradesh) with an aggregate installed capacity of 94,800 metric tonnes per annum (MTPA) for refractory and 24,000 MTPA for calcined bauxite. The company caters to cement, steel, coke oven and glass industries. DRL is a part of the Dalmia Group.
---
Overview
of Dalmia Bharat Refractories Ltd
The size of Indian refractory industry is estimated at approx. ₹ 9,000 Cr, with steel industry being the largest consumer followed by cement, glass, other metals & non- ferrous metals. The growing steel industry in India, along with the elevating infrastructure development, is augmenting the demand of refractory materials.
In view of significant rise in demand of its customer segments such as steel, cement, metals, glass & non- ferrous, growth of refractory industry is expected to be to the tune of 8% to 10% in the next financial year.
---
Insights
of Dalmia Bharat Refractories Ltd
The outbreak of COVID-19 pandemic has led to an unprecedented health crisis and has disrupted economic activities and global trade. During the year under review, the Government of India had imposed stringent nationwide lockdowns, in phases, which severely impacted manufacturing activities of the Company and its customers. Though their plants were allowed to operate under the Essential Services Maintenance Act, 1968, they were subject to strict guidelines laid down by Ministry of Home Affairs. Their customers were affected as demand of consumer goods such as automotive were impacted and infrastructure projects were delayed due to shortage of manpower and resources. These interruptions had affected the operations of their Company in first half of the financial year.
In Europe, the outbreak of COVID-19 further stressed the sustained weak steel demand. However, their Germany plant was operational with some restrictions and achieved revenue at par to levels of preceding financial year.
Their r
evenue was ₹ 218.76 Cr compared to ₹ 290.58 Cr in FY 2019-20 on standalone basis. Net profit for the year reduced to ₹ 7.14 Cr in FY 2020-21 from ₹ 17.53 Cr in FY 2019-20. Return on net-worth was at 7.8% in FY 2020-21 as compared to 20.6% in FY 2019-20, in line with business performance for the year.
The decline in revenue is primarily due to the nationwide lockdown in the April to June quarter and delay in infrastructure and industrial projects requiring additional refractory offtake.
Financial Performance (Consolidated)
1. Revenue: Revenues during the year stood at ₹ 394.68 Cr compared to ₹ 450.10 Cr in FY 2019-20
2. Profit Before Tax: Profit before tax reduced to ₹ 11.36 Cr from ₹ 23.50 Cr in FY 2019-20
3. Net Profit After Tax: Net profit for the year under review reduced to ₹ 6.86 Cr from ₹ 17.80 Cr in FY 2019-20
Dalmia Refractories Ltd is

listed on Metropolitan stock exchange and

Calcutta Stock Exchange

.
768 shares of DALMIA BHARAT REFRACTORIES LIMITED credited for 100 shares of DALMIA REFRACTORIES LIMITED.
---
Balance Sheet
of Dalmia Bharat Refractories Ltd
---
Profit and Loss
of Dalmia Bharat Refractories Ltd
---
---
Management
of Dalmia Bharat Refractories Ltd
CHANDRASEKARAN NAGARATNAM - Director
AKANSHA JAIN - Company Secretary
MANOJ KUMAR RATHI - Chief Financial Officer
SAMEER NAGPAL - Managing Director
DEEPAK AMBADAS THOMBRE - Director
MAHENDRA DOOGAR KUMAR - Director
---
Ancillary
of Dalmia Bharat Refractories Ltd
---
Press
of Dalmia Bharat Refractories Ltd
---
Annual Report
of Dalmia Bharat Refractories Ltd
---
Company Information
of Dalmia Bharat Refractories Ltd
---
Chennai Office

19/10, Guru Vappa Chetty Street, Chintadripet, Chennai - 600002
Dubai Office

2701, Executive Tower G, Business Bay, Dubai, UAE
Andhra Pradesh & Telangana Office
54-19-25/1, Flat no.101, Sai Residency, Nelson Mandela Park Road, LIC Colony, Vijayawada (Urban), Andhra Pradesh - 520008