Elcid Investments is an investment company, and its business revenue is the money generated by the Company's investments and dividends earned on the same.
On the face of it, the stock has a market cap of just Rs 34 lakh, appears to be an unsound penny stock with no trading volumes.
Interestingly, this stock has thousands of buyers but no sellers. It has exchanged hands less than 10 times in the last one year. It was last traded on September 14, 2021, when only one share exchanged hands.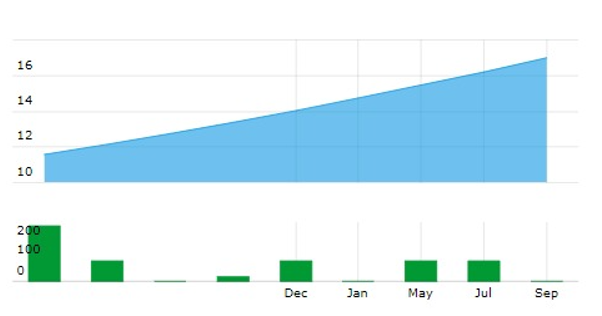 On 20th March 2022, Elcid Investment, announced that the floor price of the delisting offer is Rs 1,61,023 per equity share, at 9,47,100 per cent premium compared to the current market price of Rs 17.
So what makes the Promoters pay Rs 1,61,023/sh or 9,47,100% premium compared to the CMP of Rs 17/sh?
Lets take a closer look at the holdings of Elcid Investments Ltd –
Elcid holds about 2,83,13,860 or 2.95 % of Asian Paints Ltd (CMP – Rs3040/sh) which is worth ~Rs 8500 crore.
In addition to this, Elcid has 2 completely owned subsidiaries which combined hold 1,23,01,980 shares in Asian Paints Ltd.
Hence the Total Worth of Investment in Asian Paints by Elcid  Investments & Group Cos is upwards of Rs 12400 Cr.
The Table below shows the per share Intrinsic Worth of Elcid Investments –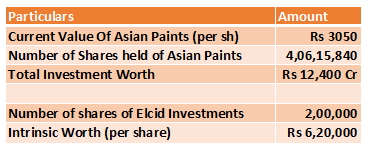 The buyback of shares and the delisting offer is almost at a discount of 74% of the actual value of the Company(only considering the investment in Asian Paints).
We have in the past discussed about the actual worth of the company in one of the blogs links to which is – here.

Our investors had invested into ELCID barely a year back at around 80,000/sh. This translated to a return of over 100% with 1 year!!
The floor price this time is 14x the price set in 2013.
You can still get access to this investment here : trade.altiusinvestech.com
Reach out to know more about such hidden gems in the Pre-IPO space at  – [email protected]
Holding company discount is applicable when the company is listed but in this case promoters want to completely buy out the company, Baliga added.
"It is ethical for them to offer better pricing to minority shareholders, say about discounting them at 50 per cent or even lower since they are getting full control of the equity whose market value is much higher," the veteran expert said.