Tourism and hospitality have been among the worst-affected sectors by COVID 19 in recent years. The decline in tourism has a direct impact on all travel booking sites, including ixigo, MakeMyTrip, and its affiliate Goibibo. However, the industry is recovering from the pandemic's impact, as evidenced by the financial performance of one of these players: ixigo.
Website: https://www.ixigo.com
According to the company's annual financial statement released on its website, the revenue of Gurugram-based travel booking service ixigo increased 2.8X to Rs 379.6 crore in FY22 from Rs 135.56 crore the previous year (FY21).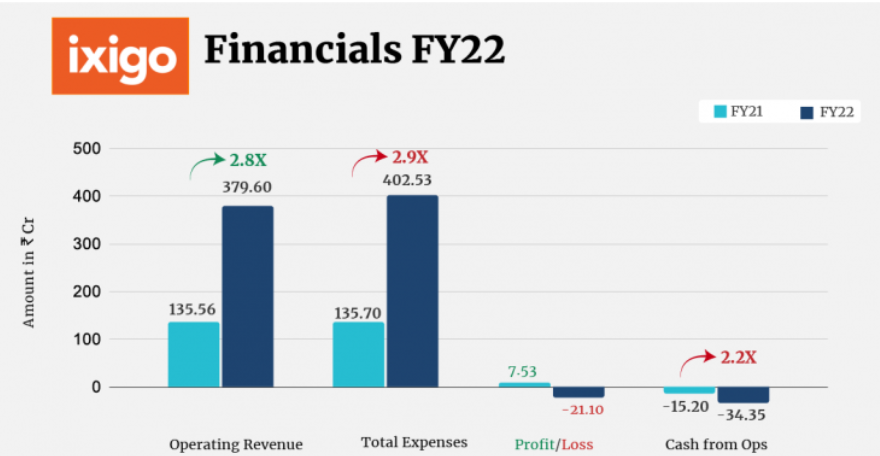 It's worth noting that Confirmtkt (a wholly owned subsidiary) provided Rs 128.2 crore in revenue, accounting for more than 33% of the ixigo financial sheet. This is nearly equal to ixigo's whole income in fiscal year 21. Confirmtkt, which was sponsored by Venture Catalysts, was bought by ixigo in a cash and equity agreement in February 2021. Before being acquired by ixigo, the Bengaluru-based business, which is an official partner of IRCTC, was profitable.
ixigo's primary source of revenue, accounting for 95.3 percent of total operating revenue, which increased 2.9X to Rs 361.92 crore in FY22 from Rs 126.25 crore the previous fiscal year (FY21). Advertisement and referral revenue increased by 81% to Rs 14.42 crore in FY22 from Rs 7.97 crore in FY21.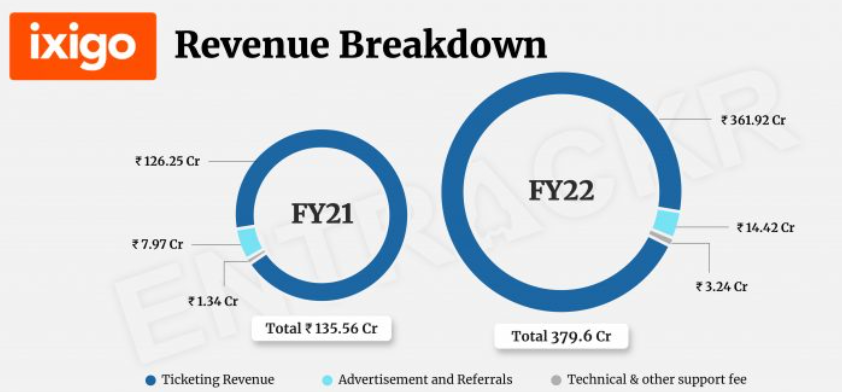 Moving on to the cost sheet, employee benefit expenses were Ixigo's largest cost centre, accounting for 23.6 percent of total costs, which increased 2.73X to Rs 95.16 crore in FY22 from Rs 34.80 crore the prior year (FY21). This cost includes Rs 18.5 crore in ESOP expenses (which was a non-cash expenditure). The acquisition of Confirmtkt and Abhibus, which greatly enlarged ixigo's personnel, was largely responsible for the increase in this expense.
Distribution and partner support costs climbed by 23.4 percent and 472 percent, respectively, to Rs 61.6 crore as the number of bookings and tickets volume surged. In August 2021, the company also launched ixigo Assured, a free cancellation solution for the aeroplane ticket sector, resulting in customer refunds/cancellations costs jumping 11X to Rs 61.50 crore in FY22 from Rs 5.36 crore in FY21.
In FY22, advertising and promotion costs increased 6.7X to Rs 57.5 crore. The company spent an additional Rs 21.93 crore on payment gateway charges in FY22, bringing the total expenditure to Rs 402.5 crore, up from Rs 135.7 crore in FY21.
The sharp increase in employee perks and advertising costs forced the company into losses of Rs 21.10 crore in FY22. In FY21, the company made a profit of Rs 7.53 crore.
With a 2.9X increase in costs, the company's operating cash outflow climbed 2.2X to Rs 34.35 crore in FY22 from Rs 15.20 crore in FY21. ixigo cost Rs 1.06 to earn a single unit of operating revenue during the previous fiscal year.
ixigo is one of the rare tech businesses that has managed to turn a profit before going public. The Aloke Bajpai-led business submitted its draught red herring prospectus (DRHP) with SEBI in August 2021 in order to raise Rs 1,600 crore through an initial public offering (IPO). Another travel tech business that went public in March of last year, EaseMyTrip, reported a profit of Rs 61 crore in FY21.
ixigo has gotten market regulator approval, but the company is likely to wait for the perfect market conditions to hit the bourses presently.
Also Read: Ixigo Share Price, Pre-IPO: Deep-dive